When it comes to submarine action during World War II, there are a number of standouts, and among them is the submarine USS Barb (SS 220). But what makes USS Barb unique? No other submarine can boast a train on its battle flag.
One of the Submarine's Main Characters
There can't be a story about USS Barb without mentioning one of the submarine's main characters: commanding officer Lt. Cmdr. Eugene B. Fluckey. The Washington, D.C.-native was to Barb as chocolate is to peanut butter.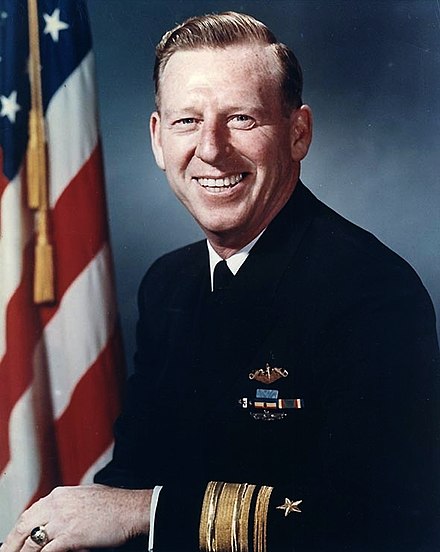 While there are many fascinating tales about Barb during World War II, this one, in particular, is during the sub's 12th and final war patrol that began in June 1945. The sub, crew and her skipper were still basking in the glow of Barb's 11th war patrol that earned Fluckey the Medal of Honor and the Presidential Unit Citation for the crew of the submarine.  He had previously earned four Navy Crosses.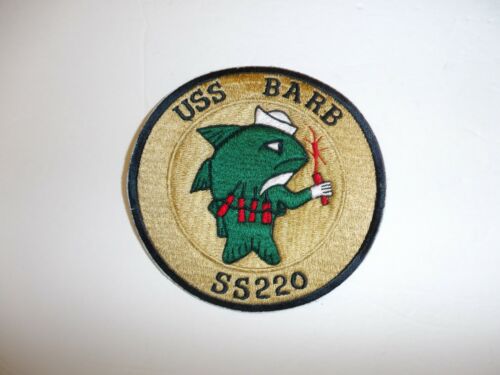 But Fluckey wasn't about to rest on his or the sub's laurels after bargaining a fifth war patrol from Adm. Charles A. Lockwood, Commanding Officer of Submarine Force Pacific Fleet. The Gato-class, diesel-powered submarine was soon sinking Japanese supply transports off the northern coast of Japan in the Sea of Okhotsk. The submarine also fired the first sub-launched ballistic missiles onto Japanese soil, thanks to a request by Fluckey to add that weapon system during the submarine's overhaul.
Fluckey had observed trains bringing supplies and materials to enemy ships on the northern Japanese island of Karafuto. They were already successful in stopping supplies getting to the fleet by transport ships. Why not keep the supplies from even getting to the transport ships, he thought.
The crew began to ponder how to take out the train. Placing charges under the tracks and detonating them as the train went by was too dangerous, Fluckey determined, because it put the shore crew at risk.
But Barb's crew had taken to heart Fluckey's mantra: If there is a problem, find the solution.
According to Fluckey's book "Thunder Below!" Engineman 3rd Class Billy Hatfield offered that solution. The Ohio native recalled as a young boy placing nuts between the railroad ties. When the rails sagged as the trains rolled over them, the shells cracked. They could devise a micro-switch, tie it between two ties and the train would detonate its own bomb, just like cracking shells on a nut. Hatfield asked to lead the shore party.
There was no shortage of volunteers, including a Japanese POW onboard the Barb, Fluckey recalled in his book. First, they had to meet Fluckey's criteria: The remaining seven volunteers had to be unmarried, a fair mix of regular Navy and reserve, represent all departments, and at least half were former Boy Scouts. Why Boy Scouts? As a former Scout, Fluckey knew they had been trained for medical emergencies and what to do if they got lost.
Four days later, the weather provided enough cloud cover to darken the moon and Barb inched to within 950 yards of the shore.
USS Barb Compiled One of the Most Outstanding Records in World War II
At just after midnight on July 23, 1945, Fluckey's commandoes slipped into their small boats. Fluckey advised the crew what to do if things went wrong, according to a passage in his book: "Boys, if you get stuck, head for Siberia, 130 miles north, following the mountain ranges. Good luck."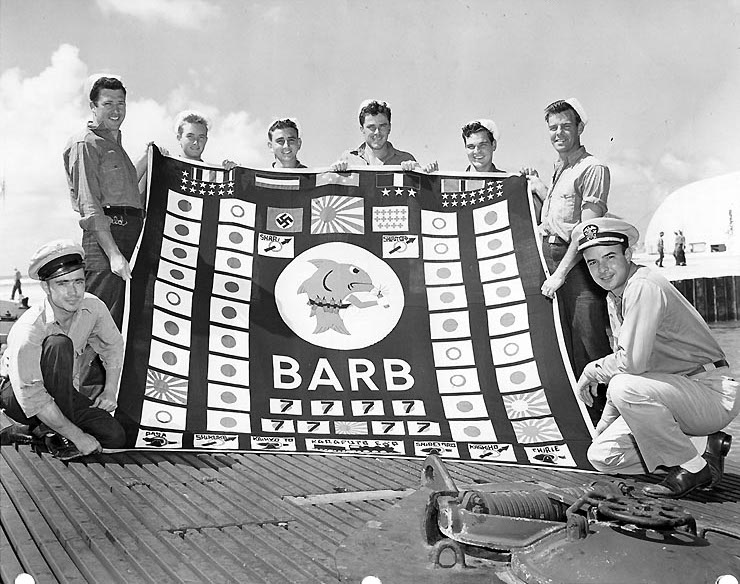 Less than a half-hour later, Navy Sailors were the first American combatants to set foot on one of Japan's homeland islands:
Chief Gunners Mate Paul G. Saunders, USN
Engineman 3rd Class Billy Hatfield, USNR
Signalman 2nd Class Francis Neal Sever, USNR
Ship's Cook 1st Class Lawrence W. Newland, USN
Torpedoman's Mate 3rd Class Edward W. Klingesmith, USNR
Motor Machinist's Mate 2nd Class James E. Richard, USN
Motor Machinist's Mate 1st Class John Markuson, USN
Lt. William M. Walker, USNR
As with most missions, this one had its fair share of unplanned moments. The men were off on their bearings and landed near the backyard of a Japanese home. Although dog prints on the beach had the crew on high alert, luckily both human and canine occupants remained asleep.
The eight men plowed through rustling waist-high bulrushes crossed a highway and with their path obscured by darkness, took a tumble or two down unexpected drainage ditches. Upon reaching the tracks, three men set up guard stations. Markuson climbed a water tower to assess the landscape only to discover it was a lookout post. He silently crept back down, never waking the sleeping guard.
---

---
Alerted to the snoozing sentry above, the train crew worked quietly to dig the holes for the 55-pound explosive charge and detonator switch. Before they finished, however, an express train bore down the tracks, forcing the crew to scatter into the brush until it rumbled by.
Finally, all that was left was the most dangerous part of the mission – setting up the detonator switch. Fluckey ordered only Hatfield to be on the tracks during that procedure, but all seven crewmembers disobeyed as they nervously peered over the engineman-s shoulder as he connected the pressure switch.
Ninety minutes from when they left, the shore crew signaled they were headed back. Fluckey had eased Barb to within 600 yards of shore. Fifteen minutes later, with the crew halfway to safety, another train thundered down the track toward its final destiny. The need for stealth evaporated.
"Paddle like the devil!" Fluckey bellowed through a megaphone to his men. At 1:47 a.m., the 16-car train hit the detonator. The explosion sent pieces of the engine into the sky like a fireworks display. Five minutes later, all of the men were back on Barb. Upon reaching deeper water, Fluckey ordered all non-essential hands on deck to witness their achievement – "sinking" a train on Japanese soil.
Barb's final patrol ended Aug. 2, 1945, at Midway. A few days later, the nuclear bombing of Hiroshima and Nagasaki brought about the Japanese surrender and the end of World War II.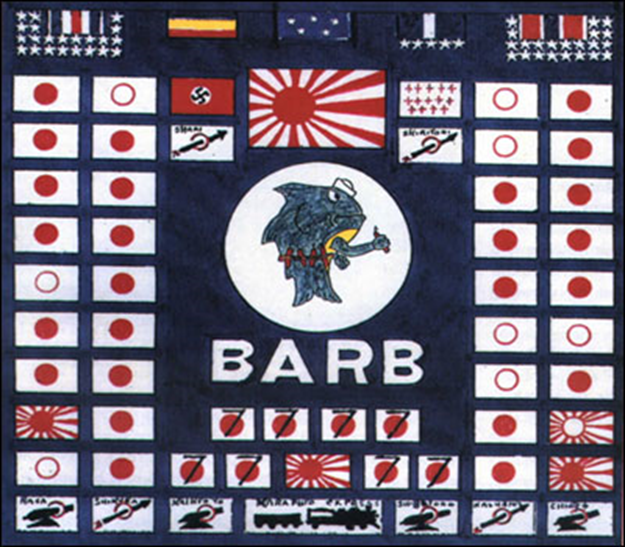 Remarkable Accomplishments and Awards of USS Barb
The submarine's battle flag reflected Barb's remarkable accomplishments: 12 war patrols, five in the European Theater and seven in the Pacific; six Navy Crosses, 23 Silver Stars, 23 Bronze Stars and a Medal of Honor earned by members of the crew; a Presidential Unit Citation, a Navy Unit Commendation, and eight battle stars; 34 merchant ships damaged or sunk; five Japanese warships damaged or sunk, including the 22,500-ton escort carrier Unyo; rocket and gun symbols to denote shore bombardments, and ever so improbably, a train to commemorate Barb's final war patrol.
Yet if you asked Fluckey which of the awards and recognitions represented on Barb's battle flag he was most proud of, he would say it was the one medal not on the flag "the Purple Heart. Despite sinking the third most tonnage during World War II. "17 enemy vessels, 96,628 tons and a 16-car train – not a single Sailor's life was lost or wounded on USS Barb.
A remarkable feat that earned the submarine, skipper and her Sailors their share of World War II fame.
To read more about Admiral Fluckey, go to this page.