Gen. Robert E. Lee led his Army of North Virginia only two times into the North throughout the American Civil War. The winner of the first battle was inconclusive; the second determined the winner of the war.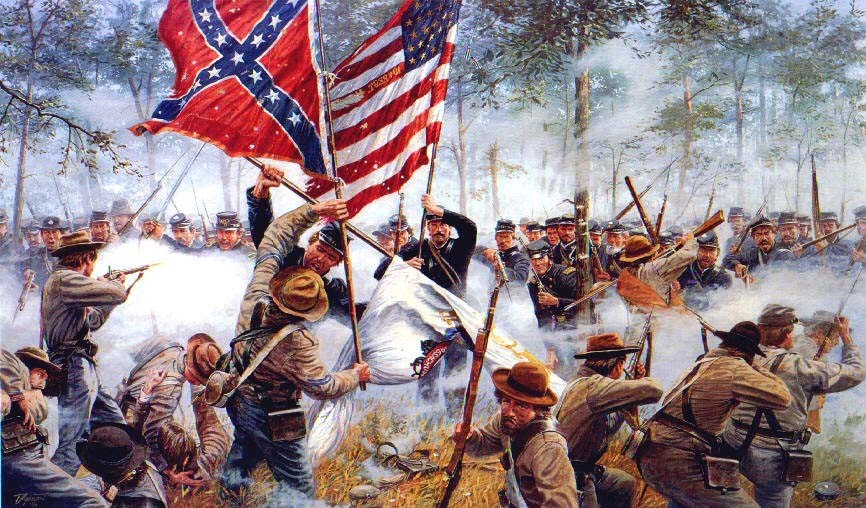 The first battle fought on northern soil took place in September 1862, when Gen. Robert E. Lee's army invaded Maryland. It was near Antietam Creek in Sharpsburg, Maryland where his Army of Northern Virginia was confronted by Maj. Gen. George McClellan's Army of the Potomac. Fierce hand-to-hand fighting resulted in halting Lee's invasion, but Lee was able to withdraw his army back to Virginia without obstruction from the cautious McClellan who offered no pursuit. Although the battle was tactically inconclusive, the Confederate troops had withdrawn first from the battlefield, making it, in military terms, a Union victory. Antietam was also the bloodiest single-day battle in American history, with a combined total of nearly 23,000 dead, wounded, and missing.
Eleven months after the Battle of Antietam in the spring of 1863, Lee's army faced off Maj. Gen. Joseph Hooker's Union forces at Chancellorsville in Spotsylvania County, Virginia.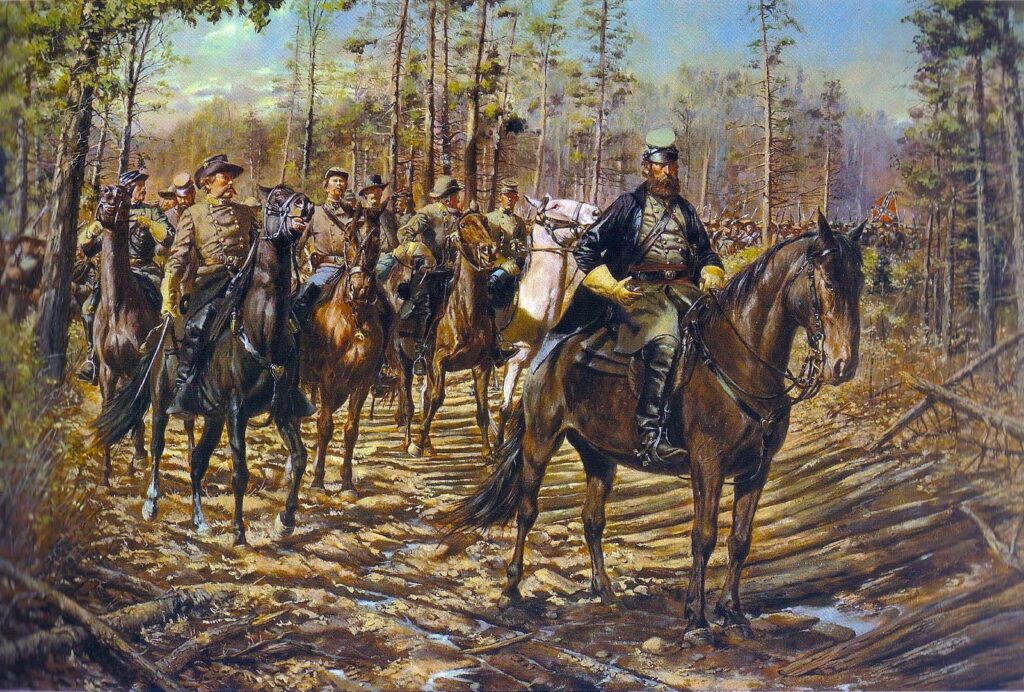 It was in this battle where Lee's most trusted general, Lt. Gen. Thomas J. "Stonewall" Jackson was killed.
Like McClellan, Hooker was risk-averse and hesitated to push his men into battle. The results were a shattering victory for Lee. Beaming with confidence in his Confederate Army, Lee decided to on the offensive and invade the North for a second time. In addition to bringing the conflict from war-ravaged northern Virginia and diverting northern troops from Vicksburg, where the Confederates were under siege, Lee's hoped if he won on Union territory then the North would have to surrender and possibly induce European countries to recognize the Confederacy. An additional motive for invading the North was to draw much of the occupying Union forces out of the South back to the North so southern farmers could harvest summer crops unimpeded.
Lee's second invasion of the North began in June 1983 when he led his 75,000 man army through the Shenandoah Valley and crossed the Potomac River into Maryland and marched on into southern Pennsylvania.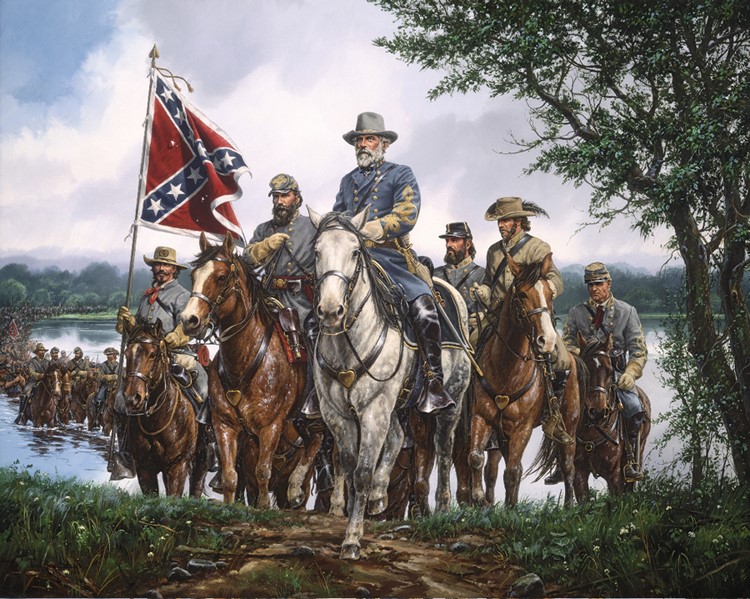 Prodded by President Abraham Lincoln, Maj. Gen. Joseph Hooker moved his army in pursuit, but having lost confidence in his leadership compounded by his reluctance to confront Lee's army after the defeat at Chancellorsville, Lincoln relieved him of his command. He then appointed Maj. Gen. George Gordon Meade to succeed Hooker. Meade immediately ordered the pursuit of Lee's Army.
First day of the Battle of Gettysburg: July 1, 1863
Upon learning that the Army of the Potomac was on its way, Lee planned to assemble his army in the flourishing crossroads town of Gettysburg, 35 miles southwest of Harrisburg, Pennsylvania.
One of the Confederate divisions in Maj. Gen. Ambrose Powell (A.P.) Hill's command approached the town in search of supplies, only to discover two Union cavalry brigades had arrived the previous day. Gen. John Buford, commander of Meade's advance cavalry, recognized the strategic importance of Gettysburg as a road center and was prepared to hold it until reinforcements arrived. But as the bulk of both armies headed toward Gettysburg, Confederate forces were able to drive the outnumbered Union defenders back through town to Cemetery Hill, located a half-mile to the south. A quick defensive position was thrown together in case A.P. Hill's men were in pursuit. However, they remained in Gettysburg awaiting further orders.
Seeking to press his advantage before more Union troops could arrive, Lee gave discretionary orders to Gen. Richard S. Ewell to attack Cemetery Hill. Ewell had taken command of the Army of Northern Virginia's Second Corps after Lee's most trusted general, Lt. Gen. Thomas J. "Stonewall" Jackson, was mortally wounded at Chancellorsville. By dusk, a Union corps under Maj. Gen. Winfield Scott Hancock had arrived and extended the defensive line along Cemetery Ridge to the hill known as Little Round Top. Overnight three more Union corps arrived to strengthen its defenses. 
The first day of battle saw considerable fighting in the area. Union soldier's use of newly issued Spencer repeating carbines outgunned the Confederate muskets. Heavy casualties were felt on each side and the simultaneous conclusion by both commanders that Gettysburg was the place to not only fight a defining battle but that the outcome would probably determine the winner of the war.
Day 2: July 2, 1863
With the arrival of reinforcements, the Union Army had established strong positions from Culp's Hill to Cemetery Ridge. The day was filled with futile and bloody assault and counterattacks in an attempt to gain control of such locations as Little Round Top, Cemetery Hill, Devil's Den, the Wheatfield, and the Peach Orchard. There were once again heavy losses on both sides.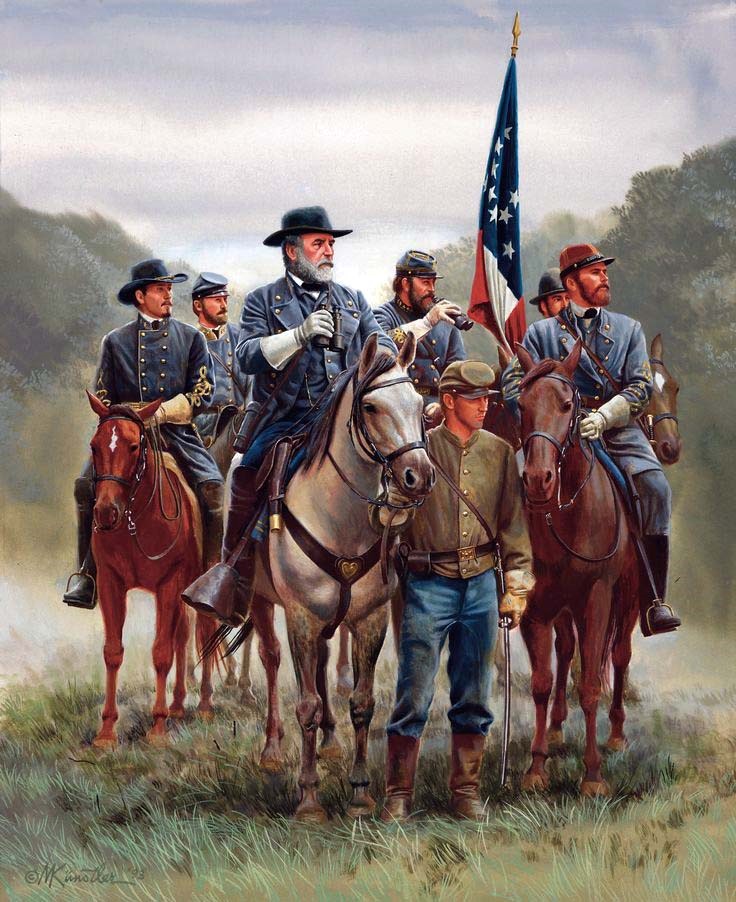 Concerned with a lack of momentum and only small victories, Lee read over maps and reports from his frontline generals. After personally scouting out Union positions and strengths, he came up with a strategy that he felt would change the course of battle in his favor. He determined that a massive frontal attack with the superior forces on Union entrenchments would win the battle.
When he went over the plans with his most defensively minded second-in-command, Lt. Gen. James Longstreet, he learned Longstreet had concerns over the plan. Longstreet told Lee throwing the majority of his forces in one assault over a large open field into the guns of an enemy holding the high ground was too risky.
With his mind made up, Lee discarded Longstreet's argument and ordered him to lead an attack on the Union left, while Ewell's corps would strike the right, near Culp's Hill. Though his orders were to attack as early in the day as possible, Longstreet didn't get his men into position until 4 pm, when they opened fire on the Union corps commanded by Maj. Gen. Daniel Sickles.
Over the next several hours, bloody fighting raged along Sickles' line, which stretched from the nest of boulders known as Devil's Den into a peach orchard, as well as in a nearby wheat field and on the slopes of Little Round Top. Thanks to fierce fighting by one Minnesota regiment, the Union forces were able to hold Little Round Top but lost the orchard field and Devil's Den. Sickles himself was seriously wounded.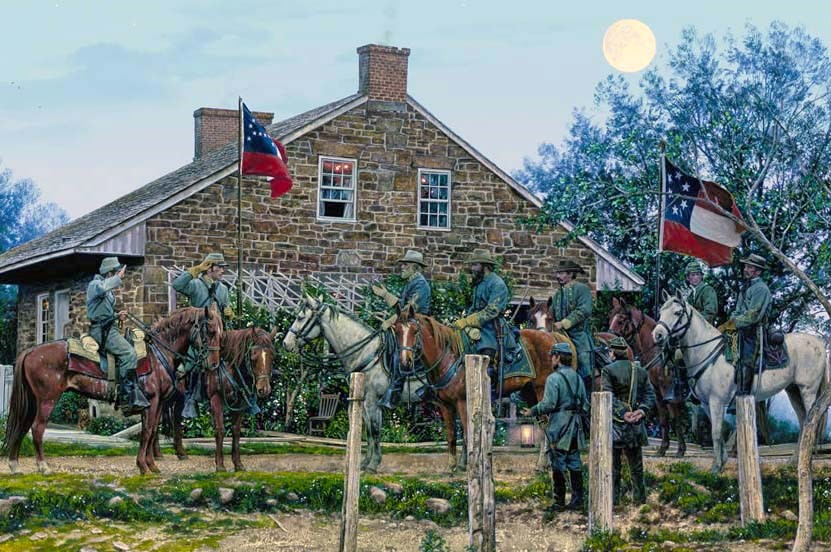 Ewell's men had advanced on the Union forces at Culp's Hill and East Cemetery Hill in coordination with Longstreet's 4 pm attack, but Union forces had stalled their attack by dusk. Both armies suffered extremely heavy losses on July 2, with 9,000 or more casualties on each side. The combined casualty total from two days of fighting came to nearly 35,000, the largest two-day toll of the war.
Third day of the Battle of Gettysburg: July 3, 1863
Early in the morning, Union forces of the Twelfth Army Corps pushed back a Confederate threat against Culp's Hill after a seven-hour firefight and regained their strong position. Believing his men had been on the brink of victory the day before and despite Longstreet's protests, Lee was determined to attack the middle of the Union defenses. Maj. Gen. George Edward Pickett was tasked with marching 15,000 Confederate troops some three-quarters of a mile across open fields to attack 10,000 dug-in Union infantrymen. This assault would go down in history as "Pickett's Charge."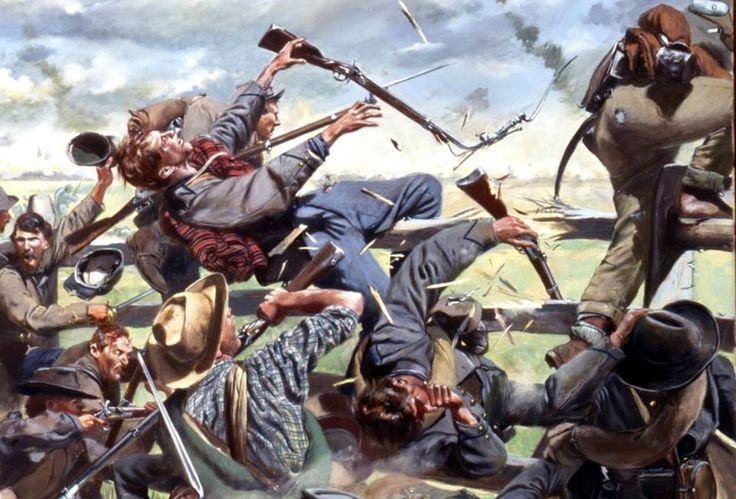 At 3 pm, following an artillery bombardment by some 150 Confederate guns, Pickett moved his three divisions against the Union center on Cemetery Ridge. The Southern spearhead broke through and penetrated the ridge, but there it could do no more. Critically weakened by artillery during their approach, formations hopelessly tangled, lacking reinforcement, and under savage attack from three sides, the Southerners retreated, leaving 19 battle flags and hundreds of prisoners.
Union infantry opened fire on the advancing rebels from behind stone walls, while regiments from Vermont, New York and Ohio hit both of the enemy's flanks. Caught from all sides, barely half of the Confederates survived, and Pickett's division lost two-thirds of its men. As the survivors stumbled back to their opening position, Lee and Longstreet scrambled to shore up their defensive line after the failed assault.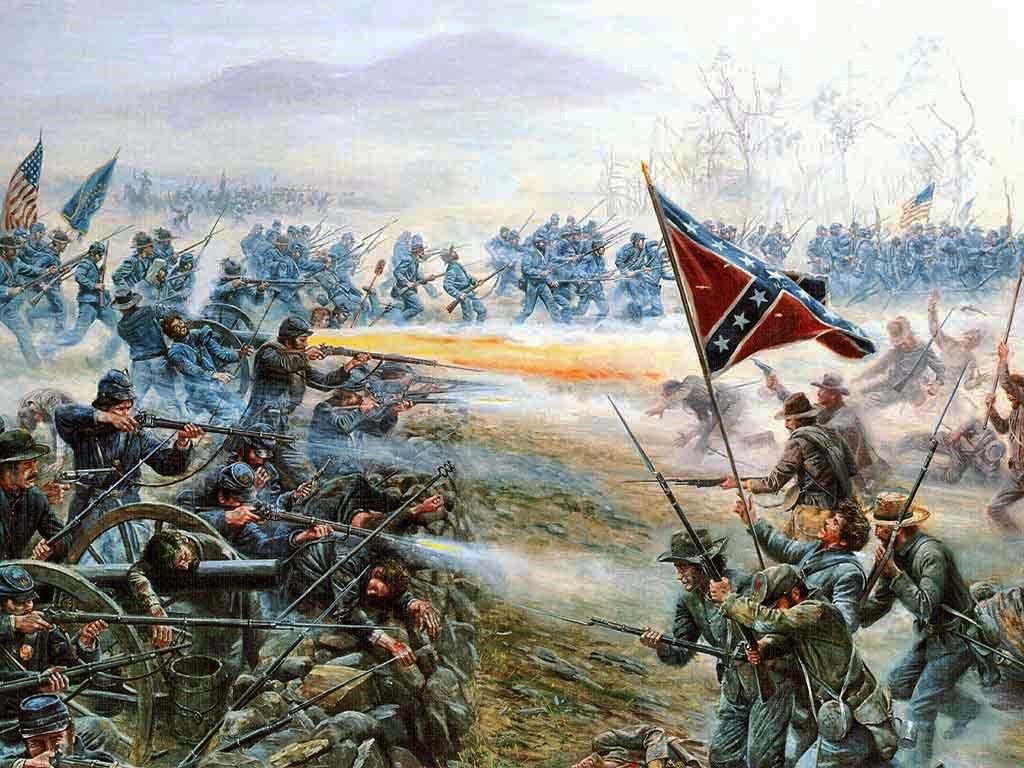 In the end, Confederate efforts at Gettysburg revealed an army plagued with command problems and an extended, five-mile-long battle line. Lee's incomparable infantry could not overcome those crippling handicaps. With his hopes of a victorious invasion of the North dashed, Lee waited for a Union counterattack on July 4, but it never came. That night, taking advantage of heavy rain, he started retreating toward Virginia. His defeat stemmed from overconfidence in his troops, Ewell's inability to fill the boots of Gen. Thomas J. "Stonewall" Jackson, and faulty reconnaissance.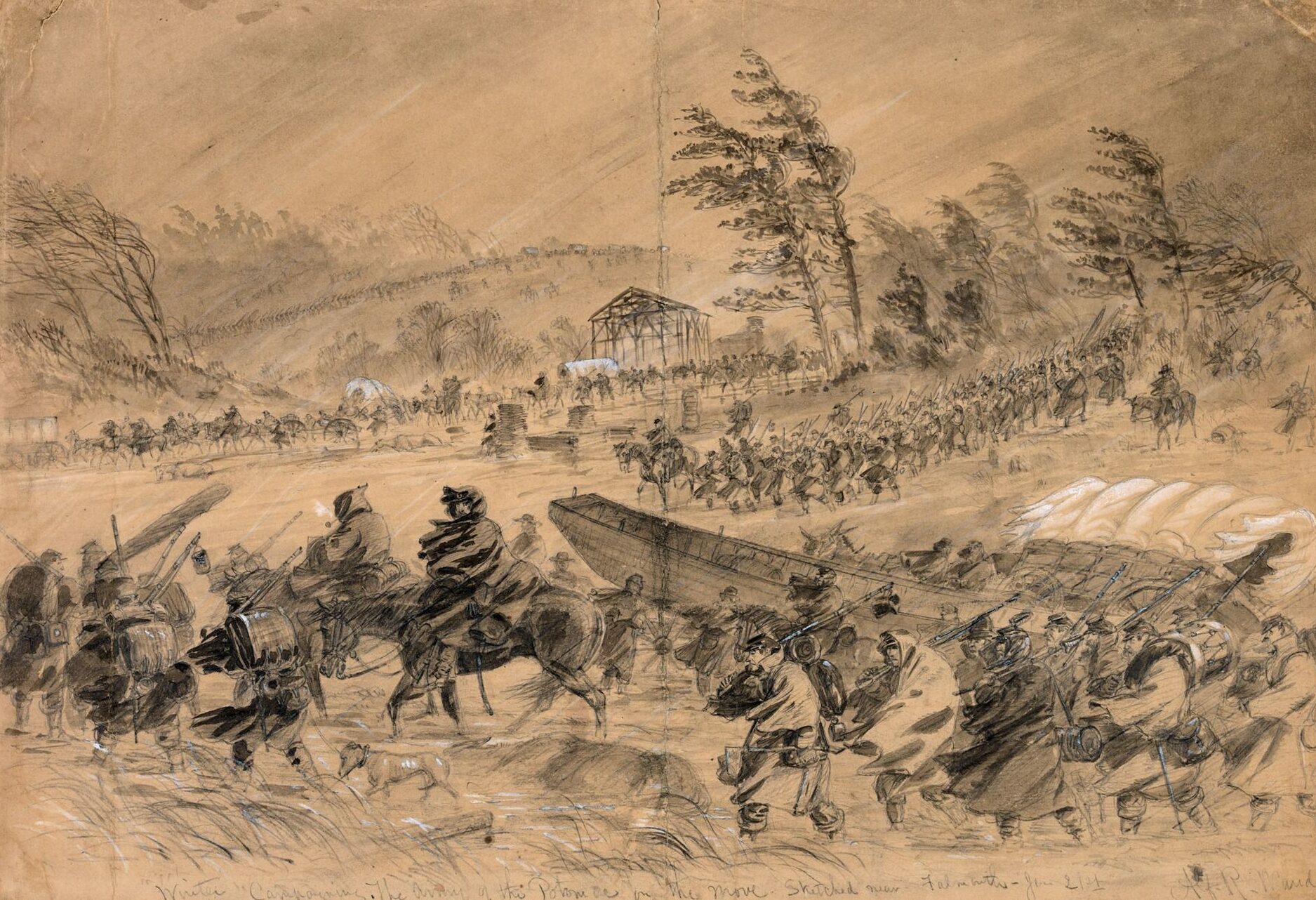 Though the cautious Meade would be criticized for not pursuing the enemy after Gettysburg, the battle was a crushing defeat for the Confederacy. Union casualties in the battle numbered 23,000, while the Confederates had lost some 28,000 men – more than a third of Lee's army. The North rejoiced while the South mourned, its hopes for foreign recognition of the Confederacy erased.
Demoralized by the defeat at Gettysburg, Lee offered his resignation to President Jefferson Davis but was refused. Though the great Confederate general would go on to win other victories, the Battle of Gettysburg (combined with Ulysses S. Grant's victory at Vicksburg, also on July 4, 1863) irrevocably turned the tide of the Civil War in the Union's favor.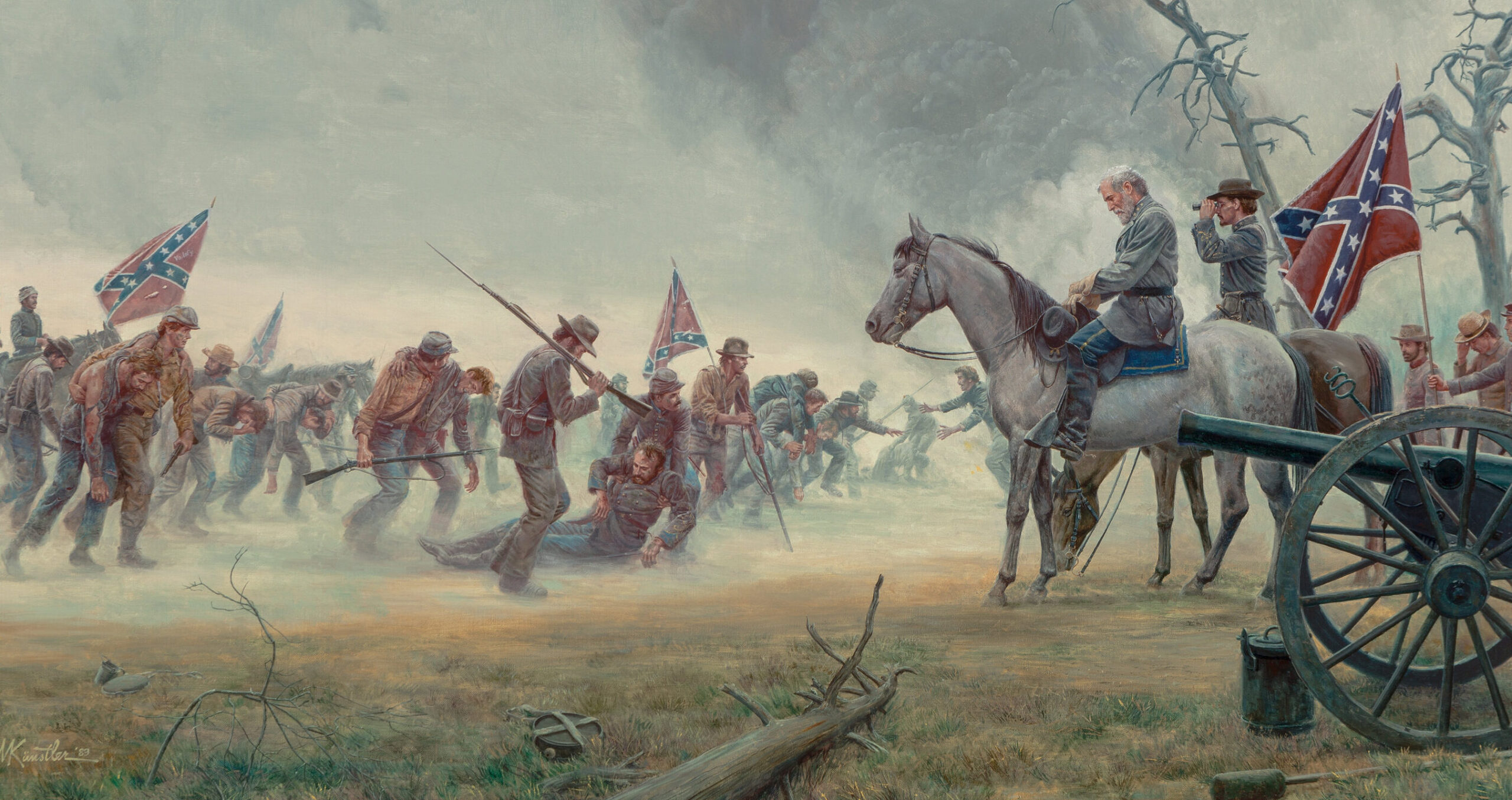 Losses were among the wars heaviest: of 88,000 Northern troops, casualties numbered about 23,000 (with more than 3,100 killed); of 75,000 Southerners, there were between 20,000 and 28,000 casualties (with more than 4,500 killed). Dedication of the National Cemetery at the site in November 1863 was the occasion of Pres. Abraham Lincoln's Gettysburg Address.
View a short clip of Picket's Charge from the movie Gettysburg.

View a 1 Hour 25 Minute documentary on the Battle of Gettysburg.

Read About Other Battlefield Chronicles
If you enjoyed learning about the Battle of Gettysburg, we invite you to read about other battlefield chronicles on our blog. You will also find military book reviews, veterans' service reflections, famous military units and more on the TogetherWeServed.com blog.  If you are a veteran, find your military buddies, view historic boot camp photos, build a printable military service plaque, and more on TogetherWeServed.com today.