Perhaps the most well-known veterans organization in the country, the American Legion is a non-profit organization of US war veterans, with a membership of approximately 1.8 million. A thousand members of the American Expeditionary Force founded the Legion in Paris in 1919 as a patriotic veterans organization devoted to mutual helpfulness. The American Legion was chartered and incorporated by Congress in 1919 and has enjoyed a high profile since its largest veterans organization. Ten of the last thirteen Presidents of the United States have been members of the Legion.
What is the Purpose of the American Legion?
The orgnization endeavors to mentor youth and sponsor community programs that promulgate the values of patriotism and honor. It also advocates for strong national security and the support of both active duty service members and veterans. One prominent program is American Legion Baseball, cultivating sportsmanship, citizenship, and fitness in young people. Another is Operation Comfort Warriors, a program that supports hospitalized service members and their families. With grassroots involvement in the legislation process at all government levels, the American Legion pursues a nonpartisan, not-for-profit agenda based on advocacy for veterans, informed on the issues by resolutions passed by volunteer leadership. For example, the Legion was instrumental in creating the Veterans Administration in 1930 (which later became the Department of Veterans Affairs) and the GI Bill's passing in 1944.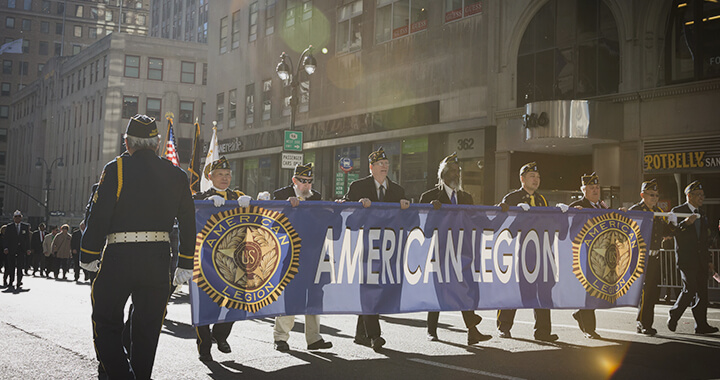 Who Can Join the Legion?
There are several ways of being eligible for membership in the Legion or its sister organizations. 
If you have served federal active duty in the United States Armed Forces since December 7, 1941, and are either still serving or have received an honorable discharge, you are eligible for membership.
Also, those who were members of the US Merchant Marine during US involvement in WW2 and its aftermath can join (eligibility dates are December 7, 1941, to December 31, 1946).
Grandmothers, mothers, sisters, spouses, and direct and adopted children of American Legion members are eligible for membership in the American Legion Auxiliary.
Similarly, female immediate family members of service members eligible for American Legion membership are also eligible for membership in the ALA.
Male descendants, whether direct, adopted, or stepsons of American Legion members, can join the Sons of the American Legion.
Male descendants of service members eligible for American Legion membership are also eligible for membership in the Sons of the American Legion.
Members of the Legion receive benefits such as member discounts, free magazines and gifts, and assistance with VA benefits for yourself and other veterans nationwide.
Together We Served is another prominent veteran community, with over 2 million members. TWS brings together veterans who may have served together by connecting those whose profiles indicate they served at the same time and place. Our boards are a great place to meet like-minded veterans, solicit advice, immerse yourself in modern military history, or otherwise make a connection. Join Together We Served today to reconnect with people you served with.