There are many notable US veterans organizations, but one of the most notable is surely the Veterans of Foreign Wars. The VFW organization is over 100 years old, founded in 1913 in Denver, Colorado. Multiple veterans organizations founded in 1899 on returning to the country after the Spanish-American War consolidated to form the VFW. It currently counts its membership at over 1.15 million. The only way of obtaining membership in the VFW is by being
an American citizen,
served in the United States armed forces,
received a United States military campaign medal,
either active duty or honorably discharged.
What Does the Veterans of Foreign Wars Do?
The Veterans of Foreign Wars' stated mission is to "foster camaraderie among United States veterans of overseas conflicts…to serve our veterans, the military and our communities," and "To advocate on behalf of all veterans." In practice, this means speeding the rehabilitation of disabled US veterans and making sure that deceased veterans and service members, and their families, receive the assistance they need. The organization also strives to promote Americanism by educating and encouraging communities in patriotism and community service acts. These are just a small selection of the programs the VFW provides.
Patriot Pen: middle school students produce short essays on a patriotic theme to compete for modest cash prizes and, for the winner, an all-expenses-paid trip to Washington, DC.
Teacher of the Year: three teachers from elementary, middle, and high schools across the nation are honored for their exceptional commitment to instilling patriotism in their students through effective education on American history, traditions, and institutions.
Voice of Democracy: high-school students produce audio-essays on a pre-selected theme, and those judged the best are awarded sizable college scholarships.
The VFW was instrumental in forming the Veterans Administration in 1930 and continues to advocate for legislative goals to improve a lot of those who serve or have served in the armed forces and their families. The VFW and its Auxiliary organize with other veteran advocacy groups, such as the Student Veterans of America, to provide veterans with the resources they need to build their lives after the military. The VFW Auxiliary is open to family members of service members.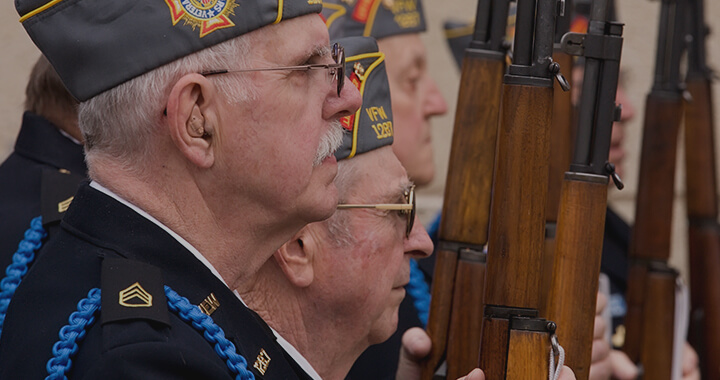 What's the Difference Between the American Legion and the VFW?
There are multiple large veterans organizations in the United States, and while they may have similar goals, there are notable distinctions. While the American Legion accepts anyone who was or is on active duty military service with the US armed forces between 1941 and now, the VFW is more selective about its membership and requires its members to have served in a combat zone. There are numerous benefits of membership in the VFW.
Insurance programs
Publication subscriptions
Tech and electronics
Financial services
Travel services
Entertainment
Haircuts
Retail discounts
With over 2 million members, Together We Served offers membership to all American veterans, including members of the Veterans of Foreign Wars. We provide a community where those who served, whether in the wars in Iraq, Afghanistan, Vietnam, Korea, or elsewhere, can locate old military friends, brothers, and sisters-in-arms.