John D. Bulkeley was a Vice Admiral in the United States Navy and one of its most decorated naval officers. Bulkeley received the Medal of Honor for actions in the Pacific Theater during World War II. He was also the PT boat skipper who evacuated General Douglas MacArthur from Corregidor in the Philippines. 
Biography of John D. Bulkeley
John D. Bulkeley was born in New York City and grew up on a farm in Hackettstown, New Jersey, where he graduated from Hackettstown High School. He was a 1933 graduate of the United States Naval Academy.
At the dawn of World War II, Bulkeley was a Lieutenant in command of Motor Torpedo Boat Squadron Three, a Philippine-based detachment of six motor torpedo boats. He hit his stride as a daring, resourceful and courageous leader. He picked up General Douglas MacArthur, his family, and his immediate staff, who had been ordered to flee the Philippines, and took them aboard PT 41 and other 77-foot (23 m) motor torpedo boats through over 600 nautical miles (1,000 km) of open ocean. On arriving at Mindanao, MacArthur said, "You have taken me out of the jaws of death. I shall never forget it."
John D. Bulkeley earned many of his array of decorations while in command of that squadron and a subsequent one. In addition to his Medal of Honor, he was awarded a Navy Cross, two Distinguished Crosses, and two Silver Stars.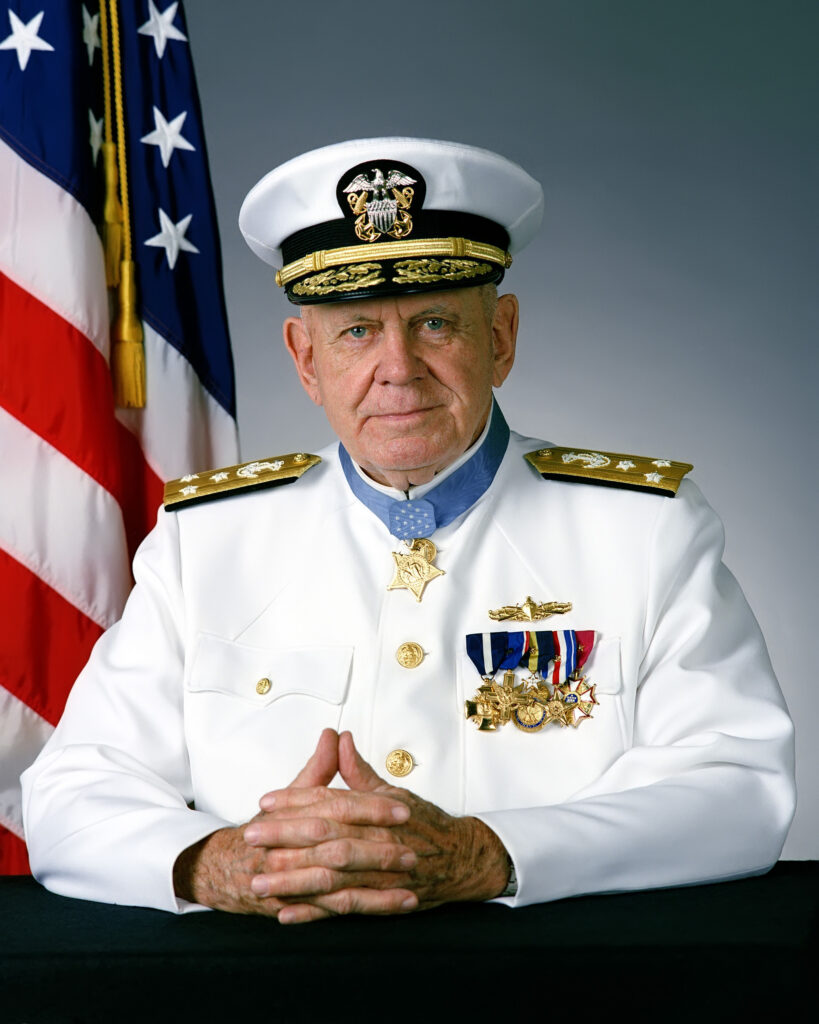 In September 1942, while in the States helping to raise War Bonds as a Lieutenant Commander, he met former Ambassador to Britain Joseph Kennedy at New York's Plaza Hotel, and shortly after was instrumental in recruiting Lieutenant John F. Kennedy into the Navy's Motor Torpedo Boat Training Center (MTBTC) at Melville, Rhode Island. Kennedy's heroic captaining of the PT 109 would help to launch his first campaign for Congress.
Bulkeley led torpedo boats and minesweepers in clearing the lanes to Utah Beach, keeping German E-boats from attacking the landing ships along the Mason Line, and picking up wounded sailors from the sinking minesweeper USS Tide (AM-125), destroyer escort USS Rich (DE-695), and destroyer USS Corry (DD-463). As invasion operations wound down, he received command of his first large ship, the destroyer USS Endicott (DD-495).
One month after D-Day, he came to the aid of two British gunboats under attack by two German corvettes. Bulkeley's vessel largest gun was smaller than the guns on the German ship. After days of fighting, Bulkeley only had one working gun on his ship. Charging in with only one gun working, he engaged both enemy vessels at point-blank range, sinking both. Afterward, Bulkeley rescued the British sailors in the water and then rescued many of the German sailors as well. When asked, he explained, "What else could I do? You engage, you fight, you win. That is the reputation of our Navy, then and in the future."
During the Korean War in 1952, Bulkeley commanded Destroyer Division 132. After the war, he was Chief of Staff for Cruiser Division Five.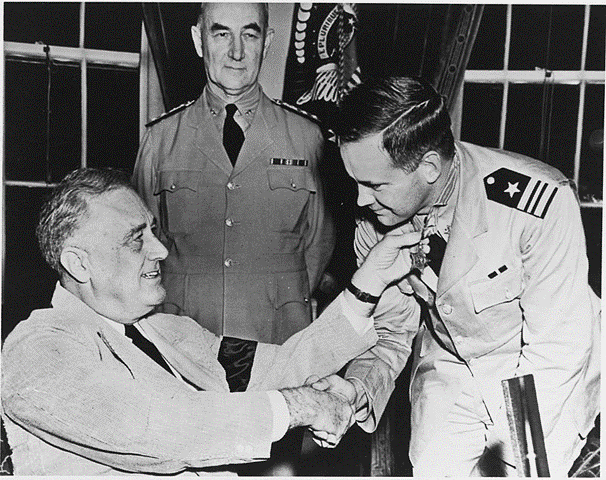 In the early 1960s, John D. Bulkeley commanded Clarksville Base, Tennessee, then a tri-service command under the aegis of the Defense Atomic Support Agency. Having lost none of his wartime daring, Bulkeley was known to test the alertness of the Marines guarding the base by donning a ninja suit, blackening his face and endeavoring to penetrate the classified area after dark without detection. This was a dangerous endeavor, as the Marines carried loaded weapons. Ever popular with his men, who both respected and admired him, Bulkeley could be seen driving around the base in his fire-engine red Triumph TR3 sports car with a large silver PT boat as a hood ornament.
Promoted to Rear Admiral by President John F. Kennedy, who commanded PT-109 during World War II, Bulkeley was dispatched to command the Guantanamo Bay Naval Base in Cuba, where he met Cuba's threat to sever water supplies in response to the Bay of Pigs invasion and other assaults by ordering the installation of desalinization equipment to make the base self-sufficient.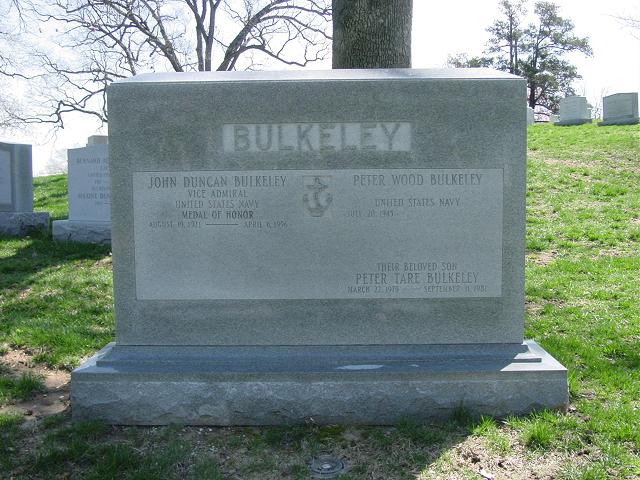 J. Bulkeley retired from active duty
VADM John D. Bulkeley retired from active duty in 1975. However, he was recalled to active duty in a retired-retained status in order to serve as the Commander of the Navy's Board of Inspection and Survey (INSURV) which conducts inspections and surveys of U.S. naval vessels before their commissioning and deployment. Bulkeley retired from the Navy in 1988, after 55 years of service.
On 6 April 1996, Bulkeley died at his home in Silver Spring, Maryland, at age 84. Admiral Bulkeley was buried with full military honors at Arlington National Cemetery.