Lt. Michael Murphy was the Officer in Charge of the SEAL Team
On June 28, 2005, deep behind enemy lines east of Asadabad in the Hindu-Kush of Afghanistan, a very dedicated four-man Navy SEAL team was conducting a counter-insurgency mission at the unforgiving altitude of approximately 10,000 feet. Lt. Michael Murphy was the officer in charge of the SEAL team. The other three members were Gunner's Mate 2nd Class Danny Dietz, Sonar Technician 2nd Class Matthew Axelson and Hospital Corpsman 2nd Class Marcus Luttrell. Their assignment was to capture or kill high-value target Ahmad Shah – a terrorist leader of a Taliban guerrilla group known as the "Mountain Tigers" that had aligned with other militant groups close to the Pakistani border. The mission was in response to Shah's group killing over twenty U.S. Marines, as well as villagers and refugees who were aiding American forces.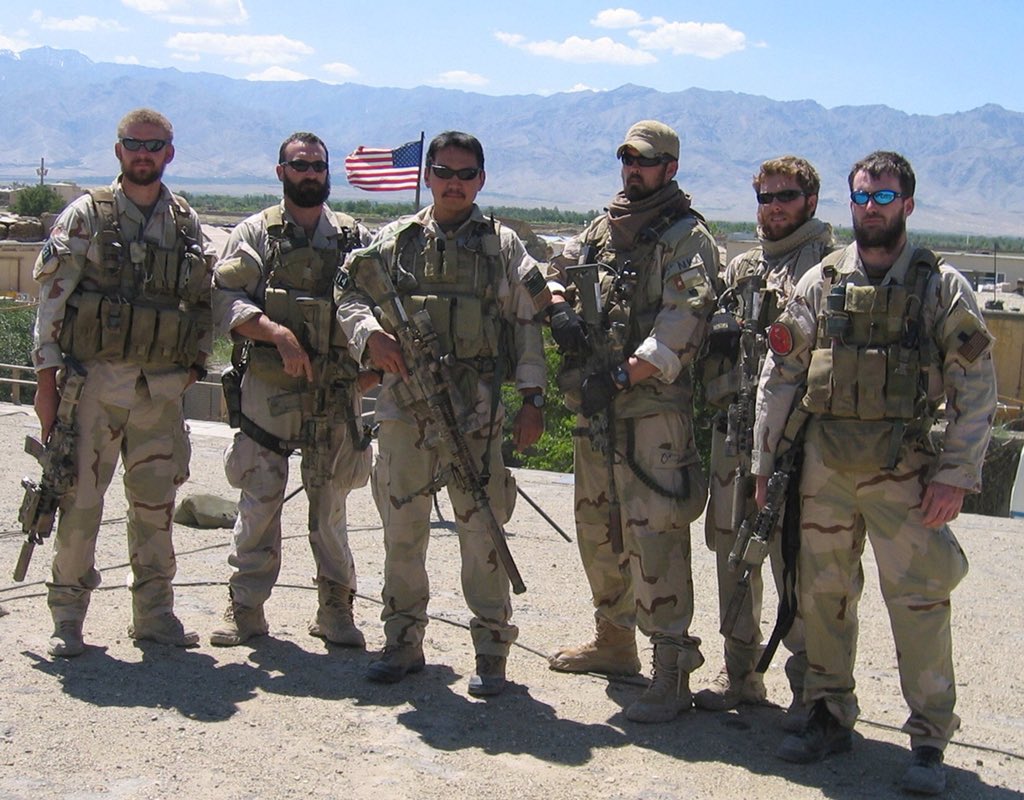 As the team carefully moved to where they hoped to find Shah, the SEALs were accidentally discovered by an elderly shepherd and two teenage goat herders. Knowing that if they release them, the herders will likely alert the Taliban to their presence, the team is split about whether to execute the herders or not. After a brief debate, Luttrell convinces the others that they will incite backlash if they kill the three herders. The team decides to release the herders and abort the mission, but before they can escape, they are discovered by Taliban forces.
A fierce firefight erupted between the four SEALs and a much larger enemy force of more than 50 anti-coalition militia. The enemy had the SEALs outnumbered. They also had terrain advantage. They launched a well-organized, three-sided attack on the SEALs. The firefight continued relentlessly as the overwhelming militia forced the team deeper into a ravine.
Trying to reach safety, the four men, now each wounded, began vaulting down the mountain's steep sides, making leaps of 20 to 30 feet. Approximately 45 minutes into the fight, pinned down by overwhelming forces, Dietz, the communications petty officer, sought open air to place a distress call back to the base. But before he could, he was shot in the hand, the blast shattering his thumb.
Despite their injuries, the SEALs continue a defensive retreat through the steep woods. Dietz begins to lose consciousness and shouts questions to Luttrell, unwittingly revealing the team's position to the Taliban. Murphy and Axelson jump off another ridge to flee from the Taliban fighters. Luttrell tries to carry Dietz down the mountain, but Dietz is shot in the shoulder; the impact forces Luttrell to lose his grip and fall forward off the cliff. A dying Dietz remains at the top of the cliff and is killed by the Taliban insurgents. Murphy decides to try climbing back up the cliff to get a phone signal in order to call in support forces via satellite phone. Axelson and Luttrell shoot at the Taliban fighters to provide Murphy with cover.

By the End of the Two-Hour Firefight was Murphy Dead
Despite his severe wounds and continued enemy fire, he finally reached higher ground and alerted the SOF Quick Reaction Force at Bagram Air Base and requested immediate support for his team. He calmly provided his unit's location and the approximate size of the enemy force. At that point, he was shot in the back, causing him to drop the transmitter. Murphy picked it back up, completed the call, and continued firing at the enemy who were closing in. Severely wounded, he returned to his cover position with Axelson and Luttrell and continued the battle. By the end of the two-hour firefight that careened through the hills and over cliffs, an estimated 35 Taliban were also dead. So too was Murphy.
In response to Murphy's distress call, two MH-47 Chinook helicopters – one loaded with eight Navy SEALs and eight Army Night Stalkers – were sent is as part of an extraction mission to pull out the four embattled SEALs. The MH-47s were escorted by heavily-armored, Army attack helicopters. Entering a hot combat zone, attack helicopters are used initially to neutralize the enemy and make it safer for the lightly-armored, personnel-transport helicopter to insert.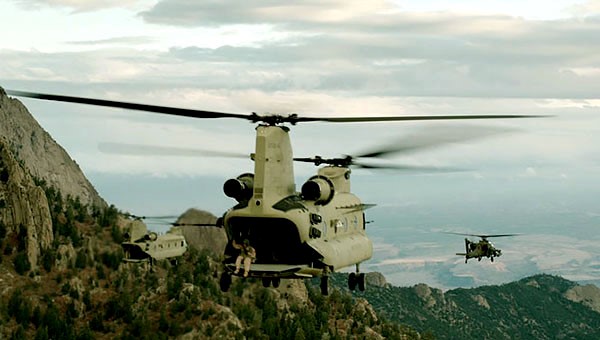 The heavyweight of the attack helicopters slowed the formation's advance prompting the MH-47s to outrun their armored escort. They knew the tremendous risk going into an active enemy area in daylight, without their attack support, and without the cover of night. The risk would, of course, be minimized if they put the helicopter down in a safe zone. But knowing that their warrior brothers were shot, surrounded, and severely wounded, the rescue team opted to directly enter the oncoming battle in hopes of landing on brutally hazardous terrain. During an attempt to insert the arriving forces, the Taliban insurgents shoot down one of the helicopters, killing eight Navy SEALs and eight Special Operations aviators who were on board. The second helicopter was forced to turn back.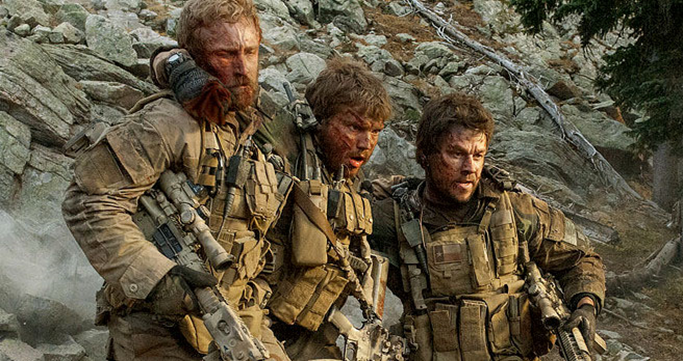 After witnessing the attack, Luttrell and a badly injured Axelson are left behind. Axelson attempts to find cover but is killed when he leaves his hiding spot to attack several approaching insurgents. Luttrell was blasted over a ridge by a rocket-propelled grenade and was knocked unconscious. Regaining consciousness sometime later, Luttrell managed to escape – badly injured – and slowly crawl away down the side of a cliff. Dehydrated, with a bullet wound to one leg, shrapnel embedded in both legs, three vertebrae cracked; the situation for Luttrell was grim. Rescue helicopters were sent in, but he was too weak and injured to make contact. Traveling seven miles on foot, he evaded the enemy for nearly a day.
When he is finally discovered by the Taliban, one of the insurgents fired a rocket-propelled grenade, and its impact caused him to land at the bottom of a rock crevice where he was able to hide from the Taliban fighters.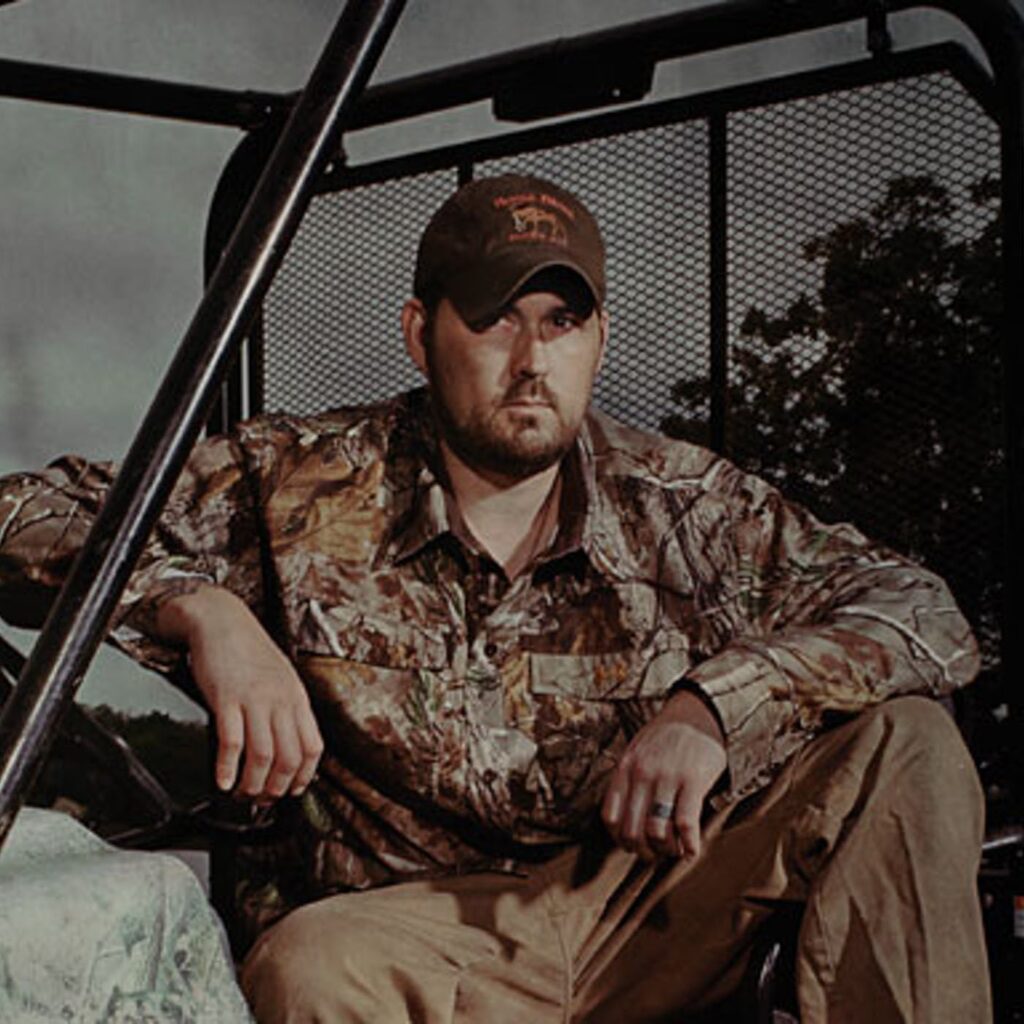 Luttrell stumbled upon a small body of water and submerged himself, only to find upon surfacing that a local Pashtun villager, Mohammad Gulab, has discovered his location. Gulab took Luttrell into his care, returning to his village, where he attempts to hide Luttrell in his home. The Taliban came to the village several times, demanding that Luttrell be turned over to them. The villagers refused. Gulab then sent a villager to a Marine outpost with a note from Luttrell. The Taliban fighters returned to the village to capture and kill Luttrell, but Gulab and the villagers intervene, threatening to kill the fighters if they harm Luttrell. The fighters leave, but later return to punish the villagers for protecting Luttrell. Gulab and his fellow militia are able to fend off several fighters during the ensuing attack. U.S. commandos, arriving via helicopters on July 3, 2005, shattered the advancing Taliban and, in the process, kill the bulk of the insurgents with concentrated weaponry fire. The American forces successfully evacuate Luttrell back to base.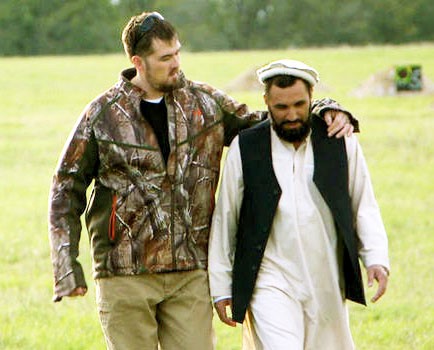 Michael Murphy was Buried With Full Military Honors
By his undaunted courage, intrepid fighting spirit and inspirational devotion to his men in the face of certain death, Lt. Murphy was able to relay the position of his unit, an act that ultimately led to the rescue of Luttrell and the recovery of the remains of the Axelson and Dietz. On July 4, 2005, Murphy's remains were found by a group of American soldiers during a combat search and rescue operation and returned to the United States. Nine days later, on July 13, Murphy was buried with full military honors at Calverton National Cemetery, Calverton, New York, Section 67, Grave No. 3710, less than 20 miles from his childhood home.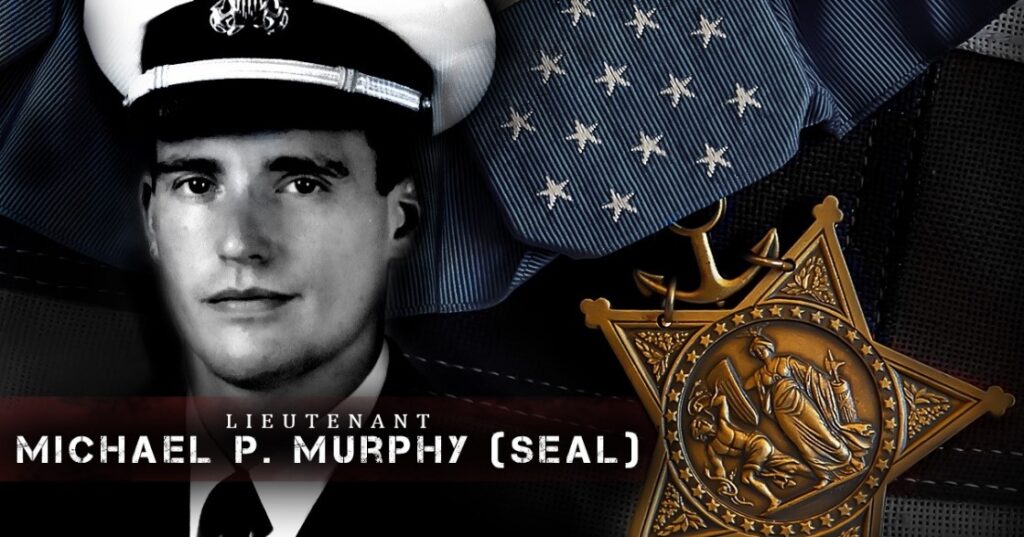 This was the worst single-day U.S. Forces death toll since Operation Enduring Freedom began. It was the single largest loss of life for Naval Special Warfare (NSW) since World War II.
Subsequent to the SEAL ambush and MH-47 shoot down, Shah and his men escaped to Pakistan, where they produced a video from footage they shot of the ambush that included weapons and implements captured from the SEALs. In late July 2005, Shah and his men returned to the Kunar Province and began attacking the United States, Coalition, and Government of Afghanistan entities.
Shah was killed during a shootout with Pakistani police in Khyber Pakhtunkhwa, in April 2008, after failing to stop at a security checkpoint whilst transporting a kidnapped trader. An official from Kunar Province stated that Shah had been the "most wanted terrorist" in Kunar province.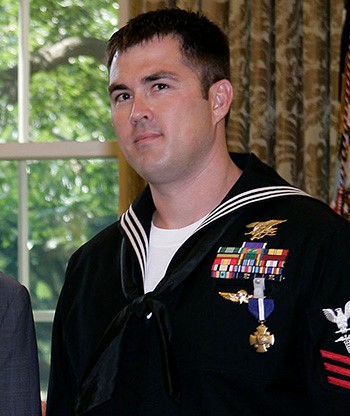 Michael Murphy was Posthumously Awarded the Medal of Honor
On September 14, 2006, Dietz and Axelson were posthumously awarded the Navy Cross for "undaunted courage" and heroism. Luttrell was also awarded the Navy Cross in a ceremony at the White House. In 2007, Murphy was posthumously awarded the Medal of Honor for his heroic actions during the battle. The eight SEALs who died in their heroic attempt to rescue them were all awarded the Bronze Star.
Biography of Michael Murphy
Murphy was born on May 7, 1976, in Smithtown, New York, to Irish American parents Maureen and Daniel Murphy, a former assistant Suffolk County district attorney and Vietnam veteran. He was raised in Patchogue. He attended Saxton Middle School, where he played youth soccer and pee-wee football, with his father as a coach. In high school, he continued playing sports and took a summer job as a lifeguard at the Brookhaven town beach in Lake Ronkonkoma. He returned to the job every summer throughout his college years.
Murphy was known to his friends as "Murph," and he was known as "The Protector" in his high school years. In 8th grade, he protected a child with special needs who was being shoved into a locker by a group of boys; this was the only time the principal of the school had called his parents, they couldn't have been prouder. He also protected a homeless man who was being attacked while collecting cans. He chased away the attackers and helped the man pick up his cans.
In 1994, Murphy graduated from Patchogue-Medford High School and left home to attend The Pennsylvania State University (Penn State). He graduated from Penn State in 1998 with degrees in both political science and psychology. He was also accepted to several law schools but decided to attend SEAL mentoring sessions at the United States Merchant Marine Academy. In September 2000, he accepted an appointment to the U.S. Navy's Officer Candidate School in Pensacola, Florida. On December 13 of that year, he was commissioned as an Ensign in the Navy and began Basic Underwater Demolition/SEAL (BUD/S) training in Coronado, California, in January 2001, eventually graduating with Class 236.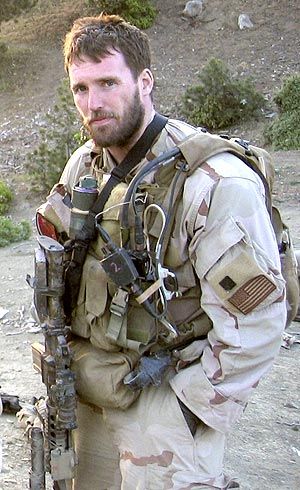 Upon graduation from BUD/S, he attended the U.S. Army Airborne School, SEAL Qualification Training and SEAL Delivery Vehicle (SDV) School. Murphy earned his SEAL Trident and checked on board SDV Team ONE (SDVT-1) in Pearl Harbor, Hawaii, in July 2002. In October 2002, he deployed with Foxtrot Platoon to Jordan as the Liaison Officer for Exercise Early Victor. Following his tour with SDVT-1, Murphy was assigned to Special Operations Command Central (SOCCENT) in Florida and deployed to Qatar in support of Operation Iraqi Freedom and Operation Enduring Freedom in Afghanistan.
One of Murphy's SEAL BUD/S instructors wrote, "I've heard from the one who survived, details about your final moments, and I want to say that you are an inspiration, a hardcore warrior through and through, exactly what every Team guy aspires to be like."
A BUD/S classmate inspired by Michael's toughness and determination wrote, "I remember you with your stress fractures post-Hell-Week and limping around with your iron will. Those thoughts will never leave my mind and further commit myself to our country's undying cause of freedom."
And a personal friend recalled, "We always knew he was a tough son of a bitch, but he was so nice." At the end of his radio transmission for help, despite his severe wounds and dire situation, Murphy ' ever the officer and gentleman ' said, "Thank you."
Photos of the real-life Marcus Luttrell, Mohammad Gulab, and the fallen service members who died during the mission are shown during a four-minute montage, and an epilogue reveals that the Pashtun villagers agreed to help Luttrell as part of a traditional code of honor known as the Pashtunwali.
https://www.youtube.com/watch?v=1gYyurUdy7Y
Lone Survivor Book and Movie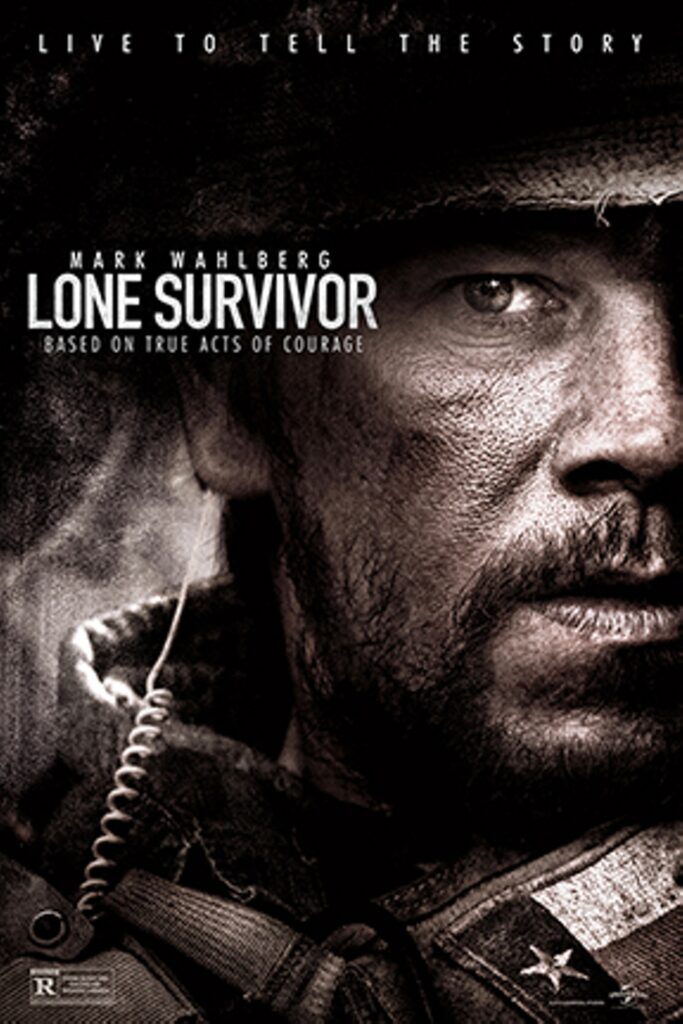 "Lone Survivor" is a 2013 American war film based on the 2007 non-fiction book of the same name by Marcus Luttrell with Patrick Robinson. Written and directed by Peter Berg, the film stars Mark Wahlberg, Taylor Kitsch, Emile Hirsch, Ben Foster, and Eric Bana. Set during the war in Afghanistan, Lone Survivor dramatizes the unsuccessful United States Navy SEALs counter-insurgent mission Operation Red Wings, during which a four-man SEAL reconnaissance and surveillance team were tasked to track down and kill Taliban leader Ahmad Shah.
Berg first learned of the book Lone Survivor in 2007, while he was filming Hancock (2008). He arranged several meetings with Luttrell to discuss adapting the book to film. Universal Pictures secured the film rights in August 2007 after bidding against other major film studios. In re-enacting the events of Operation Red Wings, Berg drew much of his screenplay from Luttrell's eyewitness accounts in the book, as well as autopsy and incident reports related to the mission. After directing Battleship (2012) for Universal, Berg returned to work on Lone Survivor. Principal photography began in October 2012 and concluded in November after 42 days; filming took place on location in New Mexico, using digital cinematography. Luttrell and several other Navy SEAL veterans acted as technical advisors, while multiple branches of the United States Armed Forces aided the film's production.
Lone Survivor opened in limited release in the United States on December 25, 2013, before opening across North America on January 10, 2014, to strong financial success and a generally positive critical response. Most critics praised Berg's direction, as well as the acting, story, visuals and battle sequences. Other critics, however, derided the film for focusing more on its action scenes than on characterization. Lone Survivor grossed over $154 million in box-office revenue worldwide – of which $125 million was from North America. The film received two Academy Award nominations for Best Sound Editing and Best Sound Mixing.
Battle Scenes from Movie
https://www.youtube.com/watch?v=QJwdXqGBEPQ
https://www.youtube.com/watch?v=QHpVb4L6izI
https://www.youtube.com/watch?v=1xxa5eS31Hk
https://www.youtube.com/watch?v=VuIINk0IftU