PRESERVING A MILITARY LEGACY FOR FUTURE GENERATIONS
The following Reflections represent MSgt Ricky Hudson's legacy of his military service from 1971 to 1992. If you are a Veteran, consider preserving a record of your own military service, including your memories and photographs, on Togetherweserved.com (TWS), the leading archive of living military history. The following Service Reflections is an easy-to-complete self-interview located on your TWS Military Service Page, which enables you to remember key people and events from your military service and the impact they made on your life.
Please describe who or what influenced your decision to join the Air Force.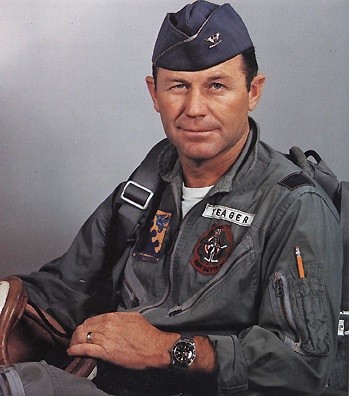 I had always wanted to enlist in the Air Force from my younger teenage years. Chuck Yeager was a hero of younger times.
When in high school, my football coach, Max Townsend, was a great influence on my enlisting. He had served in the Air Force and used the GI Bill to get his teaching degree. He pulled me aside and provided invaluable information and related experiences that only reinforced my desire to enlist.
I enlisted at age 17 under a program that was called delayed enlistment in December 1971 and did not report for basic training until June 1972. Coach Townsend gave me a heads up on this program as it provided a guaranteed job.
Whether you were in the service for several years or as a career, please describe the direction or path you took. What was your reason for leaving?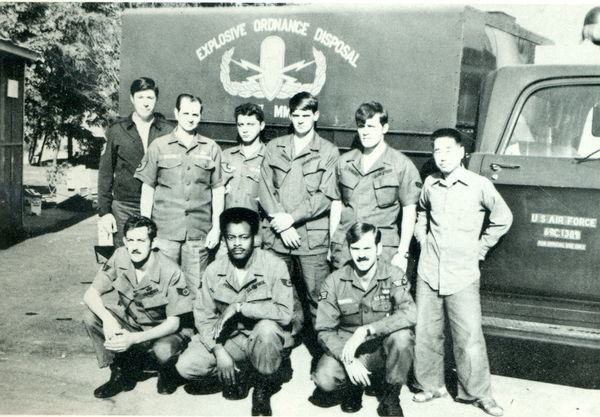 My first job in the Air Force was administration, classified document security. I took this job as a means to get into the Air Force with a guaranteed job. My duty station was at MAC Headquarters on Scott AFB. Essentially, the job was to dispatch, secure and escort classified material wherever I was directed. In January 1973 I was sent on temporary duty, along with my supervisor, as a result of a security incident in Thailand. I was lucky enough to garner the TDY when another member of the unit became ill. The TDY afforded me an outside look at what I called the real Air Force.
Back at Scott AFB, my duty day was eight to ten hours locked in a secure vault. I had much rather have been outside. This administration job became an overage in 1973 after the Vietnam war wound down. I knew I would have to cross-train in order to reenlist. I was looking for something a little more exciting than babysitting documents. At that time, the Air Force was actively recruiting members for the Explosive Ordnance Disposal career field under a program called Palace Armor. This quirked my attention, and my supervisor arranged an interview with the MAC EOD Functional Manager, Harold Reed. He talked to me several times before I made up my mind to cross-train in the career field. His stories of service in the SEA and other assignments and his perception of the camaraderie as a result of depending on others during hazardous operations were the hook, line, and sinker for me. Since I was at HQ MAC and already had a security clearance, my application was approved and a quota to EOD school was obtained in a short time.
In March 1974, I departed Scott AFB for Myrtle Beach AFB, South Carolina, where I was assigned to the training date at EOD School. My supervisors, there were a tremendous help in preparing me for the difficult training ahead. SMSgt Joe Fincher was a great influence on my attitude and determination to complete the school (washout rate is 60-70%). He pulled me aside and iterated the importance of not losing sight of my goal. He gave me a heads up about remaining calm during the training and not letting the stress get to me, telling me to work hard and party hard when I could. I thoroughly enjoyed the challenge and completed the school. I enjoyed the experiences during my first enlistment and had no questions or qualms about reenlisting. I served over 18 years in the EOD career field, and if I had it to do over again, I would not do anything different.
The good times are fondly remembered, but we tend to blank the rough times out. My EOD peers came to be brothers and sisters to me. Let no one question the fact that EOD becomes your second family. My wife's support was instrumental, especially during the difficult times. She was and is a trooper; although not literally in the Air Force, she served and did her duty as if she were.
If you participated in any military operations, including combat, humanitarian and peacekeeping operations, please describe those which made a lasting impact on you and, if life-changing, in what way?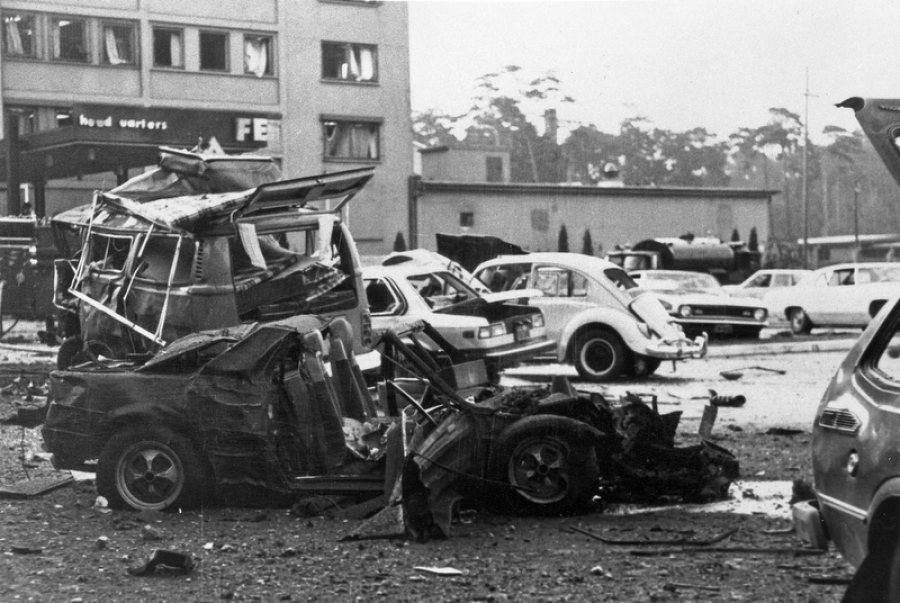 In my career field, there was not much difference between combat operations and normal EOD duties. It seemed as though I was always on duty. We were on call twenty-four hours a day in the event of an accident, bomb threat, etc. I suppose the first aircraft crash I responded to was an eye opener about how serious a situation can become. This was really brought home to me a few years later when a crash involved casualties. Having to safely remove a body from a possibly hazardous ejection system is not a nice task. Subsequently, when I was recovering hazardous ordnance and explosive devices, the thought of injury kept popping into my mind. Thankfully, the difficult training all EOD technicians receive kicked in, and I worked on the task without thought of a possible bad outcome. Over the years, this training took me safely through many hazardous operations involving aircraft, unexploded ordnance, and a few IEDs.
We (my family and I) were stationed in Germany on August 31, 1981, when the Red Army Faction (anarchist group) car bombed the USAFE Headquarters building on Ramstein AB. Twelve American military members and two German civilians were injured. I knew my wife and children were at the commissary right up to the street from the building that was bombed. Thankfully, they were not injured, but my wife was really shaken up. That night several cars in our neighborhood at Vogelweh were firebombed. During the next couple of days, we were extremely busy responding to suspected IEDs; I wasn't worried about myself but was extremely concerned about my wife and two young children. Although my wife never mentioned being scared, I know she was terrified for the kids. This kind of situation I was never really able to fully cope with. Injury or harm to me was one thing, but heaven forbid, not my wife and children. Thankfully, my wife and children have not been put in that situation again. I don't think any amount of training could overcome that type of situation.
Did you encounter any situation during your military service when you believed there was a possibility you might not survive? if so, please describe what happened and what was the outcome.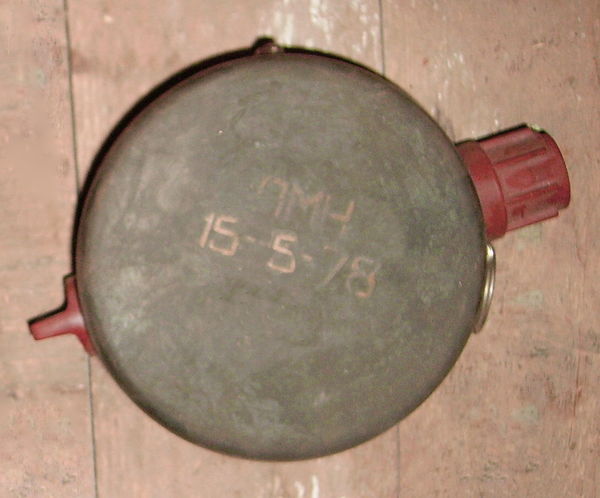 There were several hazardous operations in which, on reflection, I realized that my EOD teammate and I could have been hurt or killed. On my first EOD disposal operation, we were disposing of several hundred rounds of small arms ammunition, bomb rack ejection cartridges, and a couple of sea markers. I was in the pit and had completed soaking the munitions with diesel fuel and was just starting to come out when a teammate threw a thermite grenade onto the stack of munitions. The grenade immediately functioned, and the diesel fuel immediately burst into flames. I cannot say how I got out of the pit without being burned by the thermite or the burning stack of munitions. We hightailed out of the danger zone and took shelter. Needless to say, I was really shaken up. I won't mention a name, but the teammate swore he thought the grenade had a couple seconds delay on the fuze. I never faulted him, and we subsequently served two other tours of duty together and sometimes would relive the experience.
Another incident occurred on the Kooni Bombing Range in Korea. Sgt Wayne Chamberlain and I responded to a call from the range safety officer. A Korean civilian had returned armed and hazardous bomb fuses to the range complex. He had picked them up offshore when the tide was out. When Wayne and I got there, we discovered the fuses to be an all-way acting type, in that any way you moved the fuze could initiate the high explosive. We both looked at each other, wondering how in the hell the Korean got the fuse there without them detonating. Wayne (ranking) decided to hand carry the fuses to a safe disposal area. I followed at a relatively safe distance, and we safely disposed of them. At the time, neither of us thought of the hazardous situation, training had kicked in, and we completed the task. It was later that we realized how dangerous the situation really was and were in awe at the good luck of the Korean civilian.
I was very lucky throughout my EOD career, as I was only injured four times that required medical attention. I am only going to relate two of the lesser injuries. On-site medics provided the medical treatment and were a godsend to me. The first incident was when we miscalculated our distance from the detonation of a 500lb bomb off the coast of Kooni Range, and the blast wave caught us by surprise. It all but knocked me out, and I reported to the on-station medic to check me out, diagnosed with a slight concussion. My two mates and I were very lucky. The second incident was during range clearance operations. We had run up on several 2.75-inch rockets that had been jettisoned in the rocket pod. We decided to strip and burn the rocket motors (warheads were practice/inert). We stripped them and placed them on the ground for disposal when an igniter charge was ignited in some way, which immediately ignited one of the rocket motors next to me. After flailing about to get away from the burning rocket motor, I discovered my arm had been burned. The burn was treated again by an on-site medic (who I am sure thought I was nuts), and we continued operations for the day. The situation could have been very serious if the other rocket motors had ignited. Again won't mention names, but both of us had a beer afterward and never discussed the matter, with the silent understanding that luck was the higher force that day.
In all the hazardous incidents in which the situation was out of the ordinary, my teammates and I looked upon them as normal day-to-day EOD operations. Some were good, some not so good. It was an excellent day when you could enjoy a good brew at the end of it.
Of all your duty stations or assignments, which one do you have fondest memories of and why? Which was your least favorite?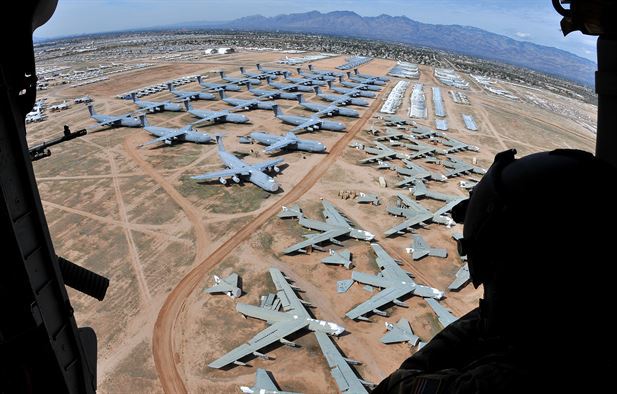 I suppose the fondest memories were of my time at Davis-Monthan, 355 MMS/EMS/390SMW. This assignment which was three years, afforded me the opportunity to do many of the things I enjoyed. First, my wife and I loved the desert, loved the people we were associated with in the unit and our neighbors. It was the first place in which I could obtain base housing which was a blessing, and put a little more money in our budget so we could at least travel and see the nearby attractions, and they were many. As far as the Air Force aspect, it afforded me diverse mission requirements, from nuclear weapons to range clearance operations in the desert. I was in awe of the Titan II missile system. The training to support the system was awesome; I loved to go to silo familiarization training. We also had tactical weapons in support of the then READINESS command. I was well trained in this mission from previous assignments. The temporary duty assignments were great. I was sent to NETOPS school in Albuquerque, New Mexico. Thoroughly enjoyed the training and the chance to see Albuquerque. Also was sent on TDY to Nellis and saw the then a smaller, friendlier Las Vegas. Trekked across many miles of desert from Alamo to Rachel to Tonopah, to Beatty, and loved poking around the ghost towns as well. Did the same thing at Gila Bend to Ajo on North TAC, South TAC, and East TAC ranges. The assignment allowed us to visit Mexico several times.
My least favorite assignment was EOD Functional Manager at USCENTAF Forward in Riyadh, Saudi Arabia. I have an intense dislike for having to work indoors. I have always loved the benefit of EOD operations to being outside and working the "real" job. CENTAF Forward tied me down to office work, coordinating support, and just smooching the Saudi's so we could adequately do the job needed at the various units in the AOR. So every chance I got, I would head out to a different unit and just be a worker bee to see how the morale and attitudes of the EOD techs were. I listened to their bitches and complaints and tried to rectify problems that were within my scope of responsibility. I tried my best to be fair with the "good" taskings and also the more distasteful ones. My biggest headache was coordinating and supporting the UN Special Commission on Iraq (UNSCOM). I learned very quickly there is no one in charge at the UN. You have the various countries trying to push their own agenda. Hell, when I had to task EOD teams to UNSCOM support, the team could be made up of Brits, French, German, Russians, Poles, and Americans. This was not conducive to a well-run operation, not to mention the reluctance and sometimes outright hostility of the Sadam government and military. This assignment reinforced my desire to retire, which had been placed on hold due to deployment) Sure there were some good times. I loved the desert and saw several different Arab countries and the common folks in the Saudi/Arab culture. But the separation from family, the "confinement" to the office, and the continual pressure of trying to ensure the safety of EOD techs conducting hazardous missions took their toll on me. The final straw was when I returned to Eglin after 188 days in the AOR to find I had an assignment for Sembach, Germany, which meant I would be rotating into the AOR again. I forced my retirement through as the first thing I did when I returned.
From your entire military service, describe any memories you still reflect back on to this day.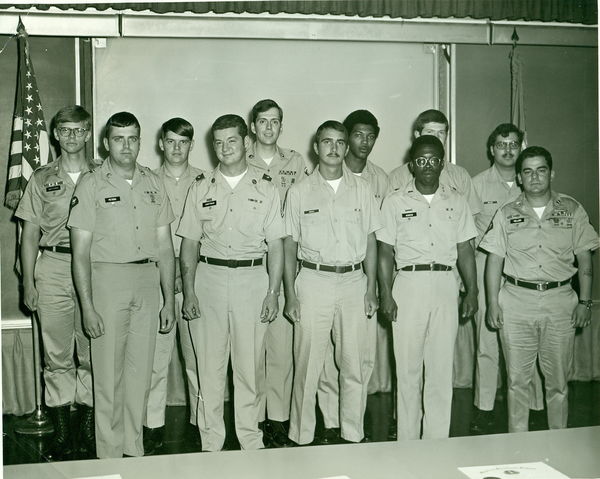 I suppose the assignment to the 7006th Explosive Ordnance Disposal Flight at Kapaun Barracks in Vogelweh, Germany gave me ample opportunity to learn and had the most impact on me. When I arrived, my background experience was mostly in range clearance operations and nuclear weapons. This blended well with the unit tasking at Kapaun. But, my most remembered experiences were the varied taskings and missions we were assigned. Some were openly discussed, and others were classified. I always had a dread for the classified missions as in a lot of the situations, we did not know the conditions on the ground at our destination, and to make it more uneasy, sometimes we did not know the status of the person in charge of the mission or which organization he was with. When not on the operations, I was the one that assigned the EOD team for the mission. In a lot of cases, along with my flight chief had to notify the families of the EOD tech's deployment but could never relate why. I always worried about what I would do or how I would react if someone was injured or killed in the operation. Thank God that situation never arose. Don't get me wrong, I would not ever say the classified ops I was on were not beneficial. I learned very quickly to salute and carry on smartly and be situationally aware of my surroundings, and respond in an efficient and safe (or least hazardous) manner.
The ops that were considered open were by no means an easy task. Range clearance operations were a monthly task and involved some very hazardous munitions from other countries. Aircraft accidents were common and not an enjoyable task as well. Bomb threats, suspected IED's, munition disposal operations, and terrorist activity were common events. So the lessons learned on the classified missions gave me a hand in the open operations.
Of all the medals, awards, formal presentations and qualification badges you received, or other memorabilia, which one is the most meaningful to you and why?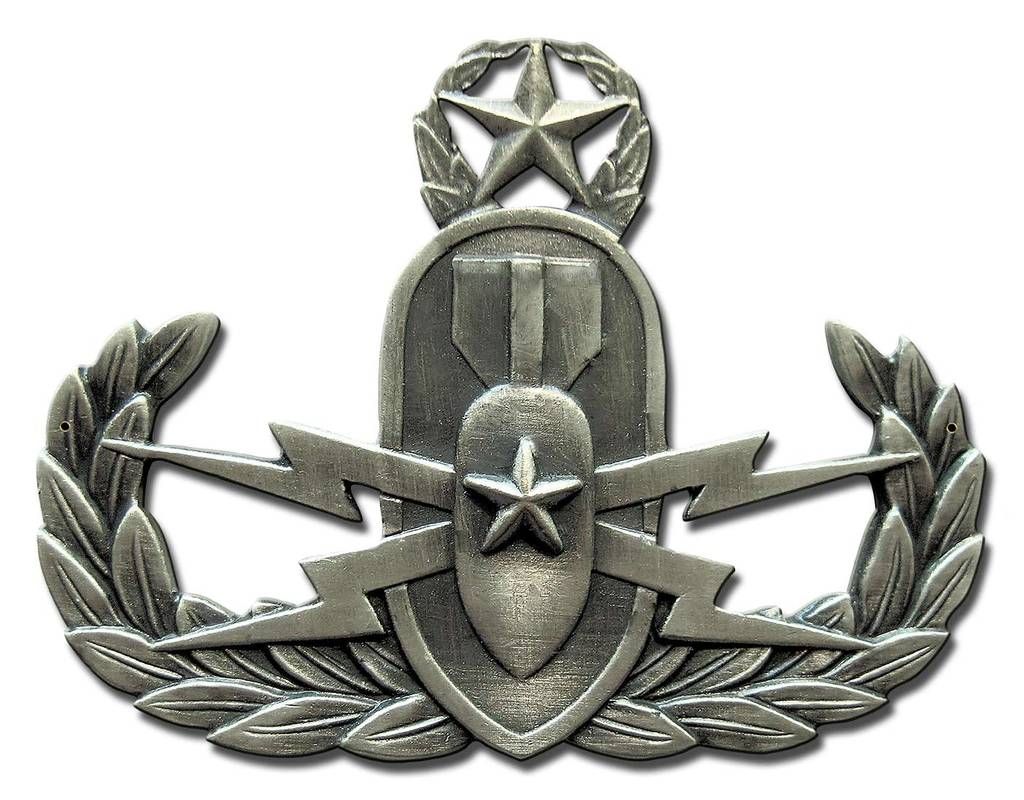 Of all the medals and awards I have received, the most meaningful to me are the Air Force Outstanding Unit Awards (AFOUA). They are meaningful to me because I always worked my tail off and tried to do an outstanding job, no matter how distasteful the job or how enjoyable it was. Over my entire career, the AFOUA was awarded to every unit I was assigned to, with the exception of one. I think of all the men and women I served in these units and can honestly say, the very great majority of them had the same attitude toward their job as I did. The other medals, such as commendation medals and meritorious service medals, are in the name of the individual. They tend to overlook the fact that the success of the individual was possible through the efforts of other airmen, NCO's and officers. The AFOUA shows the attitude, and outstanding service of all members, which I treasure the most.
As to the badges, there is no question it has to be the Explosive Ordnance Disposal Badge. When I received the Basic EOD Badge, I was happy and relieved at the same time. It meant that I had been challenged to complete a very difficult course of classroom and field training problems and had successfully met the challenge. The success of the award was not just my doing; the EOD School Instructors were a part of my success, as well as my fellow classmates. Relief was in the form of a brief respite from the stress of the training. When I earned the Master Badge, it meant that I had paid my dues and, over the years enjoyed success with the support and assistance of my comrades. I cannot overlook the sacrifices my wife and family made over those years also. So the Master Blaster Badge to me was a favorite badge that was earned with the support by all of my superiors, peers, subordinates, and family.
Which individual(s) from your time in the military stand out as having the most positive impact on you and why?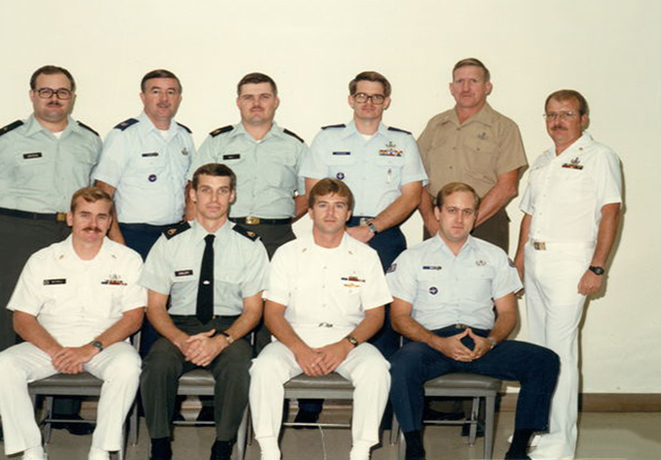 I was fortunate enough to have several supervisors and peers that I greatly respected and impacted my service in various ways. My first duty location was at Scott AFB. MSgt Cliff Brockington was instrumental in guiding me in the right direction. He was truly concerned about a young airman from Alabama and always made my wife and me feel comfortable at unit get-togethers. He was very concerned about my future in the Air Force as my AFSC was considered an overage, and when I showed interest in cross-training into EOD, he arranged for me to talk with the EOD functional manager, Harold Reed. I know MSgt Brockington must have given a positive input to SMSgt Reed, as when I sat down to talk to him, he knew quite a bit about me and my background. SMSgt Reed didn't have to approve my application as I did not meet one of the prerequisites, but he waived it, and I think MSgt Brockington had a lot to do with that.
Another mentor and friend were SMSgt Joe Fincher, my first EOD Superintendent at Myrtle Beach AFB, South Carolina. He sat me down when I got there, and we talked about how I got into the EOD program and our common backgrounds. Being a country boy from Alabama, I had a lot in common with SMSgt Fincher; we both worked on farms in our youth, came from a rather meager background, and always desired to enlist in the Air Force. His greatest influence on me was how he related in his lifetime; he had gone from plowing fields with mules to working on intercontinental ballistic missiles and supersonic aircraft. He told me if he could do that in the Air Force, I most certainly could achieve my goals. Even after retiring from the Air Force after 22 years of service, he continued to support the Air Force as a Junior ROTC Instructor. So SMSgt Fincher, to me, was the epitome of success. He and I talked on several occasions during the short time I was there, and his influence on my attitude was tremendous. Over my career in the EOD program and Air Force, he often came to mind, and when he did, it was like a kick in the ass to overcome whatever adversity I was facing.
I will list one more person that influenced me a great deal. CMSgt Ray Irving. I was stationed with him at Kapaun Barracks, Germany. We were both assigned to the 7006th EOD Flight. I can honestly say that unit and its members were unique in many odd ways. I worked two jobs there. The first was Quality Control, a job that was distasteful to me, as I did not relish the task of pointing out errors to others. The only redeeming factor to me was to recognize superior efforts. CMSgt Irving knew I did not enjoy the job but he talked with me repeatedly and finally convinced me the job was necessary and that I had the demeanor and ability to accomplish it successfully. I worked that job for a year, and he kindly put me into a job more to my liking, EOD Operations, which involved working with him closely on tasking requirements and assigning missions to the various teams. He was always offering answers to problems and taught me to look at things in the big picture. Another aspect of his influence was his ability to remain calm and keep his sanity while trying to keep numerous push-the-limit EOD troops in line and stress the requirements of being safe in hazardous situations (which were many); this was not an easy task. I have stationed with him again at Indian Head, Maryland at the EOD Schoolhouse. Again his calm demeanor and ability to direct EOD troops in the right direction in an inter-service environment set a good example for me.
When I made MSgt and was in charge of a unit assigned to an inter-service training command, and later as a MAJCOM functional manager, his, SMSgt Fincher's and MSgt Brockington's experiences and influences aided me greatly.
Can you recount a particular incident from your service, which may or may not have been funny at the time, but still makes you laugh?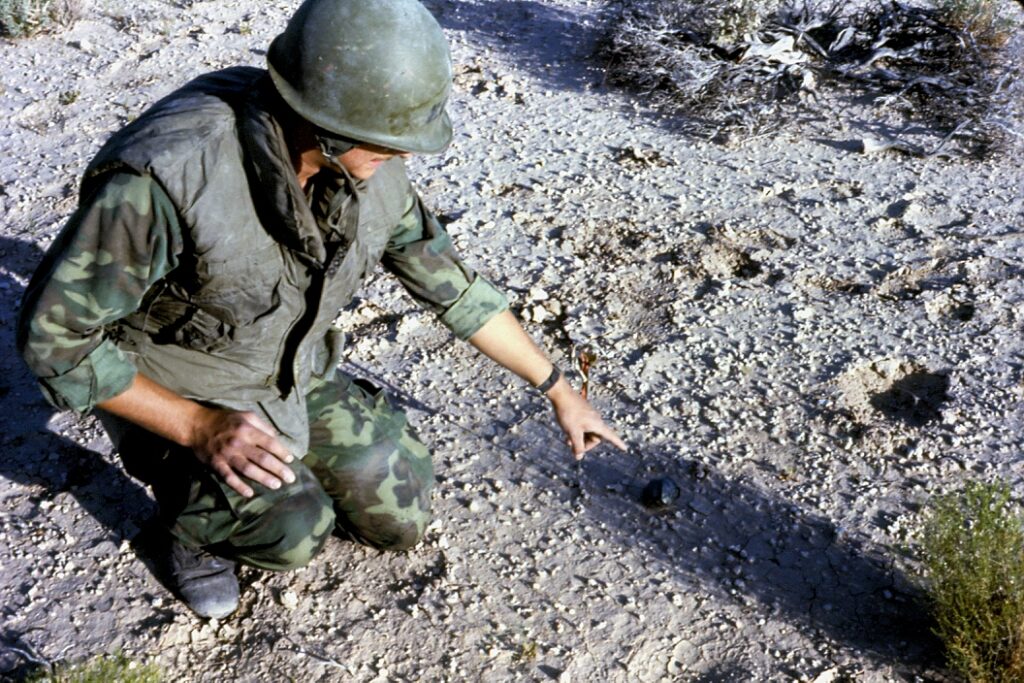 I worked with a brilliant EOD tech, Geri Hills. He is the only EOD tech I know who is completely immune to the effects of CS (tear gas). One day he and I were on base at Ramstein and got a call to check some CS containers in the bomb dump. I asked Jerry shouldn't we go to Kapaun and get our gas masks, and his response was, "Nah, don't worry about it." I knew then that something was not right.
I got to the bomb dump, signed in, and proceeded to the igloo with the CS containers. Jerry jumped out of the truck, opened the igloo door, and proceeded inside while I waited at the igloo entrance. He removed the lid off the barrel of CS and, without any hesitation, stuck his head inside (and I swear I took a long deep breath) to see if the CS particles had crusted over; they hadn't. The activity of Jerry removing the lid scattered the CS. The damn stuff didn't bother Jerry in the least, but it damn near made me s–t my trousers while I was puking. Jerry resealed the barrel, and I begged him to go back and get gas masks between heaves. I swear he didn't have a tear in his eyes. Damn, and we had four more to check. Jerry did the rest on his own.
Another incident took also took place at Kapaun. We had several very young techs assigned, which is how I was introduced to one. Art was showing me around the vehicle bay as part of my introduction. Mikie came up behind me and gave a hoot like the Eagles' victory song in their song Already Gone, something akin to "woo who who who, woo who." Not knowing he was there, it scared the living hell out of me. I asked Art what the hell that was all about, and the story was that Mikie had received a Dear John letter from his girlfriend, and afterward, he began subjecting the other guys to the same antic he had pulled on me. The top shirt got so damned tired of his s–t, he forbade him ever to do it again; it never happened; he just didn't do it around the top. Finally, one day, Bruce got so fed up with it, he wrestled Mikie to the ground and stuck some of his dirty socks in Mikie's mouth; Mikie never "woo who whoed" again.
What profession did you follow after your military service and what are you doing now? If you are currently serving, what is your present occupational specialty?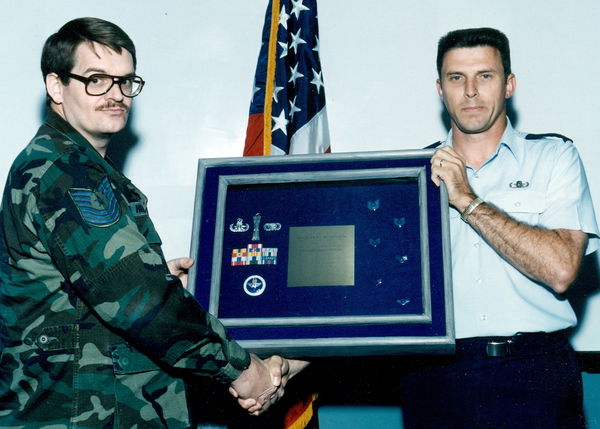 I retired in 1992 and was burned out from all the requirements of management and taskings related to my career field and, more importantly, the separations from my family. Don't know why or what I was thinking, but I took a job as a foreman on a hazardous material response team. My EOD background more than prepared me for the job, so it was a very easy transition. Over time the separations from my family again became a problem. So I parted ways with the hazmat team and began to search for a job near home in which I could be with my family. I went into the manufacturing arena and was hired as a foreman; again, I wished I had never gone into management and, after four years parted ways.
My last career was in supply and logistics. Worked at that venue for over eighteen years in various positions. I enjoyed the job because I only had to worry about my tasks and not thirty or forty others. My health began to decline after two heart attacks and heart failure, and I had to medically retire in 2015.
I am now fully retired but try to maintain contact with my comrades from my EOD career. My wife and I love to travel when we can and are quite content just to be together and at home.
What military associations are you a member of, if any? what specific benefits do you derive from your memberships?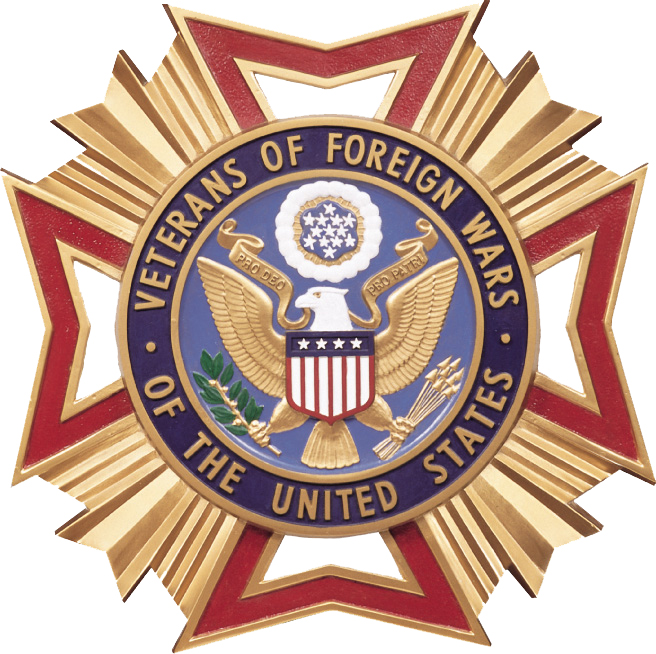 I am a member of the Veterans of Foreign Wars and the American Legion. Benefits include being able to refer a vet or vet's family member to either organization for help when needed. My direct benefits were helpful in obtaining a VA loan and their lobbying efforts on behalf of all vets and active duty troops.
In what ways has serving in the military influenced the way you have approached your life and your career? what do you miss most about your time in the service?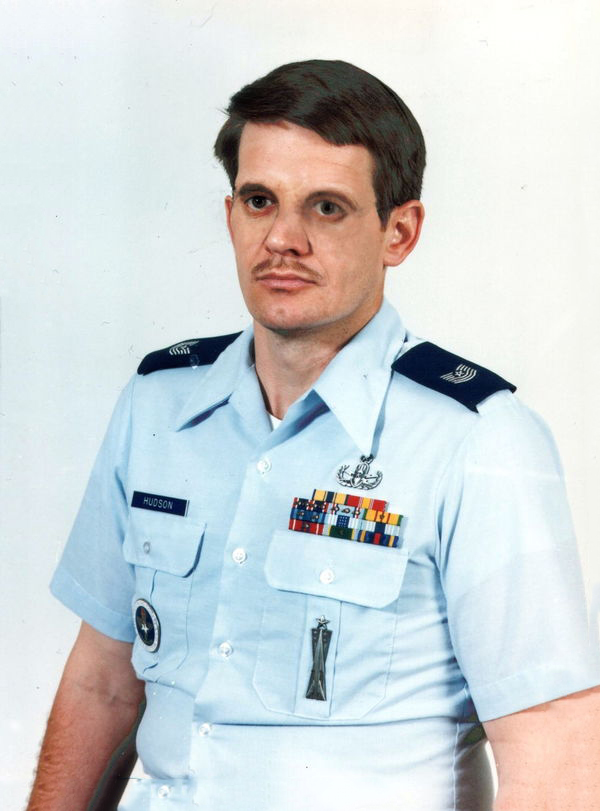 The Air Force experience gave me self-confidence and a strong desire to do the best in whatever job or task is at hand. The many separations from family also reinforced the importance of making the best of the time we have together. When my wife and I left home after enlisting, the military gave us the opportunity to grow up, solve our own problems, and learn to adapt to the unexpected. Sure there were some bad times, but the good times were plentiful. I would not change a thing if I had the opportunity. My wife and I look back on our Air Force adventure with fond regards. It drove home the adage that there is a far greater importance in life than oneself. The sacrifices made to that greater thing are not understood in today's me, me, me, me, society. The duty to God, comrades, family, and country is a sacred endeavor and is not to be taken lightly.
I fully believe this lesson is the most important one I learned while serving in the Air Force.
Based on your own experiences, what advice would you give to those who have recently joined the Air Force?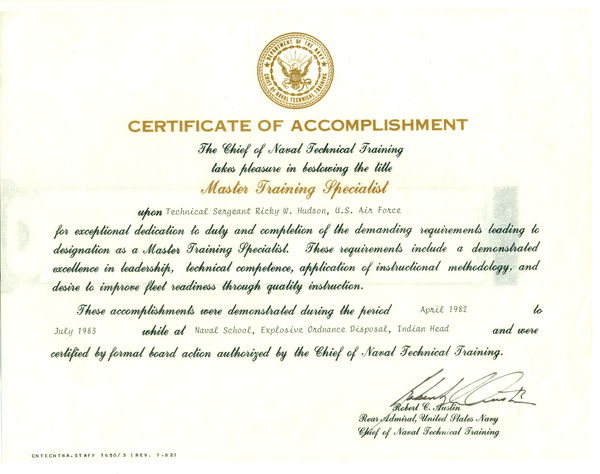 First of all, it is not about you. It is about teamwork and having your comrades back. If you approach the Air Force experience as only for your benefit, you are in the wrong place and time.
Second, never pass up the opportunity to shut your mouth and listen. Listening to others' experiences and advice was one of the most beneficial activities I ever participated in. No matter who is talking, he or she may have a better solution to the problem at hand.
Third, take care of your personal life and family. Make sure they have the best you can provide. At times you won't be able to be in their day-to-day lives; learn to depend on your unit and comrades to help them during the separations.
Finally, never say never, don't ever give up, and keep striving until you persevere and overcome the obstacle at hand.
In what ways has togetherweserved.com helped you remember your military service and the friends you served with.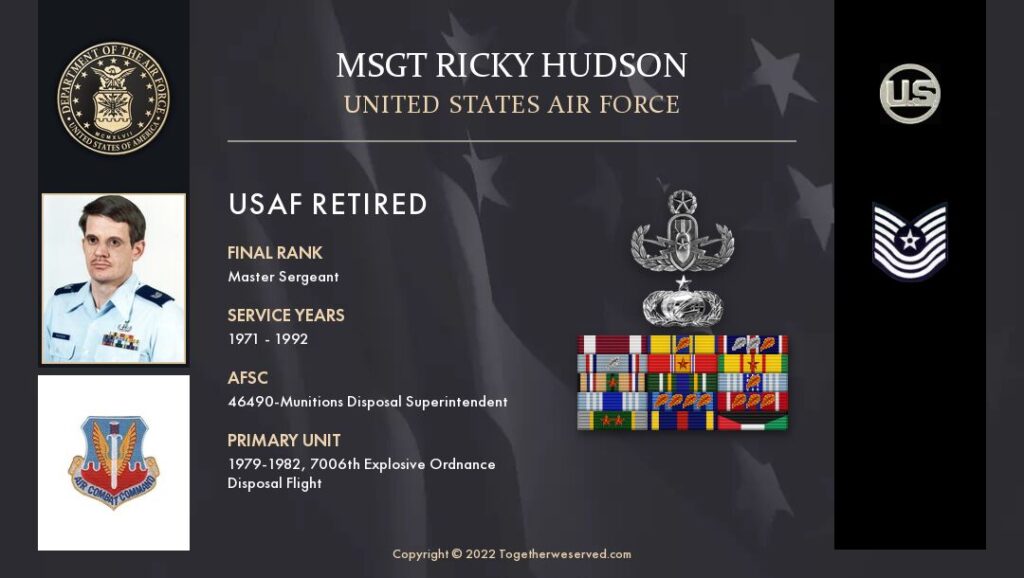 TWS has served to help me to reflect on my Air Force career and to connect with old friends. It has afforded me the opportunity for internal reflections, some good and some bad, which in itself has been therapeutic for me.
Additionally, TWS has helped me to reconcile hardships of the past and how it affects me today, in essence, to throw off the guilty feelings of situations in which I had no control over. I would recommend TWS to any veteran as a therapeutic endeavor.
PRESERVE YOUR OWN SERVICE MEMORIES!
Boot Camp, Units, Combat Operations
Join Togetherweserved.com to Create a Legacy of Your Service
U.S. Marine Corps, U.S. Navy, U.S. Air Force, U.S. Army, U.S. Coast Guard