Montel Williams is best known as the Emmy Award-winning host of The Montel Williams Show, which aired nationally for seventeen years. Montel Brian Anthony Williams, known to most as simply "Montel," is also an actor and motivational speaker. But did you know that Montel Williams served in the military? His decorated military service spanned 22 years in two branches of the service—the United States Marines and the United States Navy. He enlisted in the Marine Corps in 1974 and later became the first black man to graduate from the Naval Academy in 1980. Today, along with being a New York Times bestselling author, entrepreneur and philanthropist, Montel is a passionate advocate for veterans.
Montel Williams's Early Years
Born in Baltimore, Maryland, on July 3, 1956, Montel was the youngest of four children born to Marjorie and Herman Williams. Montel's father was a firefighter who in 1992 became Baltimore's first African American Fire Chief. Williams was raised as a Roman Catholic and served as an altar server in the Catholic Church. He frequently visited his sister, who lived in Westminster, Maryland.
Through the bussing system, Williams attended Andover High School in neighboring Linthicum, Maryland, where he was elected president of his class in both his junior and senior years. He was a good student, athlete, and musician. Montel was also active in countywide student government issues in Annapolis, Maryland. As a high school student, Montel spent his summers working at the local McDonald's during the day and playing in a band, Front Row, at night.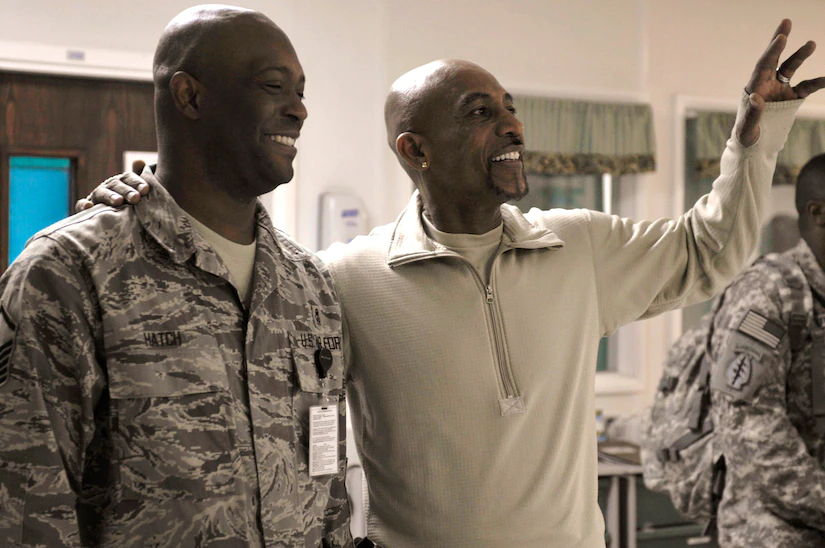 Montel Williams Enlists in the US Marine Corps
As a black youth, Montel recalls being directed by his guidance counselor to trade school in favor of college. Instead, Williams enlisted in the United States Marine Corps in 1974. He completed Boot Camp at Marine Corps Recruit Depot Parris Island, South Carolina, where he was promoted to platoon guide. After boot camp, he was sent to the Desert Warfare Training Center at Marine Corps Air Ground Combat Center Twentynine Palms, near Palm Springs, California.
Williams was honorably discharged as a corporal (E-4) from the Marines, and enlisted into the Navy as a midshipman. He earned a spot in the highly competitive Naval Academy Preparatory School (NAPS) at Naval Station Newport, Rhode Island. He completed the one-year Naval Academy Preparatory School course and then in 1975, he was accepted as the first black Marine into the four-year officer training program at the U.S. Naval Academy. Montel was determined to succeed. As one of forty Marines to enter the school in 1976, he was one of only four to actually graduate.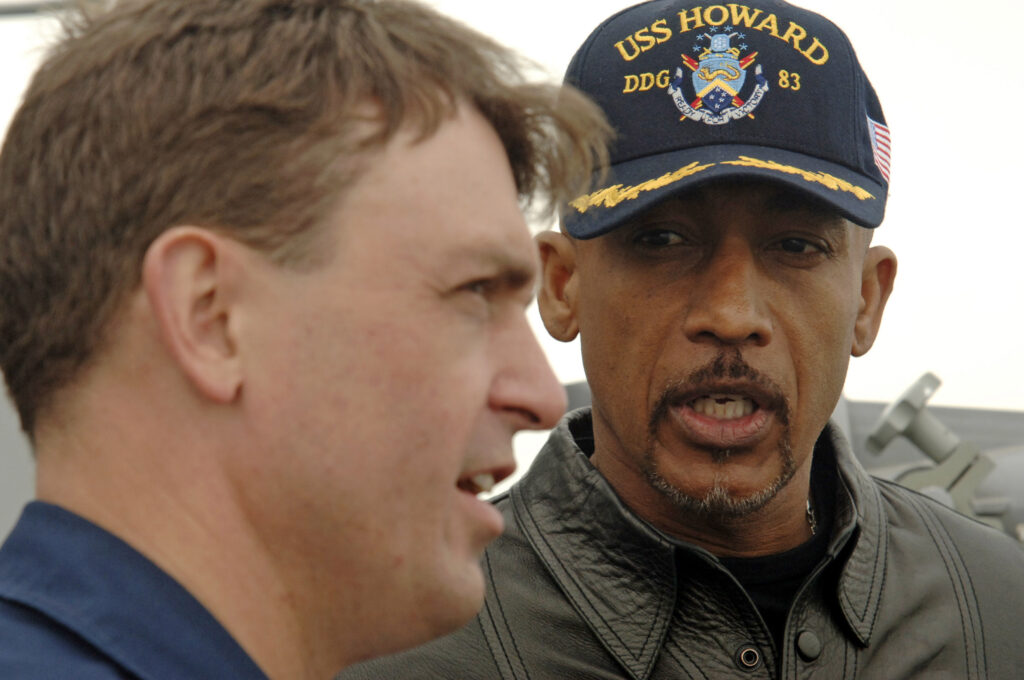 He graduated in 1980 with a degree in general engineering and a minor in international security affairs. Commissioned as an ensign (O-1) in the Restricted Line, he completed Naval Cryptologic Officer training. He then spent 18 months in Guam as a cryptologic officer for naval intelligence. Montel's next assignment was as a cryptologic officer with the Naval Security Fleet Support Division at Fort Meade, Maryland. It was there Williams worked for the National Security Agency, where he was involved in the U.S. invasion of Grenada in 1983, known as Operation Urgent Fury.
On several occasions, he worked to secure the release of United States citizens — typically military personnel who had been captured in foreign lands — returned to U.S. soil. His ability to speak fluent Chinese and Russian, which he mastered at the Defense Language Institute in Monterey, California, helped him climb the ladder of success. After 17 years of active duty and 5 more as a reservist, Williams retired in 1996 from the Naval Reserve at the rank of lieutenant commander.
Montel's Military Awards
After 22 years of military service, Montel Williams retired from the Navy with the rank of lieutenant commander.
Montel's military awards include:
The Montel Williams Show
In 1988, Montel Williams began conducting informal counseling for the wives and families of servicemen. He was later asked to speak to a local group of children in Kansas City, Missouri, about the importance of leadership and how to overcome obstacles on the road to success. This began a three-year career in motivational speaking, which eventually led to The Montel Williams Show on television.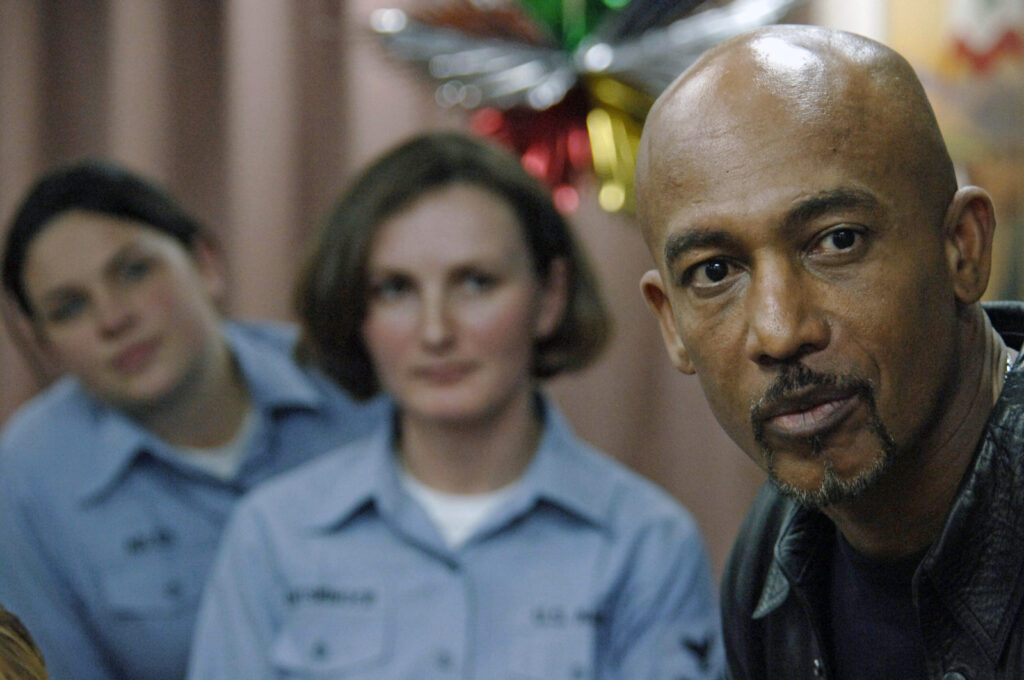 The Montel Williams Show made history because Williams was the first black man in the United States to host a television daytime talk show. It was a major success, and in 1996 Williams was awarded the Outstanding Talk Show Host Emmy. Montel presented a daily discussion of topics focused on family and relationship issues in front of a live studio audience, providing his own point of view on the subject while maintaining civility and sidestepping tabloid-TV sideshow antics. The show ran from 1996 until 2008. Between 2009 and 2010, Williams hosted a daily radio show, Montel Across America.
Montel Williams Military Legacy and Advocacy
Although retired from the military, Montel Williams remains a strong advocate for veterans, both on and off the screen. On the last episode of The Montel Williams Show, Navy Capt. Kenneth J. Braithwaite II, director of Joint Public Affairs Support Element Reserve, presented Williams with the Navy's Superior Public Service Award.
Besides hosting The Montel Williams Show, he was an actor in several military-themed shows. He portrayed a Navy SEAL, Lt. Curtis Rivers, in three episodes of the TV series "JAG."
He also produced and starred in a short-lived TV series called "Matt Waters," which appeared on CBS in 1996. In it, he played an ex-Navy SEAL turned inner-city high school teacher.
Military Makeover with Montel®, produced by BrandStar, offers hope and a helping hand here on the home front to members of our military and their loved ones. On this show, Montel Williams seeks to transform the homes and lives of military families across the country. Military Makeover with Montel enlists conscientious Fortune 500 companies, designers, contractors, landscapers and other home improvement professionals with the motto: Help starts at home for veterans. The show, which airs on Lifetime TV and AFN, has produced some of the most memorable moments in TV history.
Williams is an outspoken advocate for US military veterans. He has publicly lobbied for government action to promptly resolve the Veterans Affairs scandal calling for a surge in effort under the banner VASURGE, and promoted a White House petition to this effect. Williams' campaign to reform the VA began with an impromptu speech to veterans at a picnic that was recorded by the local newspaper. Several days later, he authored an op-ed laying out his plan to reform the VA. In the op-ed, Montel said, "we owe a lifetime commitment to those who have risked their lives for the freedoms afforded to us on a daily basis and this commitment should be a matter of national pride – a staple of who we are and what we stand for as American citizens."
Montel Williams was diagnosed with Multiple Sclerosis in 1999, and set up the Montel Williams MS Foundation to help other sufferers. Williams also serves on the board of directors for the Fisher House Foundation and the Anne Romney Center for Neurological Diseases at Brigham and Women's Hospital.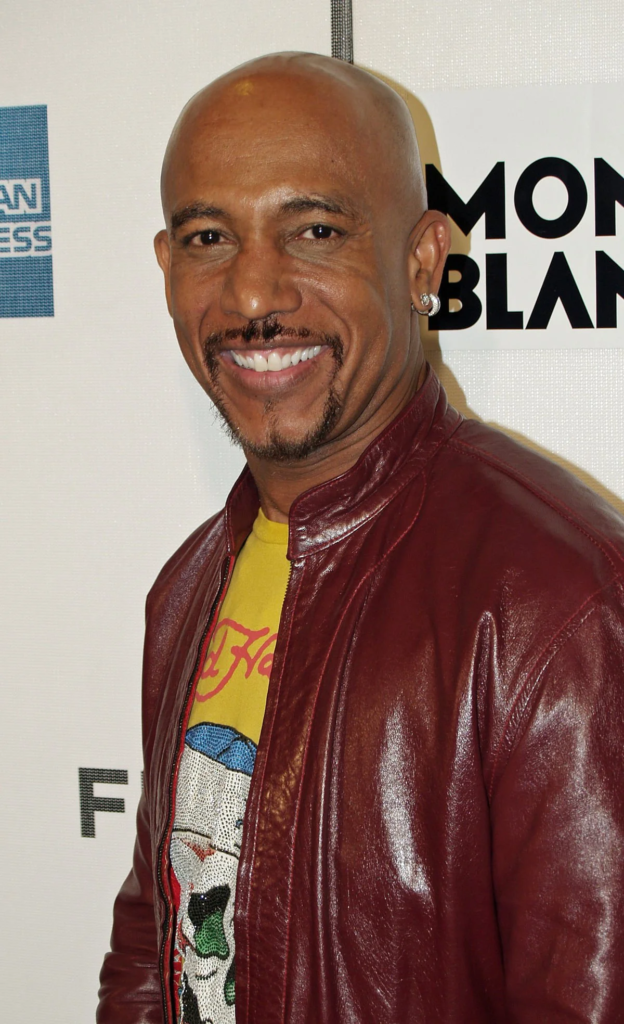 Read About Other Celebrities Who Served
We salute Montel Williams decorated Navy and USMC career, as well as his accomplishments as an author, entrepreneur, talk show host, and military advocate. If you enjoyed learning about Motel Williams's military service, we invite you to read about other celebrities who served on our blog. You will also find military book reviews, veterans' service reflections, famous military units and more on the TogetherWeServed.com blog. If you are a veteran, find your military buddies, view historic boot camp photos, build a printable military service plaque, and more on TogetherWeServed.com today.