USS Tampa's short story began on August 9, 1912, when the U.S. Revenue Service Cutter (UCRC) Miami, built by the Newport News Shipbuilding and Drydock Corp, was commissioned at Arundel Cove, MD. The ship was named for the Miami Indian tribe rather than for the then little settlement in South Florida. At the time, several revenue cutters were named after Indian tribes. The Miami was 190 ft long, with a 14.6-ft draft and a displacement of 1,181 tons. Her normal crew complement was 70 Officers and men, she carried three quick-firing six-pounders and various small arms, and she could do 13 knots.
The Miami's first duty was with the International Ice Patrol, operating out of Halifax and looking for icebergs. Subsequently, she was based in Tampa, Florida, and developed a relationship with the city.
In January 1915, the Revenue Cutter Service and the Lifesaving Service were merged and renamed the U.S. Coast Guard. It was then decided that the Indian tribal names were to be phased out, so in February 1916, the Miami was renamed the U.S. Coast Guard Cutter (USCGC) Tampa.
USS Tampa Transferred to U.S. Navy in World War I
Soon after war was declared on April 6, 1917, according to law, the U.S. Coast Guard was transferred to the U.S. Navy for the duration of the war. Three days later, the USS Tampa, along with the former USCGC Tallapoosa, seized the Austrian merchant ship Borneo, the first overt action by Coast Guard ships in the war.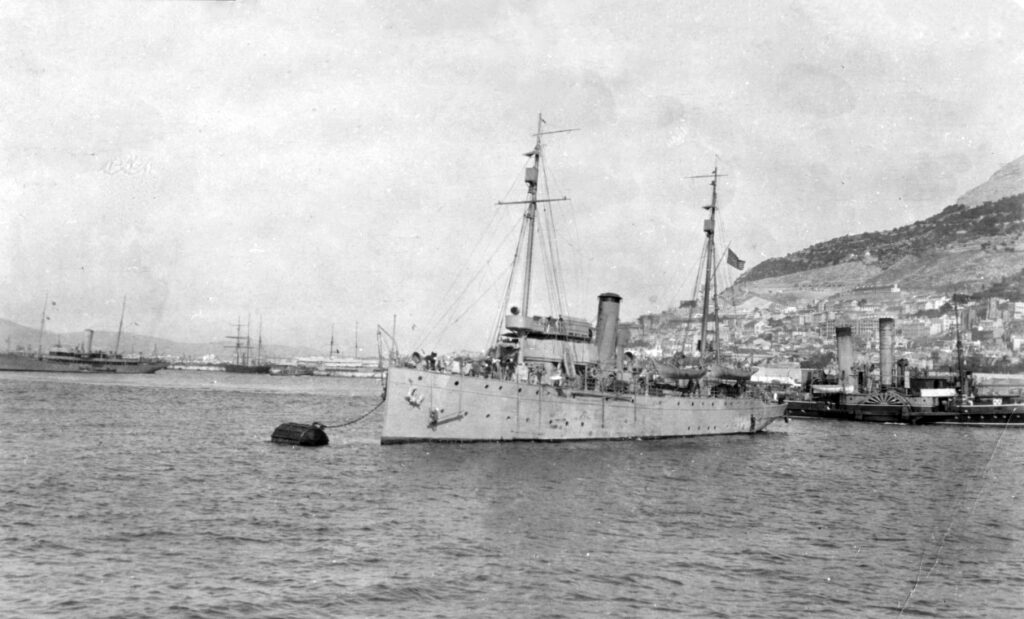 At the time, the USCG had 23 cutters capable of ocean service, which were sent to east coast Navy yards where they were up-gunned and outfitted with depth charges. In August and September of 1917, the cutters Ossipee, Seneca, Yamacraw, Algonquin, Manning, and Tampa left for European Service. They were designated as Squadron 2, Division 6 of the Atlantic Fleet's patrol forces (the flagship was the slightly larger gunboat USS Paducah PG-18), and the squadron was based at Gibraltar. These cutters escorted hundreds of vessels convoying between Gibraltar and the U.K. and performed escort and patrol duty in the Mediterranean.
USS Tampa Sunk by Torpedo
On the evening of her loss, USS Tampa was detached from escorting Convoy HG-107 in the Bristol Channel to proceed to Milford Haven, Wales, to discharge passengers. At 8:45 p.m., an explosion was noted by a hydrophone operator in the convoy. Subsequently, the Tampa failed to arrive at her destination, and a search was done for her by U.S. and British patrol craft. A small amount of wreckage was identified as belonging to the Tampa, and two unidentified bodies in Naval uniforms were found. Two other bodies later washed ashore. Losses were 111 U.S. Coast Guard, four U.S. Navy, eleven Royal Navy, and six civilians.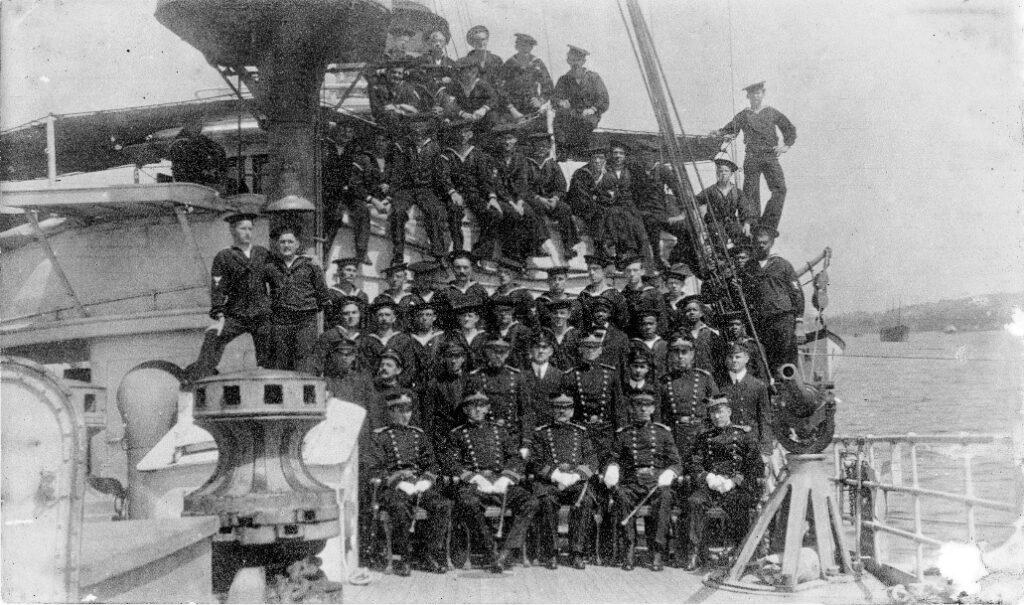 Their Lordships desire me to express their deep regret at the loss of the USS Tampa. Her record since she has been employed in European waters as an escort to convoys has been remarkable. She has acted in ocean escort capacity to no less than 18 convoys from Gibraltar comprising 350 vessels, with a loss of only two ships through enemy action. The convoys' commanders have recognized the ability with which the Tampa carried out the duties of ocean escort. Appreciation of the good work done by the USS Tampa may be some consolation to those bereft, and Their Lordships would be glad if this could be conveyed to those concerned.
The British Admiralty notified Rear Admiral William Sims, USN, commander of the U.S. Navy in Europe:
The German U-boat UB-91 claimed credit for sinking the Tampa. Her captain, Kapitänleutnant Wolf Hans Hertwig, wrote in his service log that he had spotted the Tampa while running on the surface and submerged and fired the torpedo from the stern tube at a distance of 550 meters, which hit the Tampa amidships.
Clearly, UB-91 wasn't spotted by any lookouts on the Tampa, which took no action or countermeasures whatsoever. From the reported distance when the UB-91 launched her torpedo, the ships had been quite close together. Why did Hertwig submerge? With his 105mm deck gun, he had the Tampa out-ranged. He could easily have fallen back and engaged Tampa with his gun, which would have saved a torpedo.
---

---
Hertwig was a very new U-boat commander in a new craft; the UB-91 had been commissioned in April. He had spent nearly all of the war with the High Seas Fleet, having served at the Battle of Jutland on SMS Westfalen, had only recently graduated from the U-boat training program, and his first patrol had no results. How did an inexperienced U-boat commander and crew pull off a tricky stern shot at very close range so flawlessly? In any event, the official U.S. Coast Guard history doesn't concede that UB-91 sank the Tampa.
The USS Tampa men are commemorated at the Brookwood ABMC Cemetery and Memorial in Surrey, UK, and on the U.S. Coast Guard memorial in Arlington National Cemetery.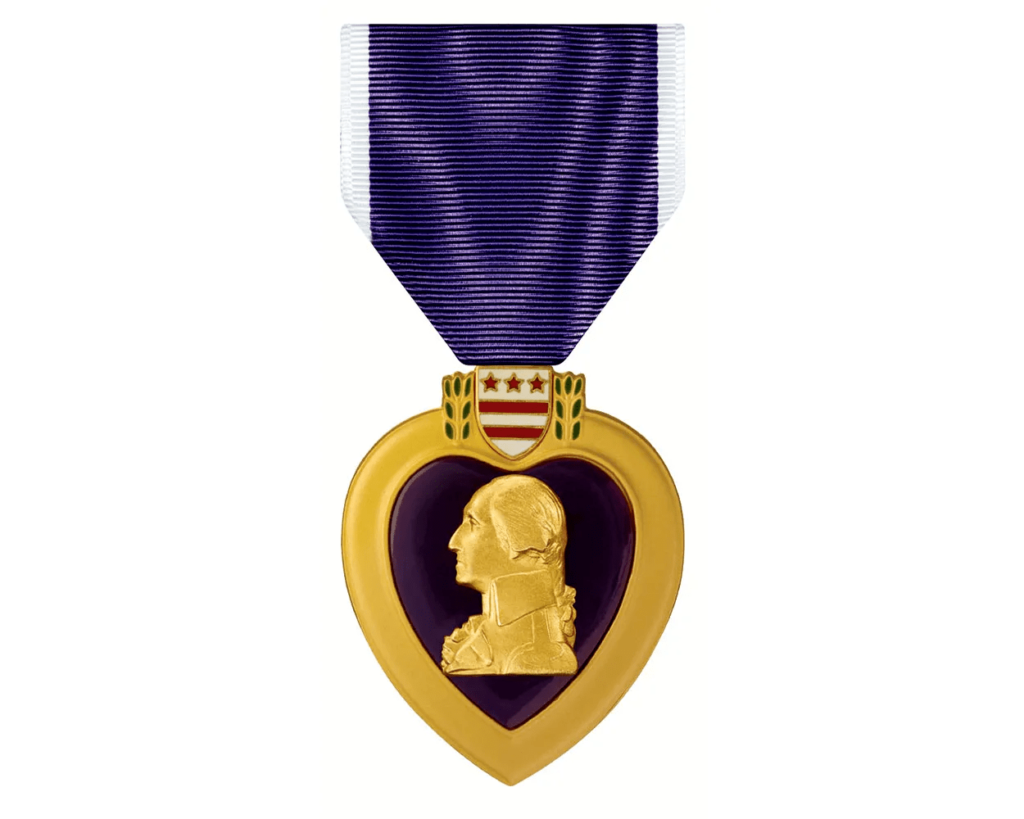 Coast Guard Searching for USS Tampa's Descendants
The U.S. Coast Guard needs your help with locating and contacting descendants of the USS TAMPA, tragically sunk during World War I with all hands lost. The Service has yet to present 84 of the outstanding Purple Heart Medals awarded posthumously to the crew. We intend to recognize as many of the descendants as possible this Memorial Day. We need your help to do this.
Background:
A. USS TAMPA, a Coast Guard ship and crew serving under the Navy Department was lost with all hands after being torpedoed by a German U-boat off Wales on September 26, 1918. This tragic loss occurred just weeks before the end of World War I. It was the single largest loss suffered by the Coast Guard during that conflict.
B. At the time of TAMPA's loss, the Purple Heart Medal was not in use. In 1942, eligibility was extended to include the Coast Guard, but it was not until 1952 that the Purple Heart Medal's awarding was made retroactive for actions after April 5, 1917. However, TAMPA was overlooked until 1999, when a retired Coast Guardsman submitted a proposal to award the Purple Heart to her crew.
C. In 1999, then-Commandant Admiral James Loy authorized the Purple Heart Medal's posthumous awarding to the crew of USS TAMPA. Today, over one hundred years after TAMPA was lost and twenty years after the first TAMPA Purple Heart was awarded, the Coast Guard is still attempting to identify those families who have yet to receive their ancestors' Purple Heart.
The purpose of this ALCOAST is to raise awareness of the Purple Heart award program and to continue to identify those families who have yet to receive their ancestors' medals. You can help.
Summary of USS TAMPA Purple Heart Medals awarded:
A. There were 130 men on TAMPA, including 111 Coast Guardsmen and 4 Navy men.
B. 26 TAMPA Purple Heart Medals have been claimed since 1999.
C. 3 TAMPA Purple Heart Medals are presently in progress.
D. 84 TAMPA Purple Heart Medals remain unclaimed.
To submit applications for TAMPA Purple Heart Medals, please contact Ms. Nora Chidlow, Coast Guard Archivist, at Nora.L.Chidlow@uscg.mil or 202-559-5142. She has served as the primary point of contact between the Coast Guard and many TAMPA descendants and the Medals & Awards branch.
To apply for their ancestor's Purple Heart Medal, descendants are required to provide documentation showing the descendant's relationship to the TAMPA crew member, such as family trees, pages from family Bibles, birth/death certificates, and/or pages from Ancestry or other genealogical applications. Please expect about 4-6 weeks for processing.
I encourage all members of our Coast Guard family to share this ALCOAST with the widest possible audience. We owe it to our shipmates in USS TAMPA and their descendants to ensure their heroism and sacrifice are recognized and remembered.
RDML Melissa Bert, Director of Governmental and Public Affairs, sends.
Internet release is authorized.
Read About Other Military Myths and Legends
If you enjoyed learning about the loss of Coast Guard Cutter USS Tampa, we invite you to read about other military myths and legends on our blog. You will also find military book reviews, veterans' service reflections, famous military units and more on the TogetherWeServed.com blog. If you are a veteran, find your military buddies, view historic boot camp photos, build a printable military service plaque, and more on TogetherWeServed.com today.