The latest addition to our series 'Profiles in Courage' is Maurice Lee "Footsie" Britt. American professional football player, Medal of Honor recipient of World War II, businessman, and Lieutenant Governor of Arkansas, Britt was a highly accomplished individual. Born June 29, 1919, he played for the Detroit Lions in 1941 and later served as the eleventh Lieutenant Governor of Arkansas during Governor Winthrop Rockefeller's administration from 1967 to 1971. Since Reconstruction, Rockefeller and Britt were the first Republicans to serve in the state of Arkansas's top two offices.
Maurice Lee Britt was born in Carlisle, Lonoke County in central Arkansas, Maurice Lee and Virgie Britt's son. His family moved from Carlisle to nearby Lonoke when he was a boy. The nickname "Footsie" originated from Maurice winning a pair of shoes at a local fair as an adolescent; he had size-thirteen feet. He graduated as the valedictorian of Lonoke High School in 1937 and entered the University of Arkansas at Fayetteville. He was supported by an athletic scholarship in football and basketball and received a Bachelor of Arts degree in Journalism. He also gained an Army Reserve commission as a Second Lieutenant of Infantry through Army Reserve Officers' Training Corps upon graduation in 1941. However, he received a partial deferment to entering active duty until after the 1941 football season. During this time, he played professional football with the Detroit Lions.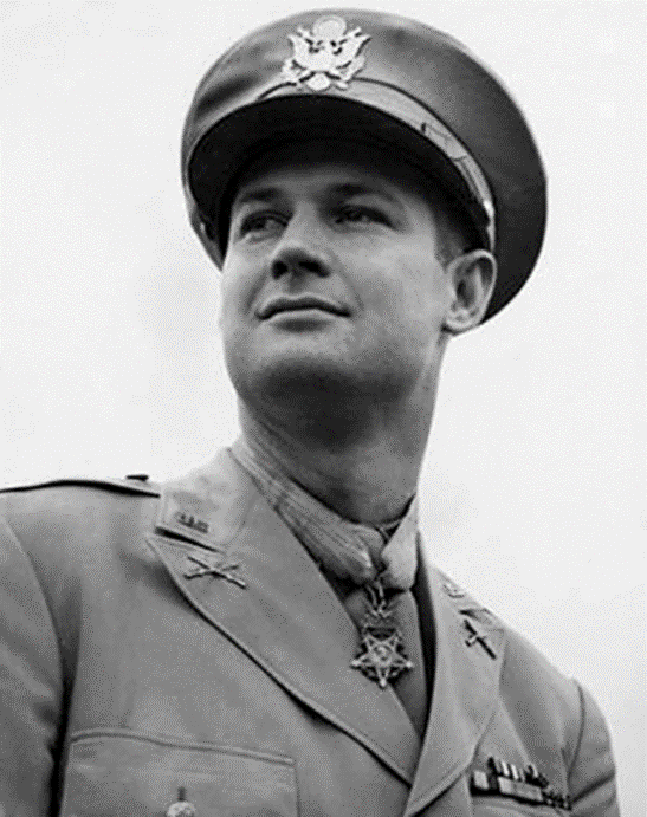 Maurice Lee Britt Joined the United States Army
Britt entered active duty in December 1941 as a second lieutenant at Camp Joseph T. Robinson in North Little Rock. He was assigned to Company L, 3rd Battalion, 30th Infantry Regiment, 3rd Infantry Division during training at Fort Lewis, Washington, Fort Ord, California, and Camp Pickett in Virginia. He initially joined the 3rd Division and participated in coastal defense on the West Coast of the United States. On October 23, 1942, the 30th Infantry and the 3rd Division embarked for North Africa.
On November 8, 1942, he was a Platoon Leader in Company L when the 3rd Infantry Division and two other U.S Army divisions landed during the invasion of French North Africa under Major General George S. Patton, Jr., who was in command of the Western Forces. Britt and his unit landed at the North African beach at Casablanca, French Morocco. The 30th Infantry came onshore and quickly secured the left flank of the 3rd Division and silenced Fort Blondin in the process, which had been firing on the naval forces lying off the Moroccan coast. By November 11, the 30th Infantry and the 3rd Division had secured Casablanca.
---

---
In January 1943, the 3rd Battalion, 30th Infantry had the distinction of performing personal guard duty for Sir Winston Churchill and President Franklin D. Roosevelt during the Casablanca Conference. At the end of the North African Campaign, the 3rd Division began training in Bizerte, Tunisia, for Sicily's amphibious landing on July 10, 1943. Britt continued to serve as a Platoon Leader during the invasion. The 3rd Battalion, 30th Infantry executed one of the longest foot marches in modern military history, from near Gela northward to Palermo. The 3rd Battalion marched 54 miles in only 33 hours. Palermo was captured on July 22. Britt led his men through the combat and extensive marching from Palermo to Messina in Sicily.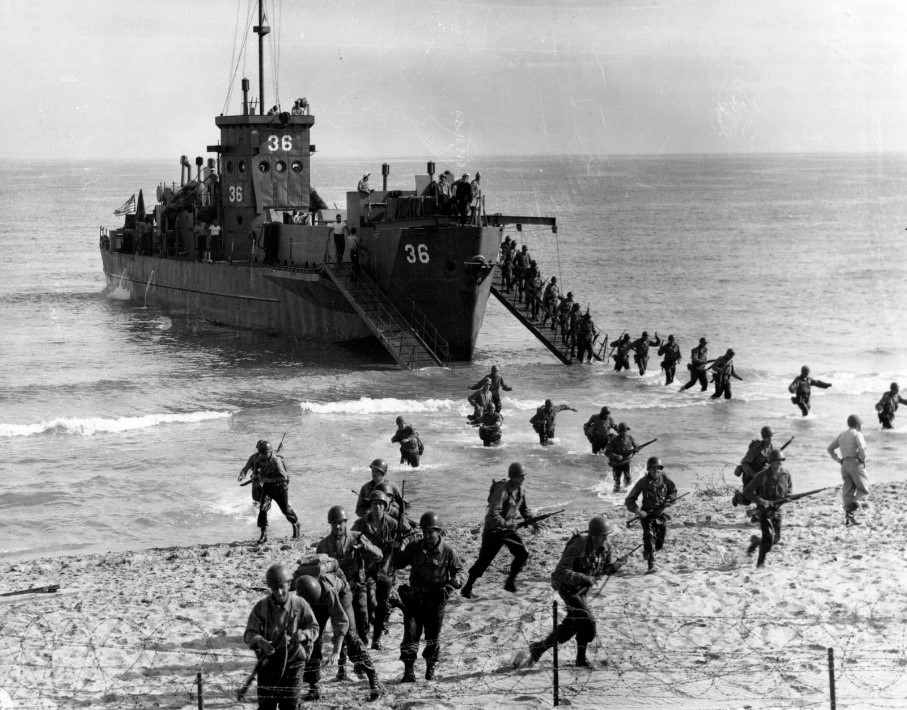 Maurice Lee Britt Was Awarded the Four Awards for Five Months
On September 19, 1943, Britt participated in his third amphibious assault landing of the war in Salerno, Italy, during Italy's invasion (Operation Avalanche). He took command of Company L after his company commander was wounded and evacuated. On September 22, he led an assault on Acerno, Italy, 10 miles from Salerno, and destroyed an enemy machine gun position. The 30th Infantry captured Acerno, and he received a Silver Star for gallantry in action and his first of four Purple Hearts.
By early October 1943, the whole of southern Italy was in Allied hands. The Allied armies faced the Volturno Line, the first of a series of prepared defensive lines running across Italy. The Germans chose to fight delaying actions, giving ground slowly and buying time to complete their Winter Line preparation, their strongest defensive line south of Rome. Britt led his men in the river crossing on the Volturno River. For his actions at Pietravairano on October 29, Britt received the Bronze Star Medal with "V" device. For his actions above and beyond the call of duty on the assault of Monte Retundo on November 10, north of Mignano, in central Italy, he received the Medal of Honor, British Military Cross, Italian Military Medal for Valor, and a battlefield promotion to captain. His Medal of Honor citation mentions how he repelled an attack by approximately 100 Germans with just a handful of men he was leading. He was shot, his glasses smashed, and his chest, face, and hands were covered in grenade wounds. His efforts led to the capture of several German personnel and helped capture Americans to escape. Despite all his injuries, he refused to seek medical assistance until ordered to by his battalion commander.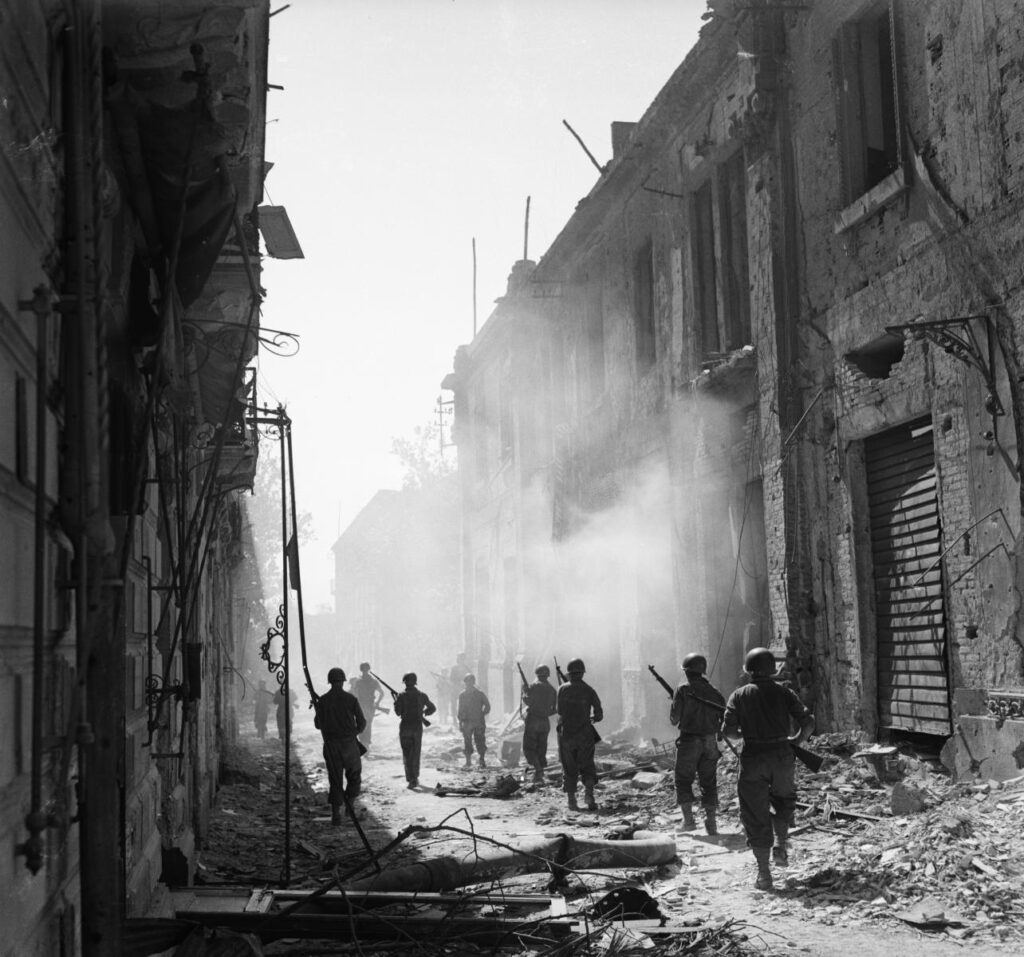 Britt was part of the initial invasion at Anzio on January 22, 1944 (Operation Shingle). On January 23, in one instance at the Pontine Marshes, he did calisthenics to get a hidden German machine gun position to expose itself so it could be destroyed. Thereafter American units in the area referred to the intersection there as "Britt's Junction." On January 22 and 23 at the Anzio beachhead near Latina, he lost part of his right arm and earned him the Distinguished Service Cross for extraordinary heroism.
In February 1944, he was evacuated to the United States for medical treatment at Lawson General Hospital in Atlanta. While recuperating from his wounds, he participated in a War Bond tour. He received an honorable discharge on December 27, 1944. Captain Maurice Britt became the first recipient of the top four combat decorations for valor awarded to an infantryman by the U.S. Army during World War II.
Britt's Civilian Life and Political Career
After the war, he briefly attended the University of Arkansas School of Law in Fayetteville but left the institution to enter business. He spent twenty years working at a furniture manufacturing company and then running the Beautyguard Manufacturing Company, a producer of aluminum building products.
In 1966, he was elected Lieutenant Governor when the incumbent Democrat, Nathan Green Gordon, did not seek reelection. He was re-elected in 1968 but did not seek a third term in 1970, having deferred to his friend and Little Rock neighbor, Sterling R. Cockrill, a Democrat-turned-Republican, who ran unsuccessfully on Winthrop Rockefeller's losing Republican ticket that year. Rockefeller was unseated that year by the Democrat Dale Bumpers. Britt barely defeated the Democratic nominees, James H. Pilkington of Hope in 1966 and Bill Wells in 1968. He was a lifelong Arkansas Republican, has been active in his state's Young Republicans in college.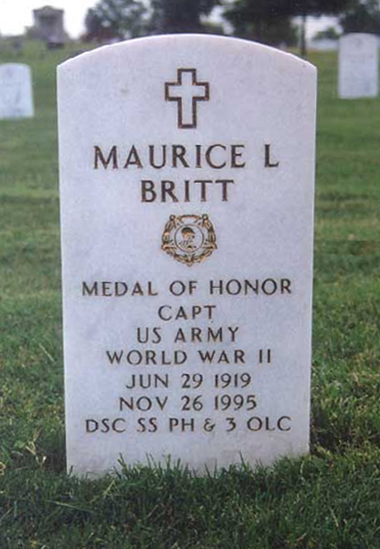 After leaving office, Britt was appointed by the Richard Nixon administration as the Small Business Administration director. He served in that capacity from 1971 to 1985.
Britt died on November 26, 1995, of heart failure in the John L. McClellan Memorial Veterans Hospital in Little Rock. The burial was in Little Rock National Cemetery. He was one of two Lieutenant Governors in state history to lie in state in the State Capitol Rotunda, the other being Winthrop Paul Rockefeller, the son of Governor Winthrop Rockefeller. The coffin was open, and Britt's military coat hung from the back of his favorite rocking chair, which was placed next to the body. His medals and a military cap were placed on a nearby table. An Army Sergeant stood at the head of the casket throughout the six hours that Britt lay in state.
Read About Other Profiles in Courage
If you enjoyed learning about Cpt Maurice Lee Britt, we invite you to read about other profiles in courage on our blog. You will also find military book reviews, veterans' service reflections, famous military units and more on the TogetherWeServed.com blog. If you are a veteran, find your military buddies, view historic boot camp photos, build a printable military service plaque, and more on TogetherWeServed.com today.