It might come as a surprise to many, but the United States did not offer its troops medals or ribbons as uniform decorations until the Medal of Honor was introduced by President Lincoln during the Civil War. It was only offered to enlisted troops in July 1862, but by December, it was made available to officers who displayed exceptional gallantry.
Until that point in U.S. military history, military medals were more of a European tradition. Medals and ribbons were seen as a custom practiced by the armies of foreign monarchies. The United States, with its democratic government and egalitarian principles, frowned on such ties to Europe's royal heritage, from which the Americans fought hard to separate themselves.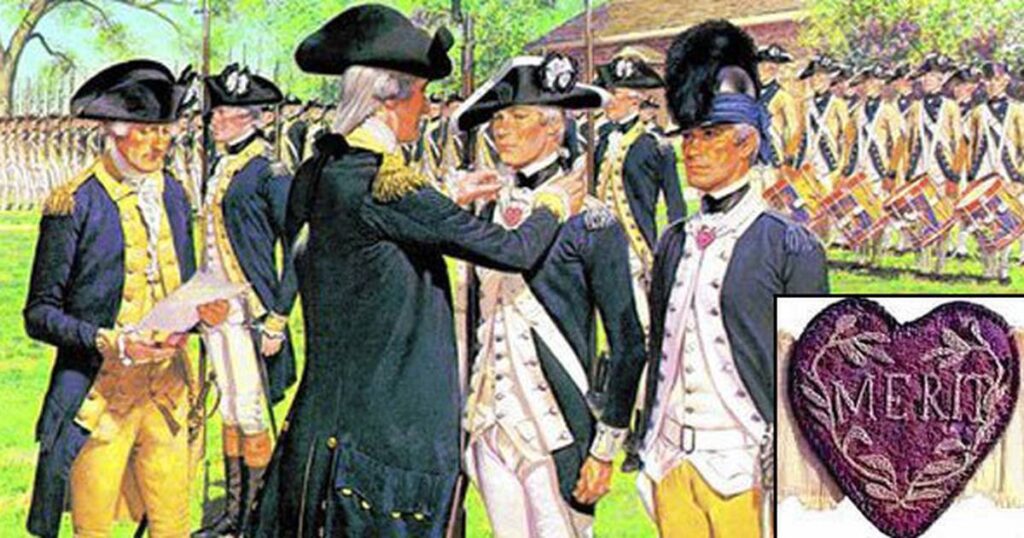 During the Mexican-American War, a 'certificate of merit' would be issued to soldiers who distinguished themselves in action, but no uniform item existed to identify them. It was simply a certificate. It was discontinued after that war ended in 1848.
Despite a lack of military decorations for the 86 years between the Declaration of Independence and the introduction of the Medal of Honor, three people were awarded medals. The only person who could have introduced an American medal over any objections was the Commander-In-Chief himself: George Washington.
The Сreation of Badge of Military Merit
On August 7, 1782, Gen. George Washington created the Badge of Military Merit, a simple heart made of purple cloth. He awarded it to three men: Sgt. Elijah Churchill, Sgt. William Brown and Sgt. Daniel Bissel Jr. Washington intended the badge to be a recognition of 'any singularly meritorious action.' Only those three soldiers ever received it, and everyone forgot it ever existed.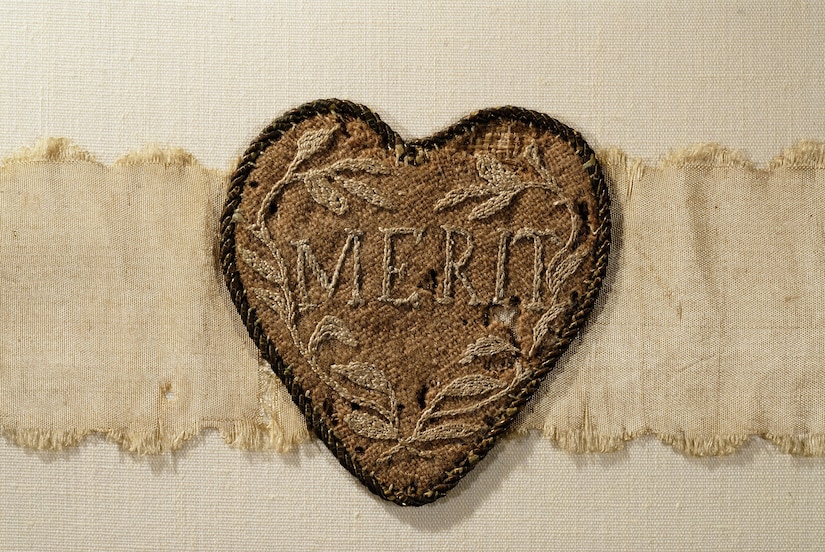 By 1932, the United States military had a number of decorations available for troops who fought in combat. The United States had entered World War I less than two decades prior, after all. Gen. Douglas MacArthur, who was the Army's Chief of Staff at the time, called for a revival of awards.
MacArthur wanted to not only recognize soldiers who performed meritorious acts, just as Washington's original badge had been. He also wanted to recognize the bicentennial of George, the first president's birthday. The medal he proposed featured purple cloth with a heart-shaped medal and Washington's profile on a purple background.
Criteria For Receiving A Purple Heart
The Purple Hearts were born. But the Department of the Army required that meritorious acts for which the medal would be awarded had to include a wound inflicted by the enemy. Ever since, the Purple Heart has been an award for such acts. When the Legion of Merit was established during World War II, the Purple Heart became an award solely for wounds in combat. Notably, the scope of the Purple Heart has expanded to include individuals injured, wounded, or perishing while held as prisoners of war (POWs).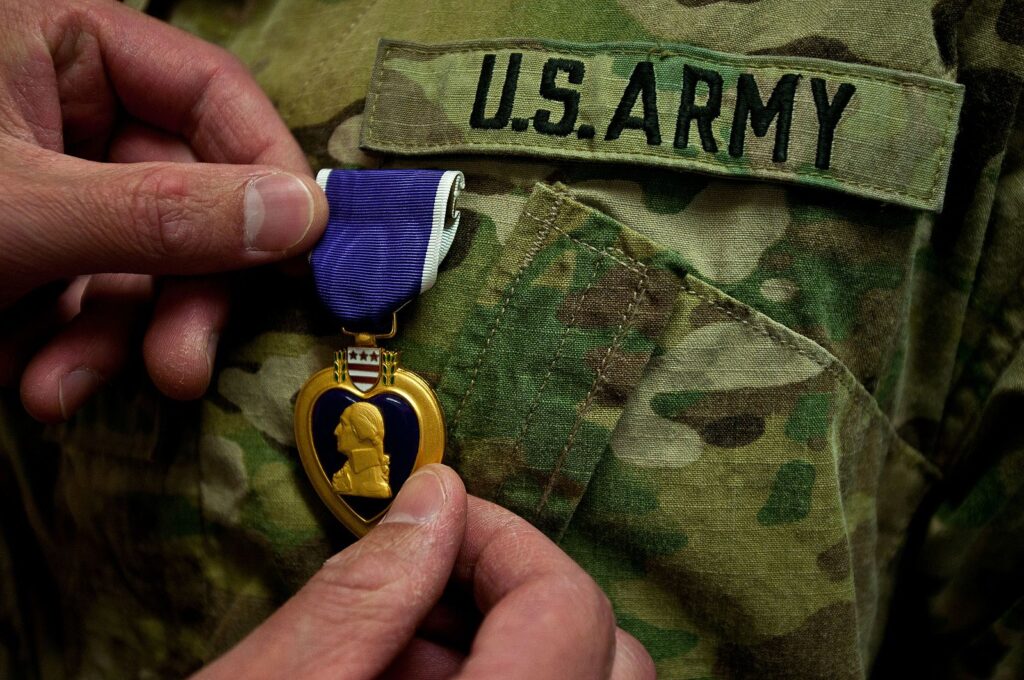 U.S. troops who had been awarded the Meritorious Service Citation Certificate, Army Wound Ribbon, or were authorized to wear wound chevrons were awarded the Purple Heart retroactive to the U.S. entry into World War I. MacArthur himself was the first person to be awarded the medal.
Why is the Purple Heart Purple?
The Purple Heart derives its distinctive color from a historical lineage that traces back to its precursor, the Badge of Military Merit, established by General George Washington in 1782 during the American Revolutionary War. The original color of this badge was purple, chosen to symbolize both the valor and the importance of the honor it represented.
When the modern Purple Heart was reintroduced and redesigned in 1932, its creators sought to honor the historical significance of the Badge of Military Merit. Consequently, they retained the original regal purple hue as a tribute to the valor and sacrifices of those who serve in the military. This continuity of color not only pays homage to the badge's historical roots but also serves as a tangible link connecting the past with the present, as each Purple Heart recipient becomes part of a lineage of service members who have displayed exceptional courage and dedication.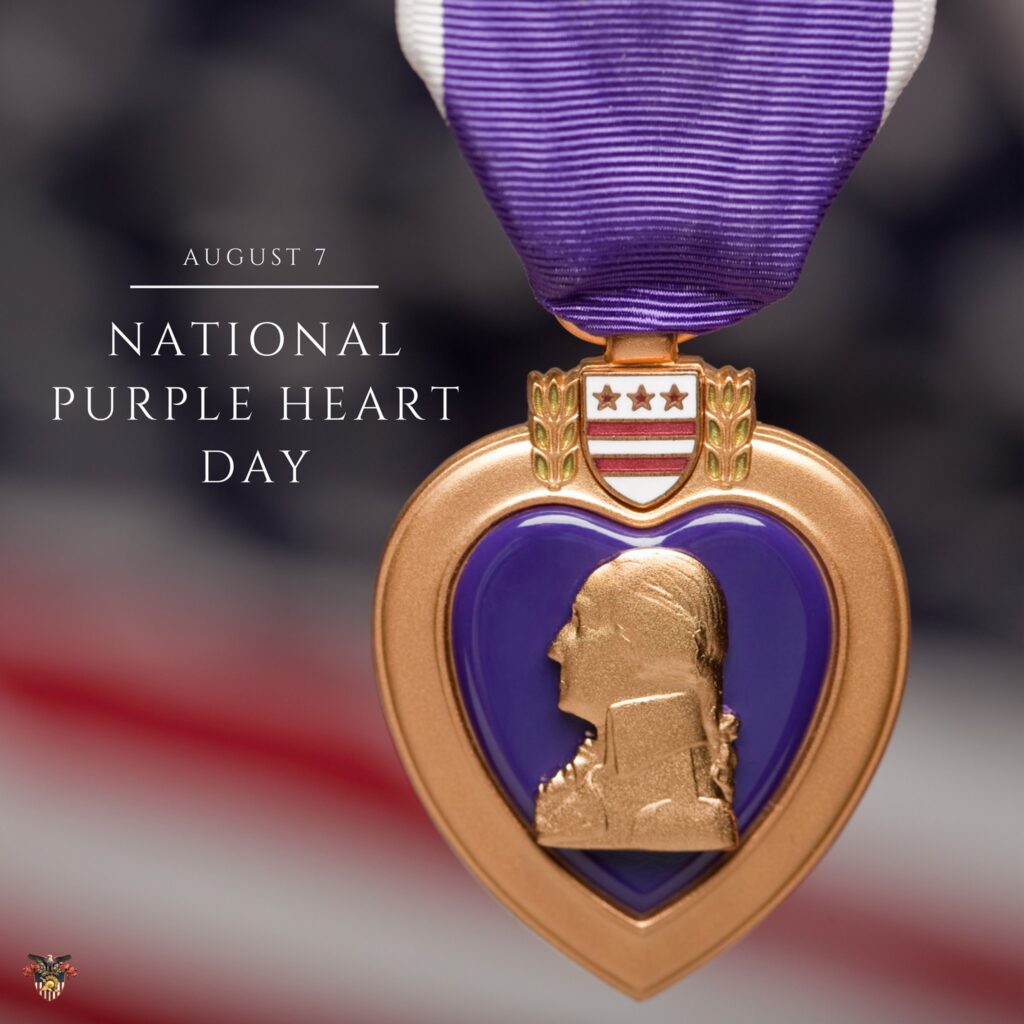 Five Things You Need to Know About the Purple Heart Medal
On August 7, Purple Heart Day, we comes together to acknowledge and remember the sacrifices made by the brave members of our military. In honor of Purple Heart Day, here are some facts about the history of the Purple Heart Medal and its recipients.
Dual Use of Design: The Purple Heart's design features a profile of George Washington and his family coat of arms. Interestingly, this same design is also used for military identification tags (dog tags) of the U.S. Army.
Struggles for Acceptance: In its early years, the Purple Heart faced some resistance within the military community. Some veterans of World War I protested its creation, arguing that the medal's establishment would belittle their sacrifices. However, the sentiment eventually shifted, and the Purple Heart gained widespread recognition and respect.
No Posthumous Requirement: Unlike many other military awards, the Purple Heart can be awarded posthumously. This means that if a service member dies as a result of injuries sustained in combat, their family can still receive the Purple Heart on their behalf.
Non-Combat Injuries: While the Purple Heart is primarily associated with combat injuries, it has also been awarded for injuries sustained in non-combat situations, such as accidents or acts of terrorism. For example, service members wounded in the 2009 Fort Hood shooting received Purple Hearts.
Pearl Harbor Exception: The attack on Pearl Harbor on December 7, 1941, is the only exception where military personnel who were killed or wounded were not eligible to receive the Purple Heart. This is because the award criteria at that time excluded injuries sustained during a surprise attack.
Unique Honors: There are instances where specific groups have been collectively awarded the Purple Heart. For example, the USS Arizona crew members who survived the attack on Pearl Harbor were posthumously awarded the Purple Heart in 2010. Additionally, the Purple Heart has been awarded to the victims of the September 11, 2001 terrorist attacks.
These unusual facts shed light on the multifaceted history and significance of the Purple Heart as an emblem of sacrifice and valor.
What Day is National Purple Heart Day?
Every year, on August 7th, we observe National Purple Heart Day. It's a special day when people all across the United States show their deep appreciation. We say a big "Thank You" to nearly two million brave men and women. These heroes defended our country's freedom, facing tough battles that left visible scars on them.
To honor these brave individuals, the National Purple Heart Honor Mission organizes a big ceremony on August 7th every year. This event lets Purple Heart recipients come together. They share their personal stories about what it truly means to protect our nation and the sacrifices they made. By sharing these stories, we get a better understanding of the price they paid to keep our country safe.
Read About Other Military Myths and Legends
If you enjoyed learning about the Purple Heart, we invite you to read about other military myths and legends on our blog. You will also find military book reviews, veterans' service reflections, famous military units and more on the TogetherWeServed.com blog. If you are a veteran, find your military buddies, view historic boot camp photos, build a printable military service plaque, and more on TogetherWeServed.com today.