Stars & Stripes Newspaper Partners With Together We Served
The illustrious and storied Stars & Stripes newspaper partners with Together We Served to provide its members with a half-price subscription to their publication. Veterans and active service members that make use of Together We Served should not miss out on this opportunity to receive quality military journalism five days a week.
Introduction to Stars & Stripes
A daily American military newspaper, Stars & Stripes publishes news-breaking stories concerning members of the United States Armed Forces and their communities around the world. The paper is especially focused on service members stationed outside of the United States. While it is within the Defense Department from an organizational perspective, it maintains editorial independence that is protected by the United States Congress.
During the Civil War, soldiers of the 11th, 18th, and 29th Illinois Regiments camped in the city of Bloomfield, MO. The local newspaper's office was empty, so they decided to print a newspaper detailing their activities. The paper was named the Stars and Stripes. Revived by General Pershing as a weekly paper for World War I in 1918 for the US Armed Forces in Europe, the first edition in over half a century was published on February 8, 1918. It was discontinued again after June 13 1919. However, it was revived for World War II in 1942, first as a weekly, then as a daily. In 1945, a Pacific edition was established to complement the European edition. More recently, in 2003, a Middle Eastern edition was launched. In 2020 the Department of Defense announced that it was withdrawing funding for Stars & Stripes, which would have required staff members to close the paper by September. However, a bipartisan group in Congress, as well as a Trump tweet, served to reverse the trajectory of the paper's fortunes, and it continues to publish to this day.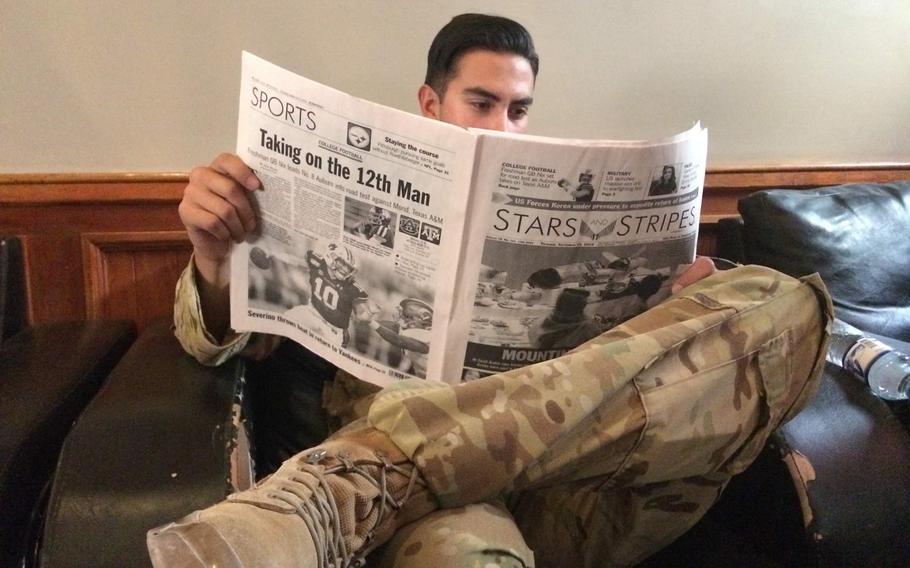 The Country's Most Prestigious Service Member & Veterans Newspaper
The Stars & Stripes is proud to be the Washington Post of defense media activity. An edition of the Stars & Stripes has been put out every weekday since 1942, distributed to Army, Navy, Air Force, USMC, and Coast Guard military bases for over 75 years. As a periodical for service members and veterans, the Stars & Stripes has featured the work of many journalists who have gone on to work in the civilian media sector with great success. Former staffers include:
Andy Rooney
Steve Kroft
Shel Silverstein
Tony Zappone
Phil Stern
Louis Rukeyser
Stars & Stripes Subscription Discount
A Subscription to Stars & Stripes consists of home delivery 5 days a week, and digital access on Stripes.com and the mobile app. Log in to stripes.com at any time to get unlimited access to articles, reports, and photo galleries. Mail subscriptions within the U.S. are available for $13 per month plus shipping and handling. Five-day home delivery of Stars and Stripes in Germany and Italy is just $1 a week. For those stationed in the Pacific, the cost is as low as $5.00 per month with a pre-paid subscription. Unlimited Digital Access is complimentary to current print and mobile app subscribers.
Looking for a Stars & Stripes Subscription Discount Code? Everybody likes a deal. Many Stars & Stripes readers search for promo codes to make the subscription even more affordable.
Members of Together We Served receive a 50% discount on subscriptions to Stars & Stripes. If you are interested in supporting military journalism and staying informed about the issues that matter in the defense of the United States of America, sign up today to get your copy delivered to your door, five times a week.