You may know Chuck Norris is a champion martial artist, and movie and television star of titles such as Walker, Texas Ranger, The Delta Force, and The Hitman. A martial arts legend who has contributed greatly to the development and popularization of martial arts in the United States and around the world, he has a long and impressive martial arts career, both as a competitor and as a teacher. He is a black belt in Tang Soo Do, Brazilian jiu jitsu and judo. However, before he became a Hollywood icon, Norris served in the United States military, where he honed his skills and developed the discipline that would later help him achieve great success. In this article, we'll take a closer look at Chuck Norris' military service, including his accomplishments and how they shaped his life and career.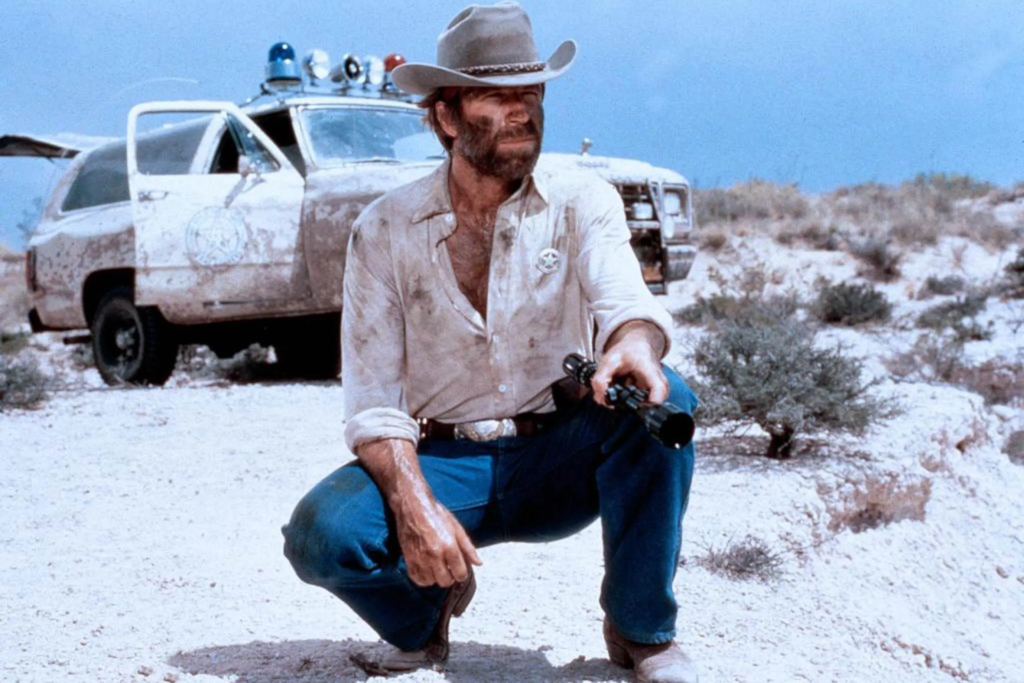 Chuck Norris's Early Life
Carlos Ray "Chuck" Norris was born on March 10, 1940, in Ryan, Oklahoma. Norris' paternal grandfather and maternal grandmother were of Irish descent, while his paternal grandmother and maternal grandfather were Cherokee Native Americans. He was the eldest of three boys, and his parents were farmers. Growing up, Norris was an active child who enjoyed playing sports and participating in outdoor activities like hunting and fishing. He also showed an early interest in martial arts, and he began studying Tang Soo Do as a teenager. Despite his love of martial arts, Norris struggled with shyness and insecurity as a young man. He was bullied by other kids at school, which led him to develop a tough-guy persona to protect himself.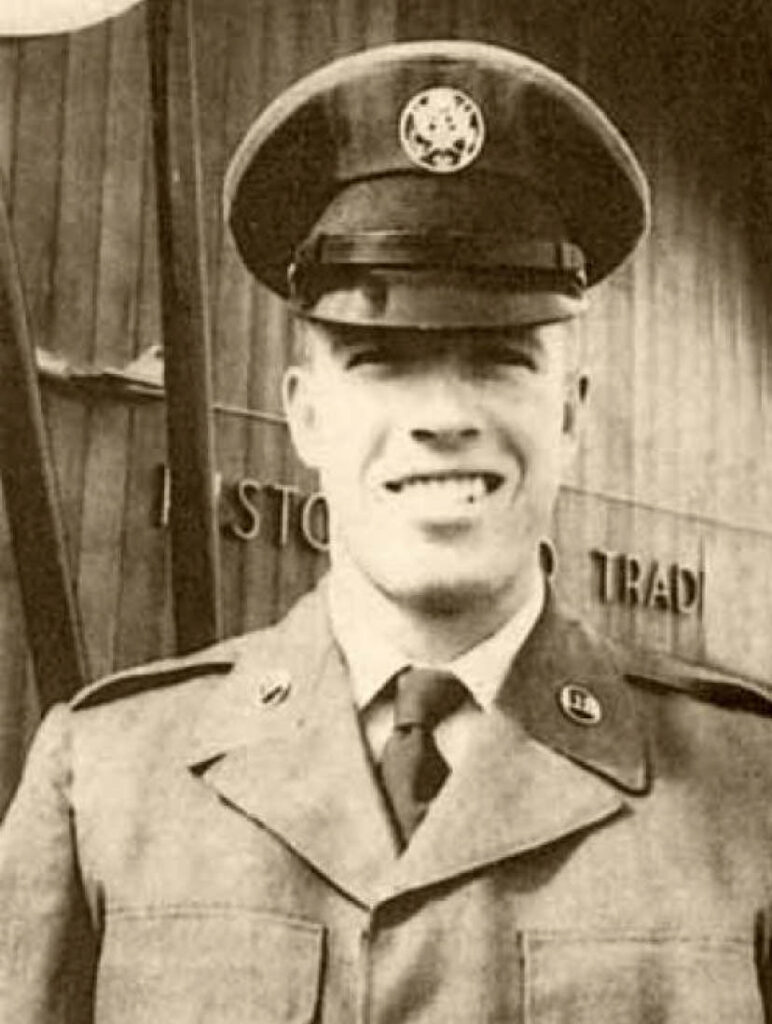 In his autobiography Against All Odds, he mentioned being poor as a child and using clothespins as toy soldiers. According to Norris, his father (a World War II Army veteran) was abusive, which led to his mother taking her children away from him. His parents divorced when he was 16.
Carlos "Chuck" Ray Norris In The Air Force
In 1958, Norris enlisted in the United States Air Force. He was sent to Osan, South Korea, where he served in the military police to prepare for a law enforcement career. It was in Osan that Norris began his training in Tang Soo Do (tangsudo), an interest that led to the founding of the Chun Kuk Do ("Universal Way") form. Norris trained with Grandmaster Jae Chul Shin, founder of the World Tang Soo Do Association, as well as Grandmaster Do Sik Mun. The nickname "Chuck" also came about while he was in the military.
Norris' Military Accomplishments
During his time in the military, Chuck Norris developed a reputation as a skilled and dedicated service member. He was awarded several commendations and medals for his service, including the Air Force Good Conduct Medal, the National Defense Service Medal, and the Korean Service Medal. Norris also became an expert in a number of different military skills, including marksmanship, survival training, and hand-to-hand combat.
One of Norris' most impressive military accomplishments came during his time at Osan Air Base in South Korea. In 1961, Norris was named the "All Air Force Champion" in the Lightweight Division for martial arts. This was a major achievement, and it helped to solidify Norris' reputation as one of the top martial artists in the military.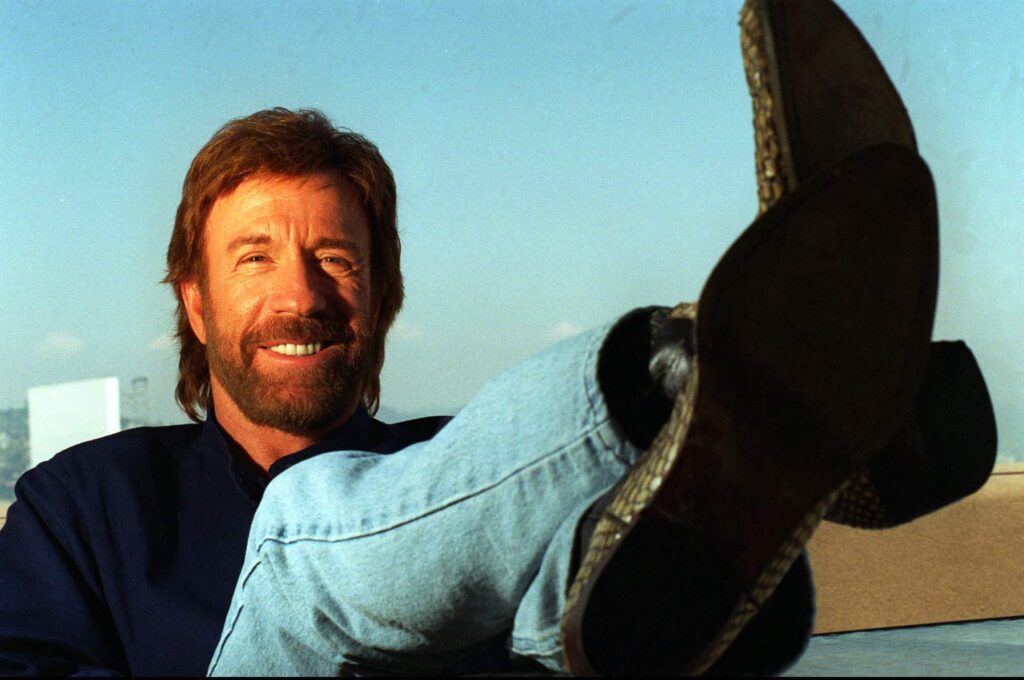 Another notable accomplishment for Norris during his military service was his work as a military police officer. Norris was responsible for maintaining order and discipline on the base, and he often worked long hours to ensure that his duties were carried out effectively. This experience helped to develop Norris' sense of discipline and responsibility, which would later serve him well in his career as a martial artist and actor.
From Military Police to Martial Arts
When he returned to the United States, Norris continued to act as an Air Policeman at March Air Force Base, California, until he was honorably discharged in August 1962 in the rank of Airman first class (A1C). Following his military service, Norris applied to be a police officer in Torrance, California. While on the waiting list, Norris opened a martial arts studio and started to participate in martial arts competitions.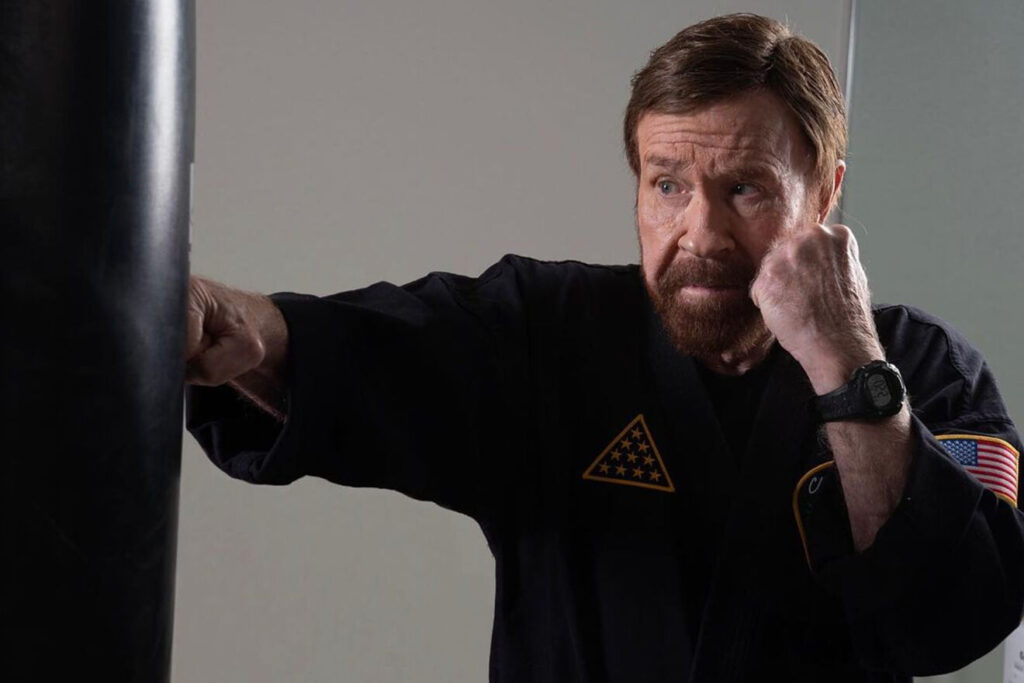 Norris was defeated in his first two martial arts tournaments, to Joe Lewis and Allan Steen, and three matches at the International Karate Championships to Tony Tulleners. But by 1967, Norris had scored victories over Lewis, Skipper Mullins, Arnold Urquidez, Victor Moore, Ron Marchini, and Steve Sanders. In early 1968, Norris suffered the tenth and last loss of his career to Louis Delgado. On November 24, 1968, he avenged his defeat to Delgado and won the Professional Middleweight Karate champion title, which he held for six consecutive years. In 1969, he won Karate's triple crown for the year's most tournament wins and the Fighter of the Year award by Black Belt Magazine.
Chuck Norris's Acting Career
Encouraged by his actor friend Steve McQueen, Norris made his acting debut in the film The Wrecking Crew in 1969. Norris played a henchman in the film, and he performed his own stunts.
At a martial arts demonstration in Long Beach, Norris met the martial artist Bruce Lee, and found a way to combine his love of both acting and martial arts. In 1972 he acted as Lee's nemesis in the movie Way of the Dragon, which is widely credited with launching Norris toward super-stardom.
Norris also appeared in a number of TV shows during this time, including "The Dean Martin Show" and "The Andy Griffith Show". He often played tough-guy roles, which showcased his martial arts skills and his imposing physique.
In the early 1980s, Chuck Norris began to gain widespread recognition as an action star. He starred in a number of popular movies during this time, including "The Octagon" (1980), "An Eye for an Eye" (1981), and "Silent Rage" (1982).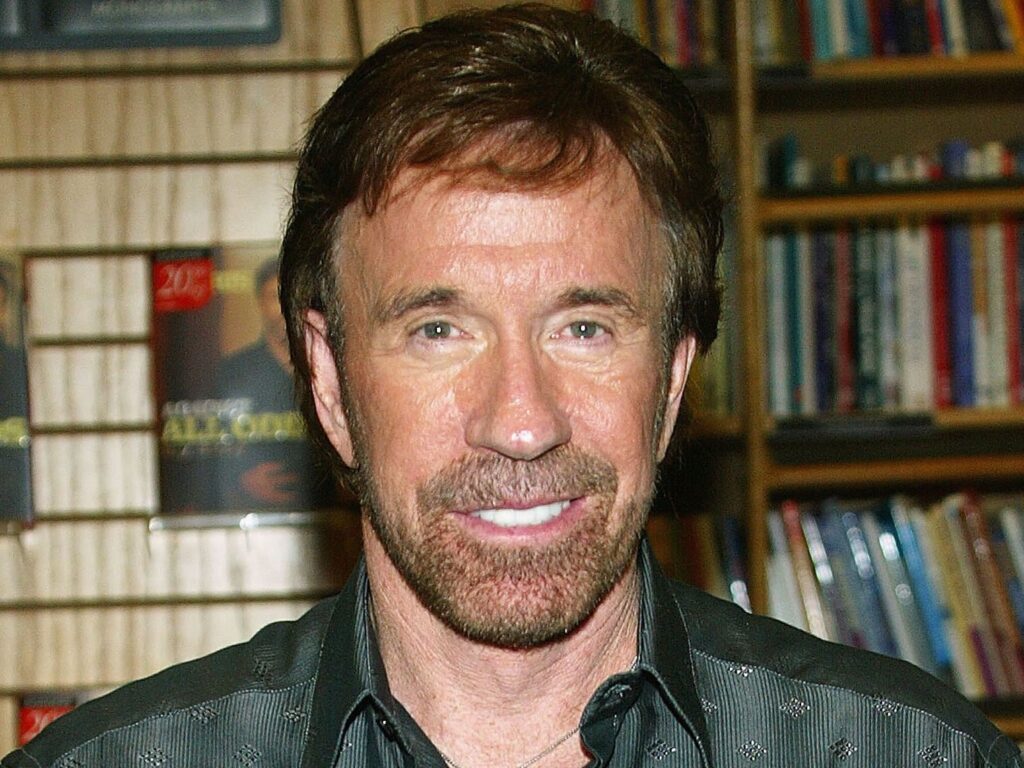 However, it was his role in the 1984 movie "Missing in Action" that really propelled him to stardom. In the film, Norris played a former prisoner of war who returns to Vietnam to rescue American soldiers who are still being held captive. The movie was a huge hit, and it spawned two sequels.
Norris' other notable roles during this time include the movies "Code of Silence" (1985), "Delta Force" (1986), and "Firewalker" (1986). He also starred in the TV series "Walker, Texas Ranger", which aired from 1993 to 2001.
In the 1990s and 2000s, Chuck Norris continued to appear in movies and TV shows, although his roles became less frequent. He appeared in a number of low-budget action movies during this time, including "Top Dog" (1995), "The President's Man" (2000), and "The Cutter" (2005).
Norris also continued to work on "Walker, Texas Ranger" during this time. The show was hugely popular, and it helped to cement Norris' status as one of the most beloved action stars in Hollywood.
In recent years, Norris has largely retired from acting, although he has made a few cameo appearances in movies and TV shows. He has also become an internet meme, with jokes and memes about his toughness and martial arts skills going viral on social media.
Chuck Norris And Martial Arts
Chuck Norris retired with a karate record of 183-10-2. He held the world middleweight karate champion title for six years and was named Black Belt magazine's "Fighter of the Year" in 1969. He founded 32 martial arts schools and was actor Steve McQueen's karate teacher.
---

---
In 1997, Norris achieved the rank of Tae Kwon Do 8th Degree Black Belt Grand Master. After learning most of the popular martial arts out there and becoming unbeatable in all of them, Norris created his own martial art. Chuck Norris' martial art is called "Chun Kuk Do", which can be translated to mean "Universal Way". Because of his achievements in martial arts, in 1999 Norris was inaugurated into the Martial Arts History Museum's Hall of Fame, and was honored with a Golden Lifetime Achievement Award a year later by the World Karate Union Hall of Fame.
Chuck Norris: Personal Code of Ethics
Norris's Code of Conduct is a set of principles and values that students of Chun Kuk Do are expected to follow both inside and outside of the training hall. It is a guide for living a successful and fulfilling life, as well as a set of guidelines for how to behave as a martial artist. By following the Code of Conduct, students of Chun Kuk Do and other martial arts can become not only skilled fighters, but also well-rounded individuals who can contribute positively to their communities. These rules are from Norris's personal code. They are:
I will develop myself to the maximum of my potential in all ways.
I will forget the mistakes of the past and press on to greater achievements.
I will continually work at developing love, happiness and loyalty in my family.
I will look for the good in all people and make them feel worthwhile.
If I have nothing good to say about a person, I will say nothing.
I will always be as enthusiastic about the success of others as I am about my own.
I will maintain an attitude of open-mindedness.
I will maintain respect for those in authority and demonstrate this respect at all times.
I will always remain loyal to my God, my country, family and my friends.
I will remain highly goal-oriented throughout my life because that positive attitude helps my family, my country and myself.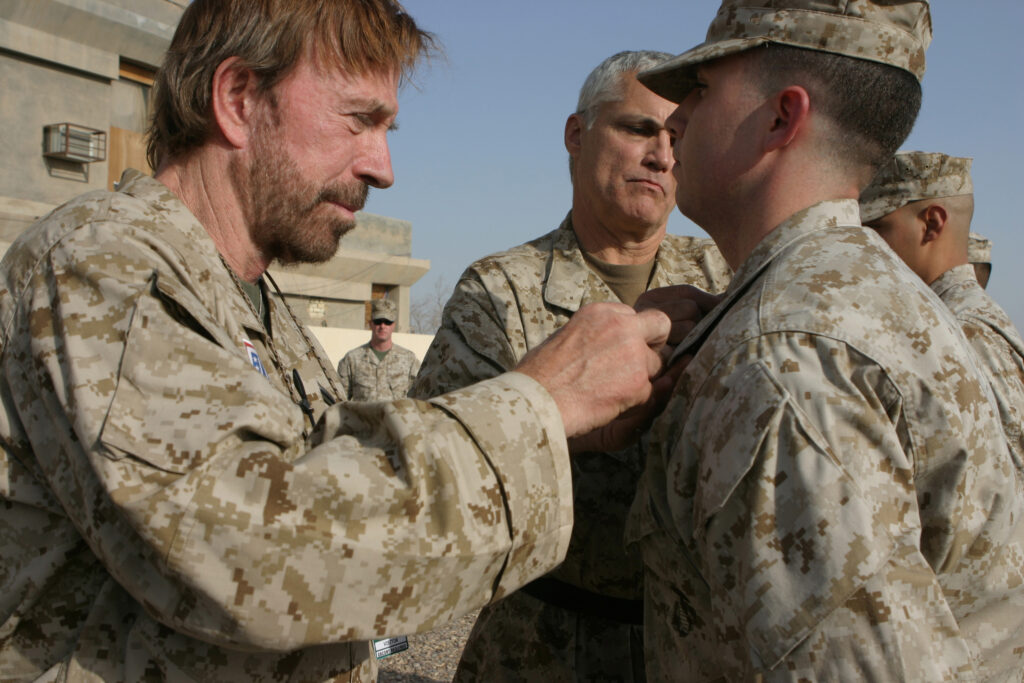 The Code of Conduct is an important aspect of martial arts training, as it emphasizes the importance of character development and self-improvement, as well as physical training.
Military and Martial Arts Philanthropy
Chuck Norris' military service had a profound impact on his life and career. The discipline and dedication he developed during his time in the Air Force helped him to become one of the most successful martial artists in the world, and it gave him the strength and focus he needed to succeed in Hollywood.
In addition to his success as an actor and martial artist, Norris has also been an active supporter of the military throughout his career. He has worked with a number of military organizations, including the United Service Organizations (USO), and he has made a number of trips to visit troops stationed around the world.
In 2007, Norris was awarded an honorary title by the Texas State Legislature, which declared him an honorary Texas Ranger. This was a fitting tribute to Norris' work on the TV show "Walker, Texas Ranger."
Norris has been a spokesman on behalf of the Veteran's Administration and hospitalized veterans. In 1990 he created the education associations United Fighting Arts Federation and "KickStart" (formerly "Kick Drugs Out of America"), a middle school and high school-based program intended to give at-risk children a better chance in life through martial arts training.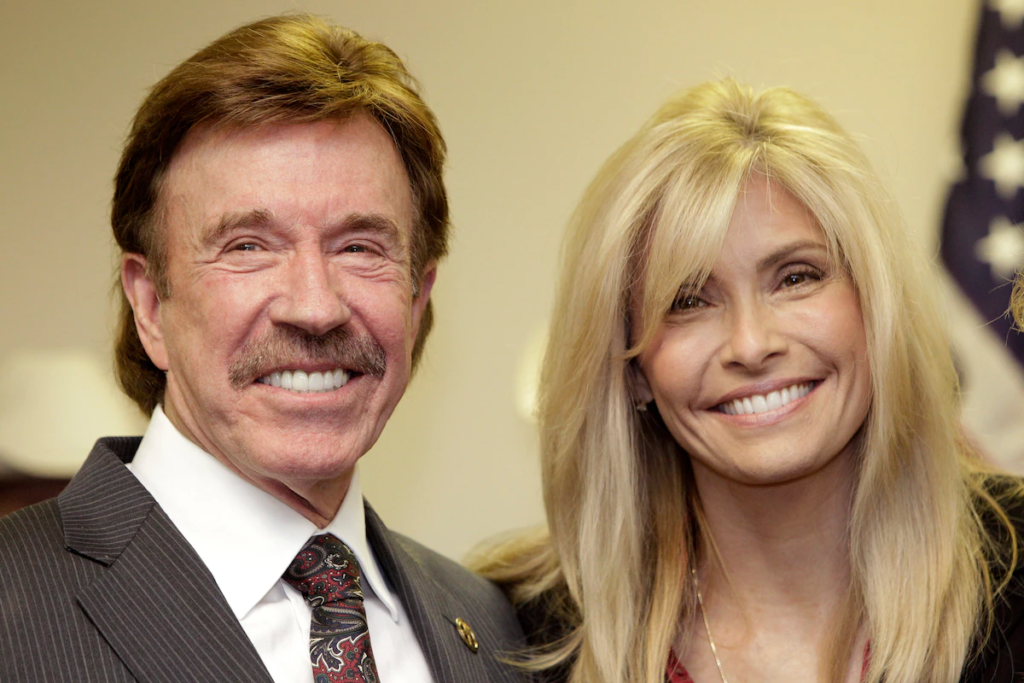 In 2005, Norris founded the World Combat League (WCL), a full-contact, team-based martial arts competition. A portion of the proceeds from the World Combat League is dedicated to supporting KickStart.
On March 28, 2007, Commandant Gen. James T. Conway made Norris an honorary United States Marine.
Chuck Norris's military service is a testament to his bravery, dedication, and patriotism. Norris served his country with distinction and honor. His years in the military helped shape him into the man he is today, and his experiences taught him the values of discipline, hard work, and sacrifice. We at TogetherWeServed are proud to honor Chuck Norris and his military service, and we thank him for his service to our country.
Read About Other Celebrities Who Served
If you enjoyed learning about Chuck Norris's military service, we invite you to read about other celebrities who served on our blog. You will also find military book reviews, veterans' service reflections, famous military units and more on the TogetherWeServed.com blog. If you are a veteran, find your military buddies, view historic boot camp photos, build a printable military service plaque, and more on TogetherWeServed.com today.
Read also: