Harry Belafonte, the iconic singer, actor, and social activist, holds a remarkable story of military service that often remains overshadowed by his extraordinary accomplishments in the world of entertainment. Serving as a member of the United States Navy during World War II, Belafonte dedicated himself to the cause of freedom and justice both on and off the stage. His military service laid the foundation for his future endeavors as a civil rights advocate, using his platform to challenge societal norms and fight against racial injustice. Harry Belafonte's unwavering commitment to serving his country and his unwavering determination to bring about positive change make him a true hero, not only in the realm of entertainment but also in the annals of American history.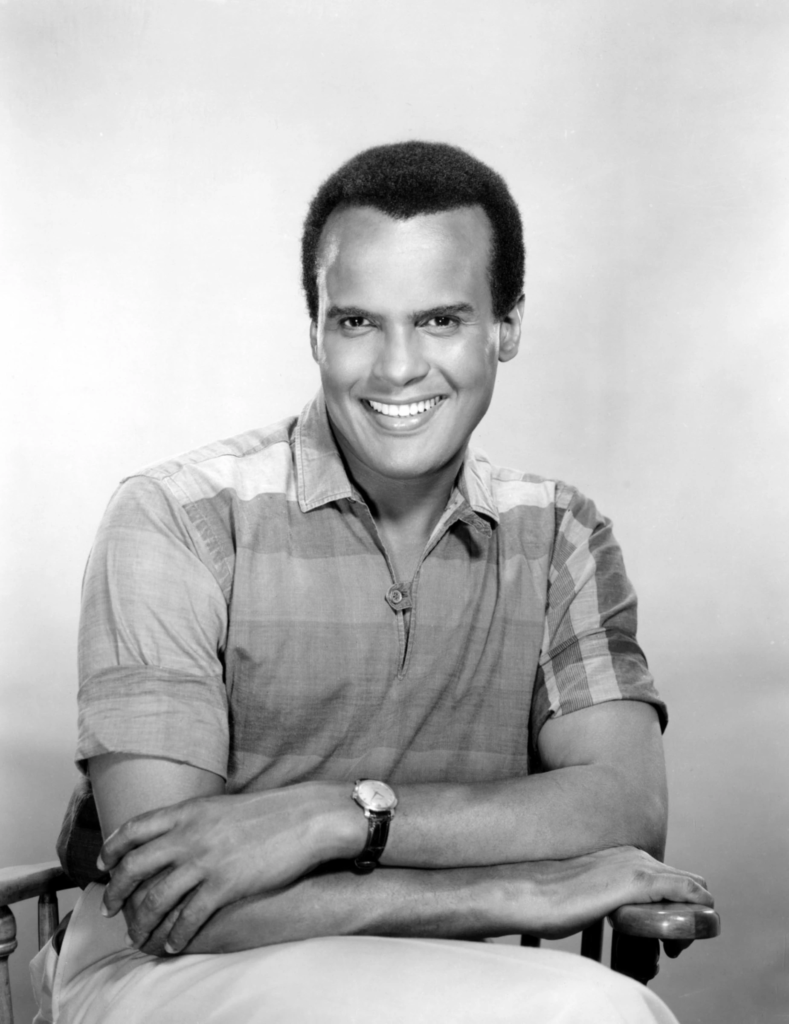 Harry Belafonte's Early Years
Harold George Bellanfanti Jr. (Harry Belafonte), born on March 1, 1927, in Harlem, New York. His mother, Melvine Love, was from Jamaica, and his father, Harold George Bellanfanti Sr., was from Martinique. The couple met and married in New York City, where they settled in Harlem.
His mother worked as a dressmaker and a house cleaner, and his father served as a cook on merchant ships, before leaving the family when Belafonte was a young boy.
Belafonte's early years were marked by financial struggle and family strife. His mother struggled to provide for her two sons on her own, and they often went hungry. Despite these hardships, Belafonte found solace in music, and he sang in his church choir and learned to play the piano.
As a teenager, Belafonte became involved with a local gang and was briefly incarcerated. However, he eventually turned his life around and joined the Navy during World War II.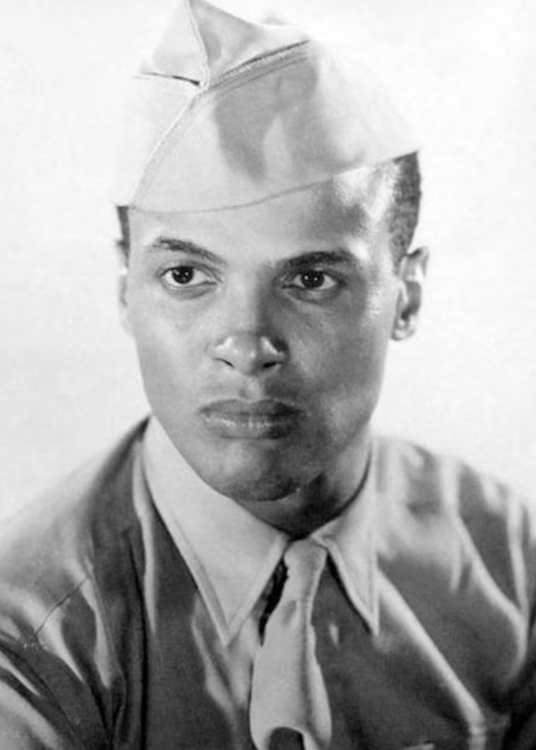 Harry Belafonte In The Navy
Harry Belafonte joined the U.S. Navy in 1944 during World War II at the age of 17. He was trained as a gunner's mate and later worked as a munitions loader on ships in the Pacific theater. While in the Navy, Belafonte faced racial discrimination and segregation, which he later cited as one of the reasons for his lifelong commitment to social justice activism. During World War II, Black service members were not normally assigned to frontline fighting units. Rather, they were assigned mostly to supporting specialties. His job was to load military ships bound for the Pacific theater.
Just before Belafonte arrived in Port Chicago, California for his Navy training, a massive explosion took place, involving military ships loaded with ammunition. Munitions detonated while being loaded onto a cargo vessel bound for the Pacific Theater of Operations. Thousands of pounds of bombs, shells, depth charges, and fuel erupted in two shock waves that were felt by seismographs at the University of California, Berkeley. About 320 people were killed — two-thirds of them Black sailors. The town of Port Chicago was heavily damaged by falling debris, including huge chunks of hot metal and unexploded bombs.
---

---
The Port Chicago explosion is considered the worst homefront disaster of World War II, although it was not well publicized or discussed. After the tragedy, Black sailors refused to load ammunition under the same unsafe, segregated conditions that were said to have sparked the explosion. It became known as the Port Chicago mutiny. Fifty of the sailors were convicted of mutiny and sentenced to prison. Most were not released until months after the war ended.
The injustice of the Port Chicago explosions and mutiny helped to inform Belafonte's commitment to civil rights.
The King of Calypso
After serving in the United States Navy during World War II, Belafonte took advantage of the educational benefits provided by the GI Bill, a landmark legislation that aimed to support returning veterans in pursuing higher education and vocational training. Belafonte enrolled at the New School for Social Research in New York City, where he pursued a degree in drama. To supplement his income while attending acting classes, Belafonte sang at nightclubs at times backed by music legends, including jazz musicians Charlie Parker, Max Roach and Miles Davis.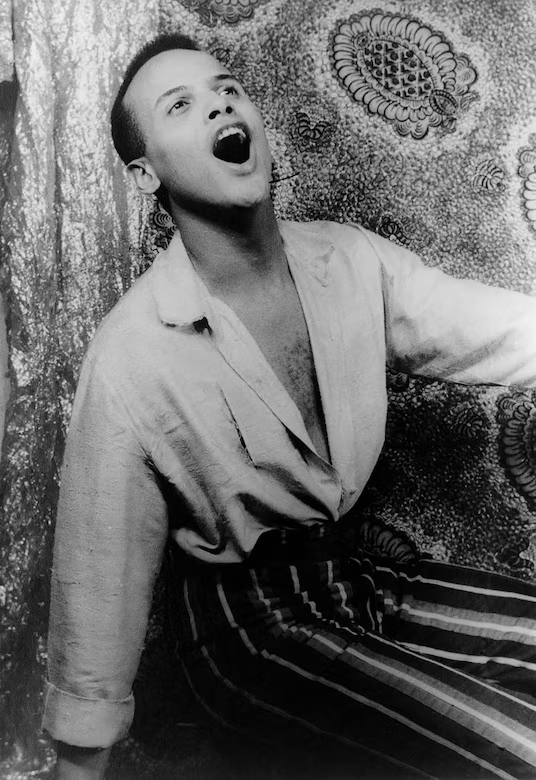 Inspired by his mother's love for folk songs, he developed a deep appreciation for the calypso genre, which originated in Trinidad and Tobago. It was during a visit to the islands in the early 1950s that Belafonte experienced a profound connection with calypso and its ability to tell stories of joy, struggle, and everyday life with infectious energy. Infused with a charismatic stage presence and a powerful voice, Belafonte introduced calypso to mainstream American audiences through his breakthrough album "Calypso" in 1956, which featured his iconic rendition of "Banana Boat Song (Day-O)." Harry Belafonte's Calypso remained at number one for thirty-one consecutive weeks, and was the first LP in US history to sell more than a million copies. This album not only skyrocketed Belafonte to international fame but also popularized calypso music, making it a global phenomenon.
Here is a timeline highlighting key moments in Harry Belafonte's performing arts career:
1949: Belafonte begins his career in the performing arts as a singer in clubs and theaters in New York City.
1953: He makes his Broadway debut in the play "John Murray Anderson's Almanac," which leads to further opportunities in musical theater.
1954: Belafonte releases his debut album, "Mark Twain and Other Folk Favorites," showcasing his folk music influences.
1956: His breakthrough album, "Calypso," featuring the hit single "Banana Boat Song (Day-O)"
1957: Belafonte stars in his first major film role in "Island in the Sun," showcasing his acting skills alongside a notable ensemble cast.
1959: He releases the album "Belafonte at Carnegie Hall," a live recording of his historic concert at the renowned New York City venue, which becomes one of his most acclaimed and best-selling albums.
1960s: Belafonte expands his acting career, starring in films such as "Odds Against Tomorrow" (1959), "Carmen Jones" (1954), and "The World, the Flesh and the Devil" (1959).
1985: He co-founds the USA for Africa organization and helps organize the historic "We Are the World" recording, which raises funds for humanitarian aid in Africa.
1989: Belafonte receives the Kennedy Center Honors for his contributions to American culture through his music and activism.
2000s: He continues to tour and perform around the world, using his platform to advocate for social justice and raise awareness of global issues.
2014: Belafonte receives the Jean Hersholt Humanitarian Award at the Academy Awards in recognition of his tireless activism and philanthropy.
Harry Belafonte's Activism
Belafonte's experiences growing up in Harlem and serving in the Navy during the war greatly influenced his later activism and philanthropic work. He has used his fame and fortune to advocate for civil rights, promote peace, and combat poverty, both domestically and abroad. Despite facing discrimination and hardship throughout his life, Belafonte remained determined and committed to his ideals, becoming a powerful voice for change in the entertainment industry and beyond. As a Black leading man who explored racial themes in 1950s movies, Belafonte would later move on to working with his friend Martin Luther King Jr. during the U.S. civil rights movement in the early 1960s. In late March 1963, Belafonte invited prominent individuals to a meeting at his New York apartment, where King and Fred Shuttlesworth discussed plans for the Birmingham Campaign and appeal for financial support to be used primarily for bail money. Without hesitation, Belafonte organized a committee to raise funds for the movement. While King was held in a Birmingham jail, Belafonte raised $50,000, allowing the campaign to proceed. After King's assassination in 1968, Belafonte served as an executor of King's estate and chaired the Martin Luther King, Jr., Memorial Fund. Afterward, he continued to support national and international civil rights and humanitarian issues.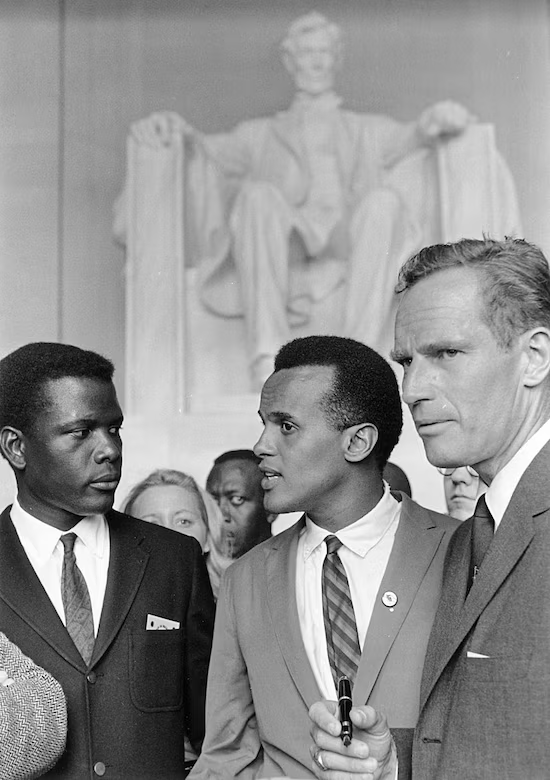 Harry Belafonte's Career Achievements
With a rich and eventful life that spans over nine decades, Harry Belafonte has left an indelible mark on the realms of entertainment, activism, and social change. His Achievements include:
Grammy Award-winning singer and songwriter
Acclaimed actor in both film and theater
Civil rights activist and humanitarian
Recipient of the National Medal of Arts
Co-founder of the USA for Africa charity organization
Key figure in the Civil Rights Movement, working alongside Dr. Martin Luther King Jr. and others
First artist to sell over one million copies of an LP album ("Calypso")
Successful film career, including notable roles in movies such as "Carmen Jones" and "The World, the Flesh and the Devil"
Pioneer of Caribbean and African music, introducing international audiences to Calypso and other genres
Advocate for social justice, working tirelessly to address issues such as racial inequality, poverty, and human rights abuses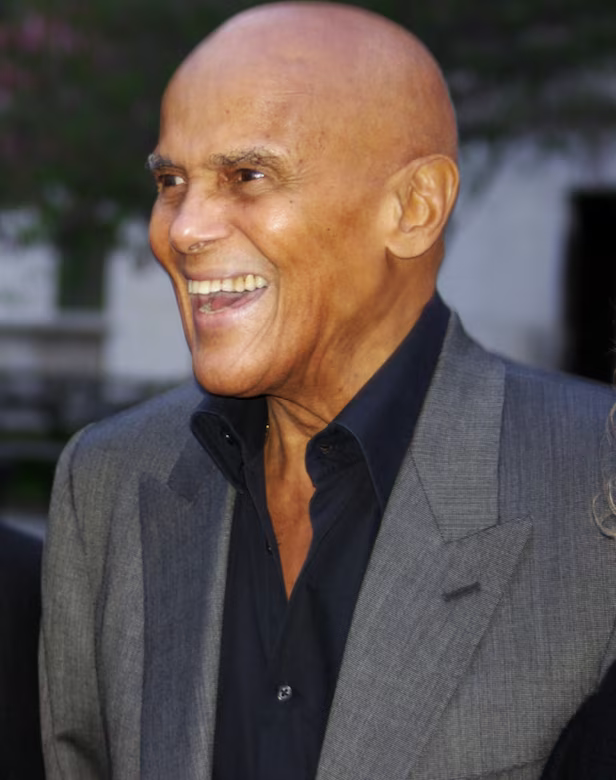 It is with great sadness that we share the news of the passing of Harry Belafonte on April 25, 2023, at the age of 96. Belafonte's contributions to the civil rights movement and his tireless efforts in advocating for equality and human rights have left an enduring legacy. Belafonte's musical talents transcended borders, and his iconic voice brought joy and inspiration to millions around the globe. TogetherWeServed honors Harry Belafonte's service in the United States Navy during World War II and recognizes his continued service to humanity throughout his life. He will be remembered as a true champion of equality, an exceptional artist, and a beacon of hope for generations to come.
Read About Other Celebrities Who Served
If you enjoyed learning about Harry Belafonte's military service, we invite you to read about other celebrities who served on our blog. You will also find military book reviews, veterans' service reflections, famous military units and more on the TogetherWeServed.com blog. If you are a veteran, find your military buddies, view historic boot camp photos, build a printable military service plaque, and more on TogetherWeServed.com today.
Read also: