The legend who would become Johnny Cash was born in 1932 into the Cash family of poor cotton farmers in Kingsland, Arkansas. Known simply as J.R. growing up, Cash graduated high school in 1950 and joined the US Air Force with the Korean War raging. Unable to sign up under an initial, he gave his name as 'John R. Cash'. He completed basic training at Lackland Air Force Base, Texas, which is the same time he met the young woman that would become his first wife, Vivian Liberto, at a roller rink. He then attended technical training at Brooks Air Force Base, also in Texas, and radio intercept class at Keesler Air Force Base, Mississippi. After completing this training, Cash was assigned to the 12th Radio Squadron Mobile (USAFSS) at Landsberg am Lech, West Germany, where he served for three years as a Morse Intercept Operator. Cash saved up for and bought his first guitar, and became a self-taught guitarist. He formed his first band, the Landsberg Barbarians.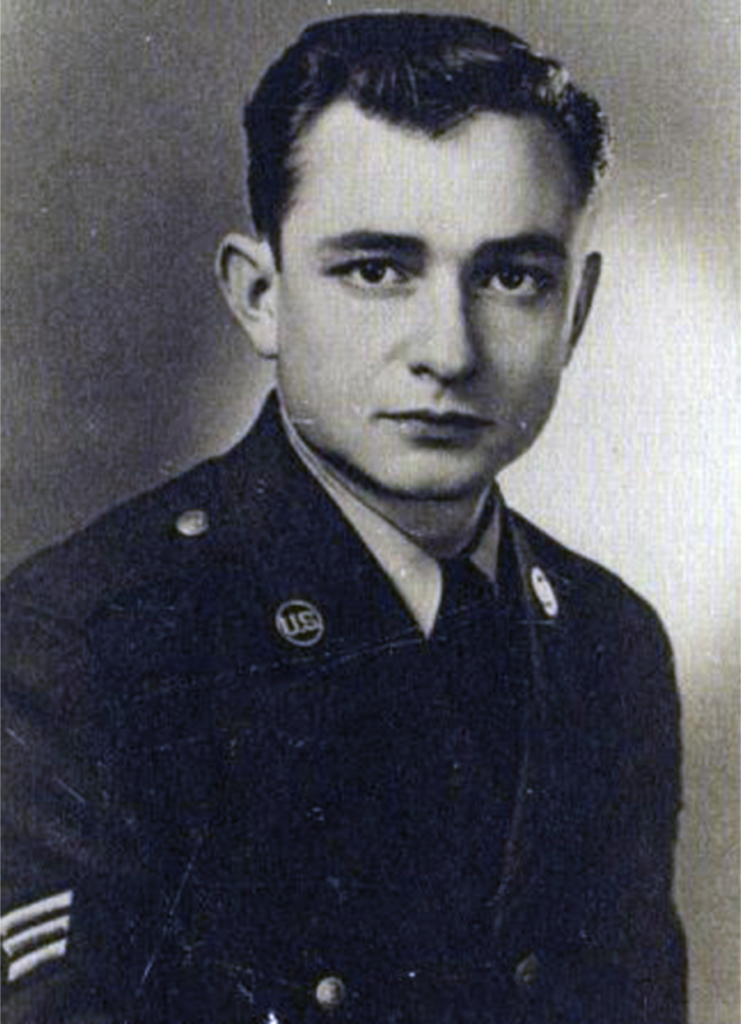 The First American to Hear of Stalin's Death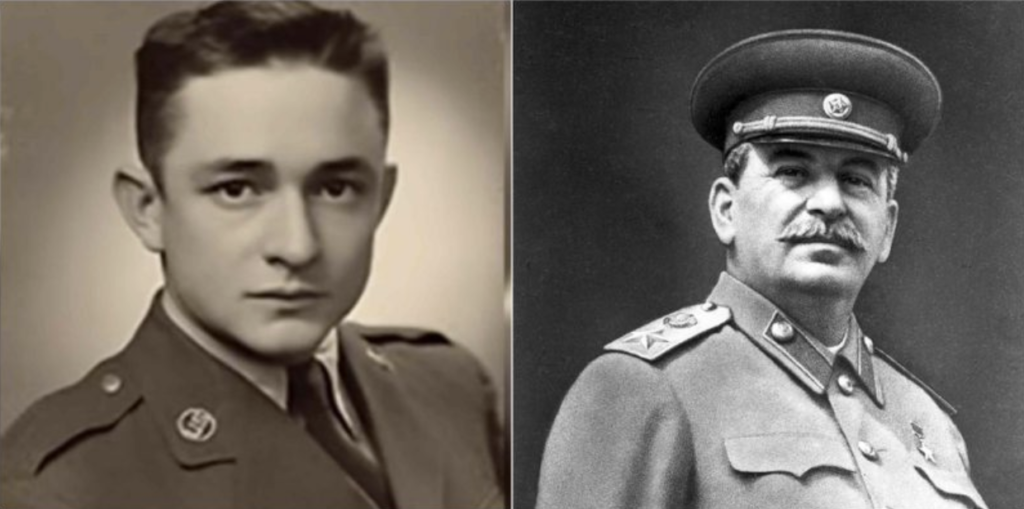 While serving in Germany as a Morse code operator, in March 1953, Cash intercepted a Soviet communique that spoke of the death of Stalin. He is believed to be the first Westerner that heard of his death. A few days short of his fourth complete year in the service, Cash was honorably discharged at the rank of Staff Sergeant. After leaving the service, Cash returned to Texas to marry Vivian Liberto. Later that year, they moved to Memphis, Tennessee. Cash was an appliance salesman for the Home Equipment Company but hated cajoling and manipulating customers into sales. He was also studying to become a disc jockey. Using the stage name Johnny Cash, he auditioned for producer Sam Phillips, first in gospel style, then rockabilly, which won Phillips over. He recorded his first songs at Phillips' label, Sun Records, in 1955 and met with success on the country hit parade. In the same year, Vivian gave birth to his first daughter, Rosanne, followed by Kathy in 1956, then Cindy and Tara. In 1956 Cash recorded a jam session with Elvis Presley, Carl Perkins, and Jerry Lee Lewis, later released as Million Dollar Quartet. Cash's first number one record was I Walk the Line, also in 1956. He was the first artist at Sun Records to release an LP in 1957 but left in 1958 to sign a more lucrative deal with Columbia Records. Cash was getting offers to appear in Hollywood movies, so the family left Memphis for Southern California.
The Airman in Black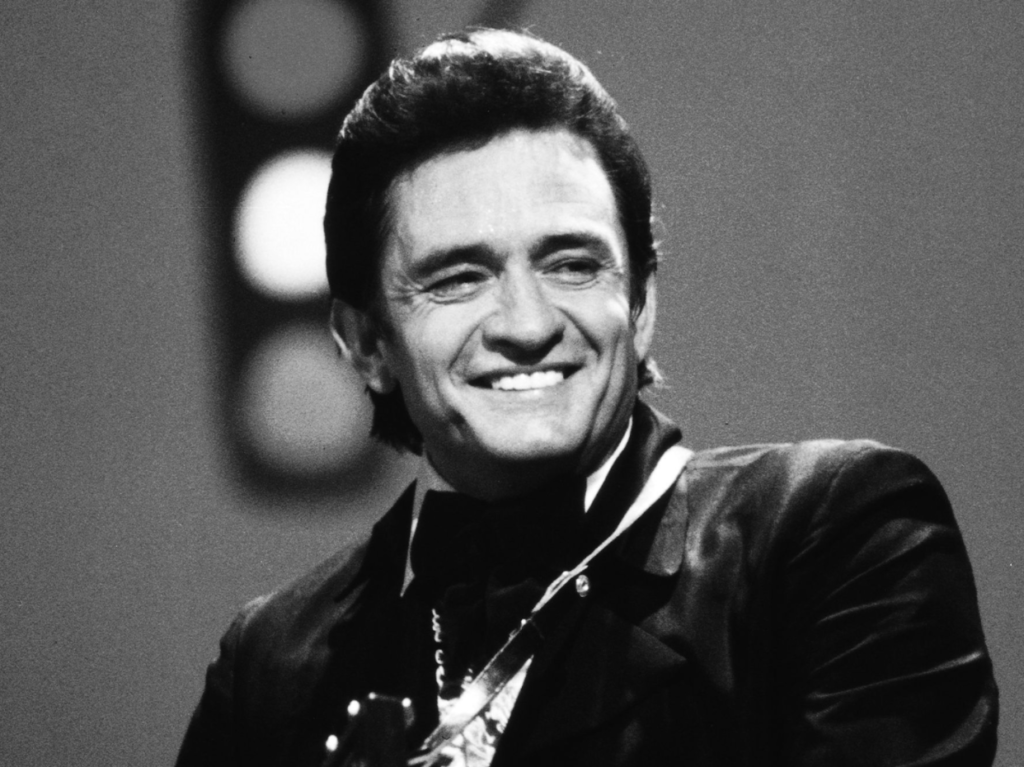 At Columbia, his career went from strength to strength, and he began touring with, among others, the Carter Family, meeting June Carter. His infatuation with her would be one of the elements contributing to the deterioration of his first marriage. Another contributing factor was Cash's growing dependency on alcohol, amphetamines, and barbiturates to keep level on his punishing tour schedules. However, during this time, he was still writing songs and recording hits, such as Ring of Fire. Cash was prolific, recording over 20 albums for Columbia, including in 1964 Bitter Tears: Ballads of the American Indian, which spotlighted the history of Native Americans and their woes. Cash believed that there was Cherokee blood in his family, though after genealogy research and DNA testing in later decades, this was found to be false. Nevertheless, Cash was emphatic in his advocacy for Native American causes. In 1966, frustrated with Cash's continued alcohol and drug problems, the strain of his touring schedule on their relationship, his repeated adultery, and his obsession with June Carter, Johnny Cash's wife Vivian filed for divorce. Cash took this in his stride, moving away from his four daughters to Tennessee. He proposed to June Carter over 30 times before she agreed to become his second wife in 1968. In 1969, Cash was approached by ABC, and The Johnny Cash Show was the result. It ran between June 1969 and March 1971, and Cash hosted many guests, including Louis Armstrong, Neil Young, Roy Orbison, Joni Mitchell, Bob Dylan, Neil Diamond, Ray Charles, and more. Cash was invited to perform at the White House by Richard Nixon in 1970, although he rejected Nixon's request to play songs that denigrated African-Americans and hippies. He instead used the opportunity to play protest songs and The Ballad of Ira Hayes, about a Native American Marine who raised the flag at Iwo Jima. In 1975, he wrote the first of two autobiographies, The Man in Black.
Cash's Legacy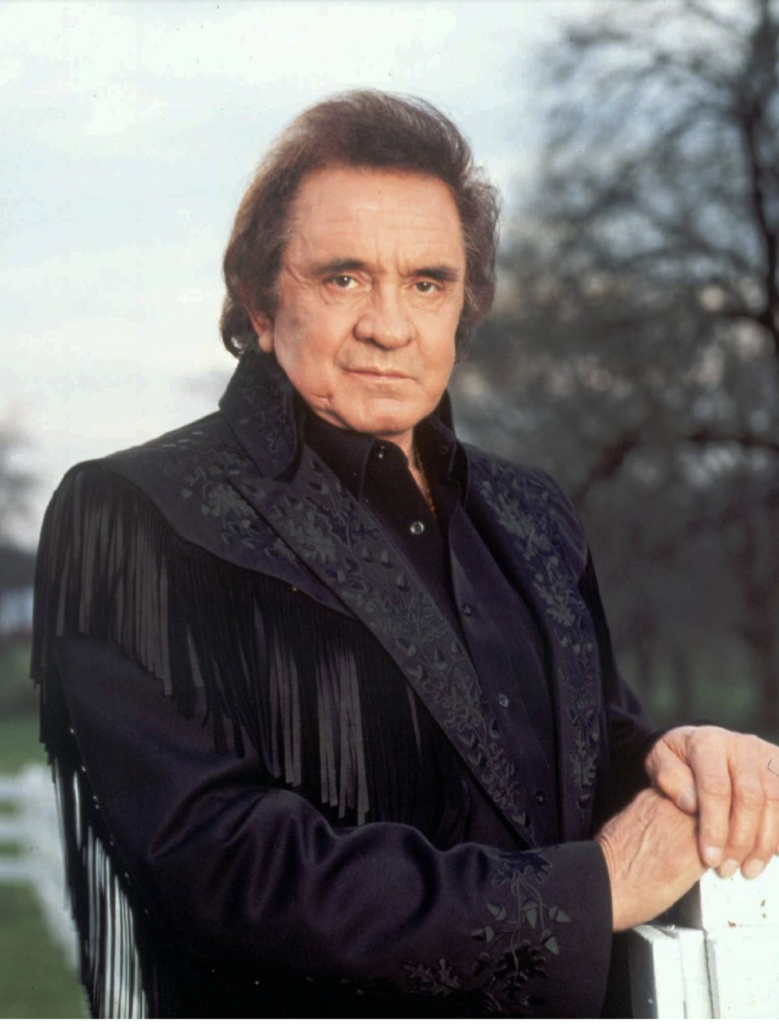 Despite his incredible success in the 60s and 70s, Cash was unable to make as much of an impact in the 80s. He formed The Highwaymen, a supergroup with Kris Kristofferson, Waylon Jennings, and Willie Nelson that released three hit albums in 1985, 1990, and 1995. He was again struggling with addiction after a relapse related to an injury. In 1985, Cash portrayed the Abolitionist John Brown in an ABC TV miniseries called North & South. In 1986 he published a novel, The Man in White, about the Biblical figure Saul and his conversion to Christianity. Dropped by Columbia Records, he spent four years on a contract with Mercury that was unremarkable in its output. While he was no longer abiding by such a hectic tour schedule, Cash enjoyed his projects in the 90s, releasing a well-received album American Recordings in 1994 that won him his 9th Grammy. He appeared with his wife June on several episodes of Dr. Quinn, Medicine Woman, and lent his distinctive voice to an episode of The Simpsons. Working with Tom Petty and the Heartbreakers, he picked up another Grammy in 1997 for the album Unchained. That year he also released his second autobiography, Cash: The Autobiography. Unfortunately, in 1997 Cash was also diagnosed with a severe disease, initially thought to be Parkinson's, later found to be autonomic neuropathy associated with diabetes. In the final stage of his career Cash was recording steadily, releasing two more albums which included a number of cover songs, notably Nine Inch Nails' 'Hurt'. While Trent Reznor of NIN was initially skeptical, the song being intensely personal to him, he was so impressed with the rendition that he ceded the song to Cash. The video for Cash's Hurt netted him his 12th and penultimate Grammy in 2003. Sadly, in May of that year June Carter Cash passed away. After her death, in observance of her wishes, Cash continued to record at a devoted pace, finishing 60 songs in 4 months. While hospitalized at Baptist Hospital in Nashville, Tennessee, Johnny Cash passed away in September 2003, at the age of 71. He was buried next to his beloved wife in Hendersonville Memory Gardens.
Johnny Cash's tireless advocacy, humility, and incredible musical legacy make him one of Arkansas' most loved sons. His acceptance into the Nashville Songwriters Hall of Fame (1977), the Country Music Hall of Fame (1980), the Rock and Roll Hall of Fame (1992), GMA's Gospel Music Hall of Fame (2010). and the Memphis Music Hall of Fame (2013) speaks to his versatility and appeal as a musician. Together We Served honors his incredible achievements as an entertainer as well as his humble service as a member of the Armed Forces.